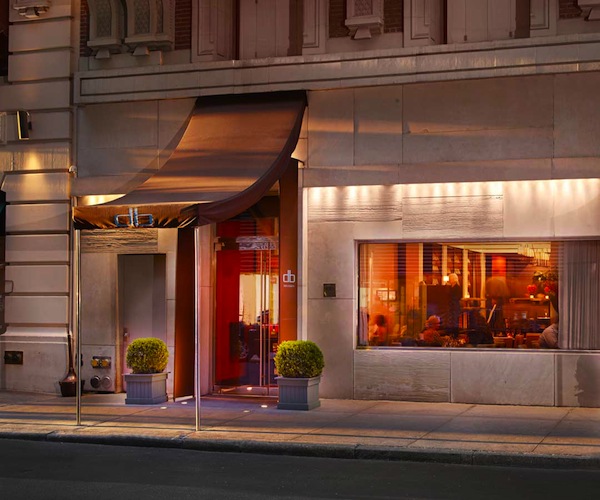 DB Bistro Moderne, New York
With the new Broadway season under way, I thought I might recommend a few of my favorite places for pre- and post-theater dining. An advance word: I am not necessarily holding these up as paragons of fine dining (although they all have their merits). When eating before a show, you want to make sure you're at a restaurant that understands this and knows how to move you along. After a show, I think the atmosphere is more important, and I've always enjoyed being in places where theater folk may drop in, not because I need to see a celebrity, but because it adds to the fun. -A.H.
 Pre-Theater: I have great affection for Angus McIndoe (258 West 44th Street; 212-221-9222), both the man and the place. McIndoe for many years was the congenial host at the estimable Joe Allen (see Post-Theater), then struck out on his own and opened this lively spot. The drinks are generous and the food is delicious — I have enjoyed the burger, Cajun seafood pie, New York strip steak and trout en papillote in the past. If you are seeing a show in the West 40s, give serious consideration to db Bistro Moderne (55 West 44th Street; 212-391-2400). The "db" is for star chef Daniel Boulud, and this outpost of his culinary empire is a comfortable, stylish place where the menu includes the notorious "db burger" (a sirloin patty stuffed with braised short ribs, foie gras and black truffles), as well as a lovely organic chicken breast. For a starter, I suggest the thin-crust Alsatian tart with cheese, bacon and onions. A relatively new discovery for me, ViceVersa (325 West 51st Street; 212-399-9291) is a sleek, smart and contemporary Italian restaurant with a very engaging staff. My choice for a starter is usually the salumi platter with stracciatella cheese, caponatina and marinated olives. I then almost invariably order the unusual casoncelli pasta stuffed with a delicious mix of veal, raisins and crushed amaretto cookies dressed with sage butter and pancetta. It is one of my favorite pasta dishes anywhere. The Theatre District used to have many charming French restaurants with excellent service and delicious food, wonderful places to visit before or after a show. That has changed, and I particularly miss Les Pyrenees, my favorite, and Pierre au Tunnel. One worthy holdout is Chez Napoléon (365 West 50th Street; 212-265-6980). In this warm and welcoming restaurant, do not look for cutting-edge cuisine. Instead you'll find just wonderful renditions of classic French cooking, including starters such as onion soup gratinée, vichyssoise and country pâté, and main courses such as boeuf bourguignon, sole meunière, steak au poivre and rack of lamb. You can almost hear Julia crying, "Bon appétit!"
Post-Theater: My preference is generally to eat before a show — not too heavy, though. But there are times when a meal seems the best choice for a post-show post-mortem, and in those cases, I love to go to Joe Allen (326 West 46th Street; 212-581-6464). With a long, lively bar and brick-lined walls (festively hung with framed posters of the most notorious flops in Broadway history), it serves a menu that is full of comforting favorites: black-bean soup, buffalo wings, fried calamari; and main courses such as New York strip steak, grilled marinated free-range chicken and a terrific hamburger (although I've been known to opt for the meatloaf instead). And this is not a reason to visit, but show folk often turn up. If I'm in the mood for light meal after the theater, I'll often head to a spot that I particularly like: Bar Centrale (324 West 46th Street; 212-581-3130). There is no sign, but it's right up a flight of stairs next to Joe Allen (who owns it as well). Intimate, with a small bar and low-key jazz in the background, it is the perfect spot for a cocktail and little nibbles — say, some fresh oysters — or the excellent Baja fish tacos, pulled pork sandwich or flatbread pizza. Reservations are a must.