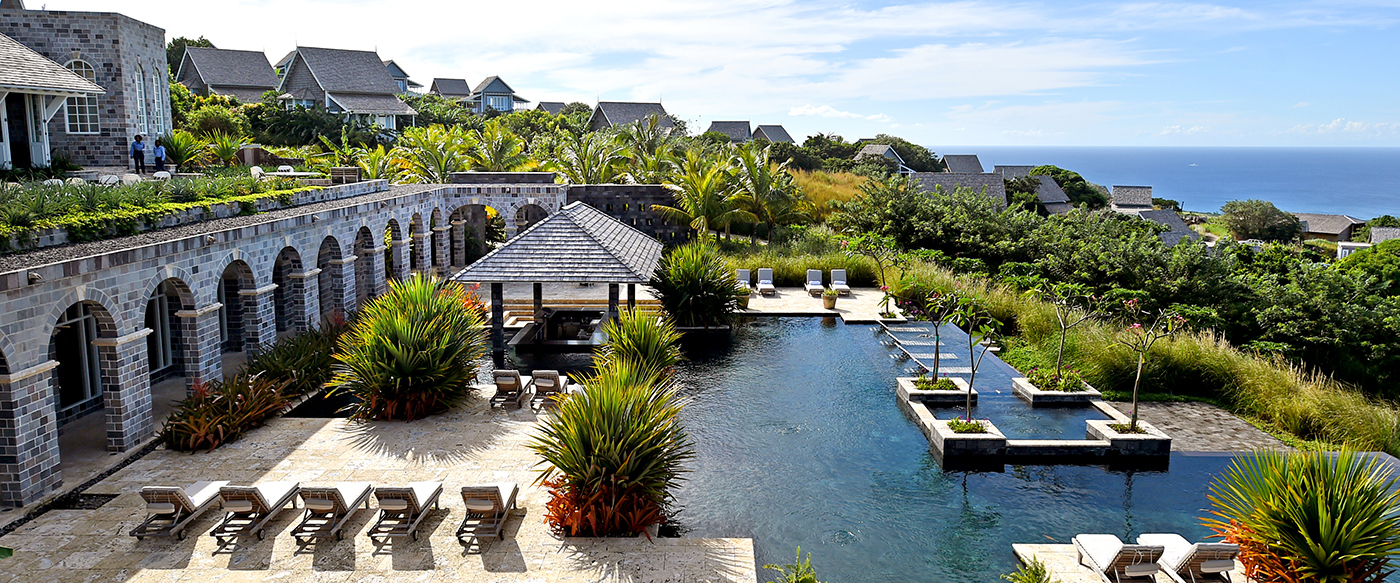 A New Aman in the Dominican Republic
The Great House, cottages and infinity pool at Belle Mont Farm
Newly Fashionable St. Kitts
By Hideaway Report Editor
August 15, 2016
St. Kitts has long been a sleepy Caribbean island, with few hotels and resorts of note, aside from a couple of traditional plantation house inns, the best known of which, Rawlins Plantation, burned down in May 2015. Fine beaches are also few. And yet, St. Kitts is rapidly emerging as the Caribbean destination of the moment. The remarkable Kittitian Hill development, the centerpiece of which is the Belle Mont Farm resort, opened in 2015, and Park Hyatt's first Caribbean property is scheduled to debut at the end of this year.
St. Kitts is divided into two distinct areas: The north is dominated by a dormant volcano, 3,792-foot Mount Liamuiga, which long ago was responsible for the black-sand beaches; a smaller peninsula to the southeast of the capital, Basseterre, has a number of white-sand beaches, and it is here that Park Hyatt has chosen to build. You might reasonably suppose that the decision to site Belle Mont Farm on the verdant slope of the volcano, away from the attractive beaches, would prove misguided at best. But the dream of Trinidadian entrepreneur Val Kempadoo was to meld concepts of sustainability and eco-friendliness with high-end tourism. These terms do not always cohabit with ease, but our recent experience suggests he has made an impressive start.
Belle Mont Farm
The 400 acres of Kittitian Hill encompass the Belle Mont Farm resort, with 84 guest cottages and seven four-bedroom houses for families; residential units for sale; a low-key village center with shops and restaurants; and the farm itself, which supplies the majority of the produce used in the various restaurants.
Arriving in the area, we proceeded up a rutted dirt road. Our driver explained that construction continues on the residential and shopping projects, so heavy equipment requires constant access. I feared that the activity would detract from our stay, but fortunately, this proved not to be the case. After a while, the road became paved, and we entered a lush world of trees and flowering plants, its tranquility interrupted only by birdsong or the call of a vervet monkey. We pulled up to a tall wooden pavilion called The Potting Shed, with an appropriate display of traditional farm implements, and after a brief greeting, switched to a golf cart. This took us to the resort's central public area, The Great House, whose rugged stone walls came from a nearby quarry, in keeping with the resort's efforts to locally source as many of the construction materials as possible. Its upper level incorporated the distinctive conical tower of a replica sugar mill, which served as the bar, as well as the centerpiece restaurant, The Kitchen. One level below, we could see the spectacular infinity pool backdropped by the farm, the golf course and the sea. Heading uphill from check-in, we caught tantalizing glimpses of the cottages, all done with clapboard siding and shingle roofs. These were spaced well apart and, apparently, great efforts were made to ensure that they fit into the landscape with as little disruption as possible. Just two trees were taken down in the process.
I instantly liked our expansive front porch with its two hanging swing seats. Inside, the room was not particularly large, but the high peaked ceiling and the glass doors leading out to a deck and private pool made our accommodations seem simultaneously intimate and grand. The dark wood floors and Colonial-style furniture were complemented by white walls, blue-gray wood trim and bright blue and cream fabrics. Furnishings also included a large desk and a stocked fridge. There was no television, but at the push of a button, a screen descended, and with the provided iPad and a connection to Netflix, it was possible to have a movie night right in the room — with the option of fresh popcorn delivered to the door.
The outdoor bath came with a shower, freestanding tub and separate vanities, all completely outdoors but sheltered by a screen of vegetation. Some may find this off-putting, but I quite enjoyed the arrangement, and we were never troubled by insects. Our infinity-edge pool offered striking views of St. Kitts, the Caribbean and the islands beyond. Given the relatively high elevation, the water was quite cold, but I understand that heaters are being installed. Even the thought of the much larger pool at The Great House could not pry us away from our private oasis.
The Kitchen, the main restaurant in The Great House, was designed by Bangkok-based Bill Bensley, one of the world's leading resort architects, who has worked for Park Hyatt and Four Seasons, among others. At night, the theatrical lighting that highlights the exterior creates a magical atmosphere. And in the restaurant itself, Bensley has fashioned an inviting space with high ceilings, open walls and a pleasing mix of colors and textures. Chef Christophe Letard works wonders with the wealth of farm produce at his disposal, as well as other locally sourced ingredients. I found the dishes to be imaginative, attractive and delicious. A perfect example was his land crab ravioli with cashews, the meat coming from common crustaceans and the "ravioli" fashioned from dasheen, a local vegetable. One evening, we opted for the Farm Table dinner, a multicourse feast that included superb beef tenderloin with a tangy variation on chimichurri sauce. At breakfast, I greatly enjoyed a buffet of traditional Caribbean dishes, and forswearing my usual eggs, I tucked into spinach cakes, plantains with crisped pineapple and sautéed chicken and fish.
Activities at the resort include organized walks. And those interested in gardening will not want to miss the fascinating nursery tour, during which you learn about the fruits, vegetables and other plants nurtured for both the kitchen and for landscaping. Golfers will no doubt enjoy the 18-hole, par-71 course designed by Ian Woosnam that weaves its way through the landscape. And a spa, Mango Walk, set on the highest point of the property, offers a full range of "indigenous" therapies using natural products from the farm. There will be a beach component to Belle Mont Farm in the future, as Kittitian Hill has acquired the legendary Golden Lemon, a property once owned by House & Garden editor Arthur Leaman, which is now undergoing renovation. However, the sands there are black.
Many of the resort staff, all of whom are from St. Kitts, have never worked in a hotel or restaurant before, but all proved to be friendly, well-trained and consistently helpful. This ambitious project is one of a kind. If you feel like a change from the more conventional luxury Caribbean resorts, I cannot recommend it highly enough.
- Hotel at a Glance -
Belle Mont Farm 95
Like
Every cottage receives a small crate of fresh fruit right from the farm that is replenished daily.
Dislike
The bar should be better stocked. We craved a gin and tonic one night, and there were none on hand.
Good to Know
Cooking classes can be arranged with the chef.

Rates: Guesthouse with Pool, $600; Villa, $2,930; Farmhouse, $4,650.
Address: Kittitian Hill, Basseterre, St. Kitts.
Telephone: (869) 465-7388.
Ottley's Plantation Inn
From Belle Mont Farm, we visited what is now the leading traditional property on St. Kitts: Ottley's Plantation Inn. A lovely allée of royal palms brought us to a dramatic 18th-century plantation house, painted a cheerful yellow with crisp white trim, where broad verandas overlook the entire 35-acre estate.
At check-in, we met with Karen Keusch, whose American family has owned and run the property since 1990. She quickly conveyed her deep attachment to the place, an affection that we felt from the entire staff throughout our stay. Twenty-three lodgings of varying configurations are housed within the Great House and in smaller cottages. (The Grand Villa can sleep up to nine.) We loved our Supreme Room, which was done in a country house style, with dark mahogany colonial furniture. The shuttered windows had wire screens — a rarity outside the U.S. — and admitted a constant breeze. The spacious tiled bath was equipped with a Jacuzzi tub and separate shower. And a deck with an adjacent patio came with a private plunge pool.
Elsewhere, the attractive 65-foot spring-fed main pool has ample patio space and extends into the plantation's old sugar factory, where you can swim in the shade if you wish. The sugar factory also houses the bar, a casual venue for breakfast and lunch, and the Royal Palm restaurant. With a latticed ceiling and twinkling lights, the latter creates a genuinely romantic ambiance that many places aspire to but few attain. The food was excellent, and I particularly enjoyed a creamy, richly flavored pumpkin soup — an island staple — and a perfectly cooked lobster. In addition to the pool, Ottley's has an illuminated tennis court and a full spa. A daily shuttle is provided for those who want to head to the southern part of the island to relax on one of the white-sand beaches.
Ottley's is not a luxury resort, but rather a charming hideaway with lovely rooms and satisfying food, which offers serenity and genuine hospitality.
- Hotel at a Glance -
Ottley's Plantation Inn 91
Like
The tranquil atmosphere and the exceptionally warm welcome.
Dislike
The only way to access the window in our bath was to step into the tub.
Good to Know
Marty Lowell, who oversees the landscaping, gives delightful garden tours.

Rates: Supreme Pool, $410; Royal Suite Cottage, $660.
Address: Ottley's Village, St. Kitts.
Telephone: (869) 465-7234.
Sneak Peek
This article appeared in The Hideaway Report, a monthly newsletters exclusively for members.
Learn About Membership