During our previous visit to Northern Portugal, we stayed at two remarkable properties in the Douro Valley: Aquapura and Romaneira, choosing the latter as our 2009 Hideaway of the Year. On a return trip, we began in the charming city of Porto and then headed through a sculpted landscape of vines to check on the recent renovation of one of Portugal's grandest Belle Epoque hotels.
The Yeatman
Situated on a hillside overlooking the Douro River, the Port warehouses of Vila Nova de Gaia, and the old city of Porto, The Yeatman opened last September. Although the lobby of the 82-room hotel recalls the traditional architecture of the local Port caves and the upriver quintas (country wine estates), the five-story building is otherwise a sleek granite structure with a raked façade. Standing on the large terrace of our room, enjoying the compelling views of the city across the river and admiring its elegant, illuminated cast-iron bridge, we quickly began to relax. In an inky dusk, signs bearing the great names of the Port trade — Fonseca, Graham's, Cockburn's and Offley among them — burned brightly.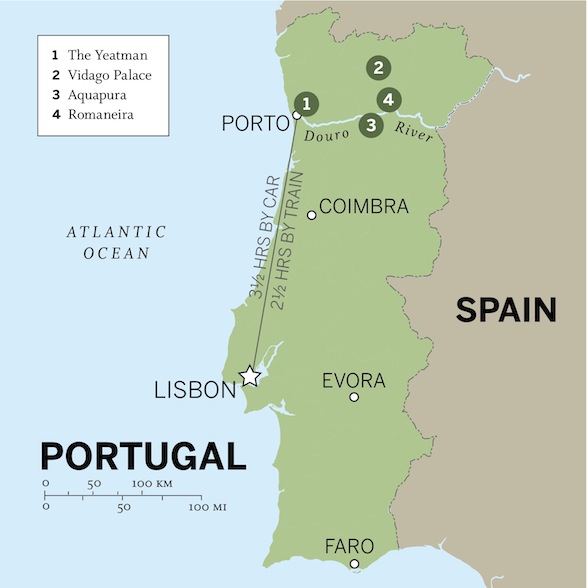 Our room was as attractive as it was comfortable, with a beautiful pistachio- green bedroom fitted with crown moldings and dark Regency-style furniture that conveyed the air of an English country house, which was appropriate, given that almost all of the great Port houses were founded by Englishmen. An unusually spacious bath came with a large tub and a separate stall shower.
That evening, we enjoyed an excellent dinner of contemporary Portuguese cuisine by Michelin-starred chef Ricardo Costa, including a first course of miniature hamburger with a slow-cooked egg, black  truffle, asparagus and crisp wands of bacon.  Sea  bass  with  crunchy baby artichokes was followed by a selection of  Portuguese cheeses. The Yeatman is owned  by Taylor, Fladgate & Yeatman — one of the  oldest  Port  houses,  founded  in  1682  —  and  it  offers  a  fine  selection  of  wines and Ports by the glass, including Luis Pato Vinha Formal, an excellent white from the Bairrada region of central Portugal that we  enjoyed with our fish. After dinner, there  is an adjacent fumoir in which to enjoy a  cigar and a glass of vintage Port.
In  general,  The  Yeatman's  public  areas  are  spacious,  well-lit  and  exceptionally  attractive.  A  grand  staircase  leads  from the lobby down to the breakfast room and  a  large  circular  pool  on  a  scenic  terrace.  Elsewhere, an impressive range of leisure  facilities  includes  a  well-equipped  fitness  center and an indoor pool with wonderful  views  of  Porto  through  floor-to-ceiling  glass walls. The hotel's spa, yet to open at  the  time  of  our  visit,  is  run  by  Caudalie,  the  French  company  that  specializes  in  beauty  products  made  from  grape  pips.  The  Yeatman  offers  a  convenient  jitney  service into Porto for anyone disinclined  to contend with the city's heavy traffic.
THE YEATMAN 94 SuperiorRoom, $490; Suite, $785. Ruado Choupelo, 4400-088 Vila Nova de Gaia. Tel. (351) 22-013-3100. 
Vidago Palace
Leaving  Porto  on  a  sunny  autumn  morning, we happily meandered northwest  for 75 miles to the tiny, old-fashioned spa  town  of  Vidago.  The  recently  renovated  70-room Vidago Palace hotel was built in 1910 as a grand rural hideaway for the  king of Portugal. A revolution intervened,  and the four-story palace with its granite- trimmed  façade  became  a  hotel  instead.  Now it has been elegantly redecorated for  a new century by G.L.A Hotels, a Paris- based  consultancy  run  by  well-known  hotelier  Grace  Leo-Andrieu.  Closed  for  four  years,  this  stately  grande  dame  has  been impressively refitted, and its comforts  are  now  state  of  the  art.  However,  the  charming  décor  of  the  original  grand  hotel has been shrewdly updated, so that  the Vidago Palace remains  in  essence  a  pedigreed Old World beauty.
The  property  makes  a  powerful  first  impression. Wrought-iron gates open onto  a granite-paved driveway bordered by huge  trees,  and  three  flights  of  baronial  stairs  sweep  up  to  a  lobby  with  a  magnificent  horseshoe staircase. Our Junior Suite was compact — like most rooms at the Vidago —  but it was delightful, with a parquet-floored  lounge and a pretty bedroom containing a  queen-size bed and natural linen damask  curtains. The spacious bath came with a  marble counter, an old-fashioned stenciled  tile floor, a deep sleigh-shaped tub in front  of French doors with views over the park,  and  a  separate  marble-lined  stall  shower.  Service  throughout  our  stay  was  formal  but welcoming.
The hotel's new spa is now arguably the best in Portugal.
The  hotel's  new  spa  is  now  arguably  the best in Portugal. Large and extremely  well-run,  it  has  20  treatment  rooms  and  offers a menu that includes the signature  Vidago  treatment,  comprising  a  soak  in  spring  water  scented  with  rosemary  and  lavender,  plus  an  80-minute  anti-stress  massage  and  a  facial.  The  therapists  are  cheerful, well-trained young women, who  speak good English.
In the strikingly opulent dining room, we  greatly enjoyed a dinner of grilled scallops  with  slivered  broad  beans,  followed  by the Portuguese national dish, bacalao, or  salt cod, which came with a salad of baby  potatoes and mushrooms. During the day,  light lunches are served in the clubhouse  frequented  by  golfers  playing  the  hotel's  immaculately manicured 18-hole course.
Despite  its  modern  comforts  and  startlingly  beautiful  décor,  the  Vidago  is  ultimately  so  charming  because  it  still  follows the gentle rhythms of a 19th-century  grand hotel. Strolling through the property's  40-acre park planted with towering cedar  and pine trees was a pleasure. And we spent  happy hours on the veranda with a book,  enjoying the pine-scented air and listening  to  the  splash  of  a  fountain.  Although  the Vidago Palace  is  now  a  popular  spa-and- golf  getaway  for  affluent  Portuguese  and  Spanish  couples,  it  is  also  an  ideal  place  for  Americans  to  relax  during  a  tour  of  northern Portugal and Spain.
VIDAGO PALACE 93 DeluxeRoom, $310; JuniorSuite, $535. Parque de Vidago, 5425-307 Vidago. Tel. (351) 276-990-920.
Map © Andrew Harper.