ATLANTIC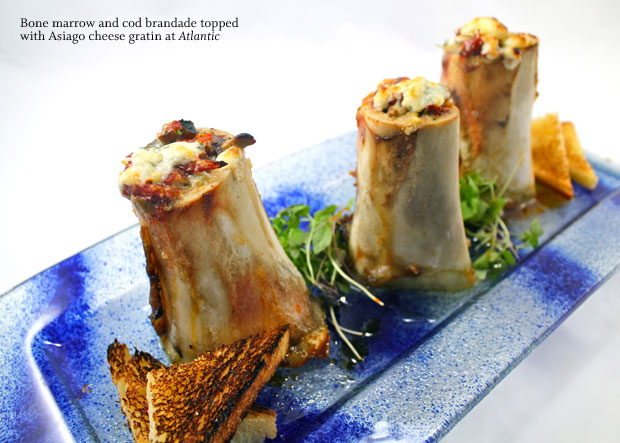 This relatively new place in Edgartown is located in a choice spot right on the harbor. The building's exterior comes with the mandatory shingles and white trim, and the interior hums with activity. The fare is straightforward but enticing. Coming to the end of my starter of bone marrow and cod brandade topped with Asiago cheese gratin, I found myself wishing for more. Fortunately, a juicy swordfish steak, which needed nothing more than the accompanying lemon beurre blanc, was entirely satisfying. Other standouts include the wild striped bass crusted with pumpkin seeds and served with a charred tomato vinaigrette. Carnivores are not neglected, and I have particularly enjoyed the Moroccan lamb tajin.
ATLANTIC Two Main Street, Edgartown. Tel. (508) 627-7001.
ESPRESSO LOVE
Edgartown provides excellent window-shopping, and once you have become immersed in this, you often find that more time has elapsed than you thought or intended. It was under just such circumstances that we discovered Espresso Love, just out of the bustling town center. The cool garden is perfect for enjoying the baked goods that draw morning crowds, as well as the fresh-made, generous sandwiches and salads.
ESPRESSO LOVE 17 Church Street, Edgartown. Tel. (508) 627-9211.
THE SWEET LIFE CAFE
Neighboring Oak Bluffs is much more relaxed than Edgartown, with dainty Victorian gingerbread houses encircling the Methodist Tabernacle (the scene of lively band concerts in summer). There, The Sweet Life Café is a longstanding favorite. Its French-American cuisine strikes a judicious balance between casual and fine dining. Notable dishes include the beet and burrata salad, followed by the breaded Vermont quail breast served on a ragout of quail confit with favas, cherry reduction and foie gras mousse.
THE SWEET LIFE CAFE 63 Circuit Avenue, Oak Bluffs. Tel. (508) 696-0200. 
HOME PORT
Located in the fishing town of Menemsha, this long-established restaurant was a personal favorite for many years. But after a while, the place seemed to have lost its stride. I am happy to report that the good times are back. A short walk from the Coast Guard station, the Home Port serves excellent Vineyard seafood. I can't think of a better starter than the smoked bluefish pâté; then I invariably opt for the baked lobster stuffed with shrimp and bread crumbs and topped with butter. Reservations are a must.
HOME PORT 512 North Road, Menemsha. Tel. (508) 645-2679.
THE BITE
The question of who makes the best clam chowder is a source of endless debate on the Vineyard. I have long since resolved this weighty issue to my satisfaction: The Bite. This is not a restaurant; it is a takeout stand in Menemsha. Not a typical Harper recommendation, to be sure, but still worthy of attention. The fried clams are also excellent. I invariably head to the nearby Menemsha Beach for a sunset feast.
THE BITE 29 Basin Road, Menemsha. Tel. (508) 645-9239. 
MAD MARTHA'S
Summer and ice cream are inextricably linked, and without question, the best ice cream on the Vineyard is to be found at the Mad Martha's shops in Vineyard Haven, Oak Bluffs and Edgartown. Maple-walnut and peppermint stick are personal favorite flavors. A quintessential island treat.
MAD MARTHA'S (978) 462-7707.