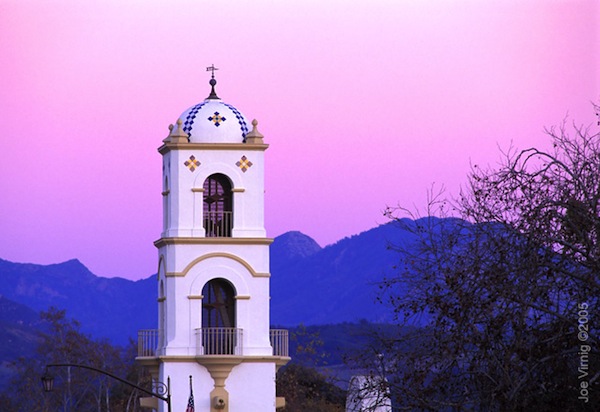 Ojai Clock Tower Copyright Joe Virnig
A recent trip to California concluded with a weekend gathering of friends to celebrate an "ending-in-zero" birthday. Most of the festivities were in Santa Barbara, with a smaller event in nearby Ojai. Santa Barbara is a place we know and love, and we have been fortunate to stay at the elegant Simpson House Inn, the Canary Hotel, the distinguished Four Seasons The Biltmore and and the superlative San Ysidro Ranch. But Ojai was new to us. Set inland amidst rolling hills and valleys, the transporting scenery of Ojai was used as a stand-in for the mystical land of Shangri-La in the 1939 film Lost Horizon (based on the James Hilton novel).
With reliably good weather, clean air and a profound sense of splendid isolation, this town of about 8,000 attracts musicians, artists and seekers of all stripes. In many ways, it reminded us of Santa Fe. There is certainly some physical resemblance, in that Ojai's downtown is dominated by a lovely Spanish revival arcade filled with galleries, shops and restaurants. This is the vision of glass manufacturer Edward Libbey, who settled in Ojai in the early 20th century. A 1917 fire left most of the town in ruins, and Libbey, whose love for the place ran deep, hired San Diego architect Richard Requa to design the fetching arcade.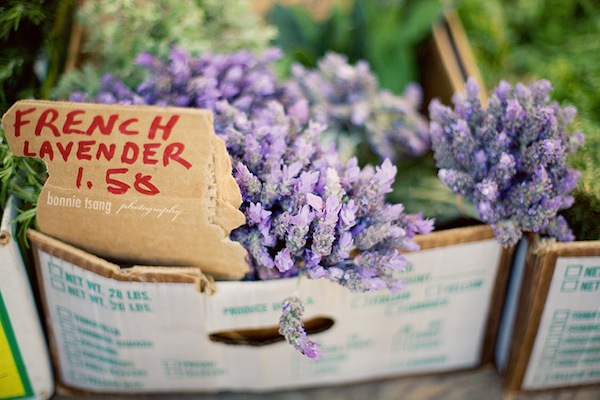 Ojai Farmers
Although our stay was brief, we had the chance to try two of the town's excellent restaurants. Feast Bistro (254 East Ojai Avenue) was our choice for lunch one day, a delightful, casual spot with wood tables, friendly staff and food bursting with fresh local produce. Two kinds of flatbreads—roasted garlic and fresh tomato on mozzarella, and barbecue chicken with cheddar, mozzarella and red onion—almost served as a meal. But we bravely decided to forge ahead, and I enjoyed a slow-cooked, tender barbecue pulled pork sandwich with crisp, tart coleslaw and excellent fries.
For the festive dinner of the stay, we went to Azu (457 East Ojai Avenue), a smart contemporary restaurant specializing in tapas and Mediterranean fare. We started at the long bar, where one can choose from 25 wines by the glass and a list of 17 specialty cocktails, including the Pink Moment (named for the local term describing the sky's glow just after sunset). The beverage in question is made with Ruby Red Absolut vodka with orange, cranberry and grapefruit juices. Margaritas, however, won the day.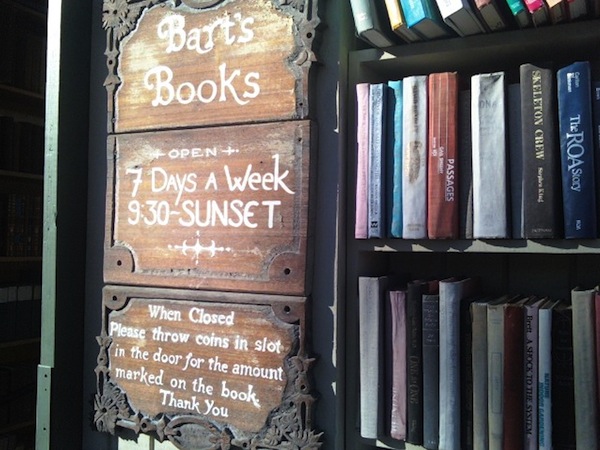 Bart's Books
A selection of tapas served as our starters, including plump shrimp sautéed in olive oil, garlic and white wine, a selection of cured meats and cheeses and luscious lamb kebabs spiced with Moroccan seasonings. The entrees that elicited the most favorable comments were the succulent chicken roasted Moroccan style with olives, onions, and preserved lemons with an Israeli couscous, and a rich seafood paella overflowing with scallops, calamari, shrimp and sausage.
The weekly Farmers' Market (300 E. Matilija Street; Sundays 9 a.m.-1 p.m.) gave us a delightful chance to see firsthand some of Ojai's famous produce, especially the beautiful green avocados. We bought bags of seasoned pistachios for afternoon snacking, and those who didn't have to fly home bought several aromatic oils from Ojai Olive Oil, the favorite being the garlic-infused version.
While others went off for horseback riding and massages, I indulged some ink-stained impulses and headed to to Bart's Books (302 W. Matilija Street; 805-646-3755), an open-air establishment with row upon row of used books. The selection was gratifyingly eclectic, and I found two first editions—in very good condition—of the underappreciated English writer Angela Thirkell, whose novels never fail to engage me. The cookbook section is particularly strong and has the added appeal of being in a room decorated like an old kitchen. Ojai made for a delightful side trip from the Santa Barbara coast, and I would especially recommend it on a Sunday, when the Farmers' Market is in full flower. And though I did not get a chance to visit the property this time around, I hear good things about Ojai Valley Inn & Spa.
-A.H.