"A man, a plan, a canal, Panama."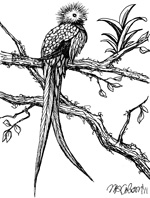 Aside from being a clever palindrome, this simple phrase sums up the general perception of Panama: home to the great canal and beset by military strongmen, the last of whom, Manuel Noriega, was ousted in 1989. Since then, however, the country has enjoyed political stability under democratic governments and now boasts the fastest-growing economy in the region.
Panama is blessed with incredible geographic diversity: lowland tropical rain forests; dense cloud forests near the border with Costa Rica; and mangrove swamps along stretches of both the Pacific and Caribbean coastlines. The country is home to more than 10,000 species of plants, 940 species of birds and 225 species of mammals—all this in an area slightly smaller than South Carolina.
With the example of a successful eco-tourism industry next door in Costa Rica, Panama is now looking to make creative use of its resources and has set aside 29 percent of its land for conservation and national parks. With the incentives of a dollar-based economy and good infrastructure—we were impressed by the quality of the roads and by the fact that the water is safe to drink nearly everywhere—the private sector is investing heavily in tourism.
To read the travel press, however, you would think that Panama had already arrived on the world stage as a sophisticated destination. On our recent trip, we found that this is not quite the case. For example, the domestic air network has a considerable way to go. But the country undoubtedly has huge potential, and conspicuous progress is being made.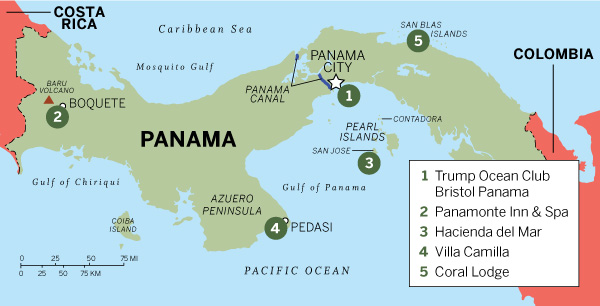 Panama City is in the throes of a building boom. Apparently, more than 600 towers are under construction, and the city now boasts an impressive skyline. But for all the veneer of modernity, the city lacks a real center of gravity, such as a museum district. It is not a good walking city; the public transportation systems are dysfunctional; and the address scheme is chaotic. (To find a place, you have to be armed with a list of cross streets and nearby landmarks.) Cabs are plentiful and inexpensive, but their drivers often seem as baffled by the city's layout as the visitors. The exception to all this is the just-becoming-charming Casco Viejo, the old town, which is undergoing extensive renovation (for a walking tour of this area, see the Hideaway Report Online).
The boom has resulted in several self-proclaimed luxury hotels, the newest of which is the 369-room Trump Ocean Club International Hotel & Tower, set beside the ocean on the Punta Pacifica peninsula. At 70 stories, it is not only the city's highest skyscraper, but also its most distinctive. Seen from the side, it looks like a sail, but Panamanians quickly noted that from another angle, it also bears a striking resemblance to the letter "D," hence its nickname "The Big D."
Having been impressed by the Trump hotel in Chicago last year, I made a point of including the Panama property on my itinerary. Alighting at the end of a sweeping drive, we entered a grand marble reception area, from where an elevator whisked us to the 13th-floor "sky lobby." There, the staff proved cheerful, polite and efficient. Hotel rooms occupy Floors 16 to 35 of the tower and are situated so that all have ocean views (if not directly from the rooms, then from private balconies). The other floors have been allocated to residences, shops and a casino.
Our suite had an imaginative open-plan design, with the bedroom flowing into the bath area. One side of an internal partition served as the headboard for the bed, while the other side supported the mirrors and vanities of the bath. With floor-to-ceiling windows, the room was awash with light. Light marble floors, white walls, a long white sectional couch and splashes of bright color on accent pillows all contributed to the cheerful and sunlit atmosphere. The well-appointed bath came with granite vanities and an egg-shaped soaking tub. Amenities included complimentary Wi-Fi, a 42-inch flat-panel TV and a Nespresso coffeemaker.
At the time of our visit, some of the hotel's facilities — including the spa — were yet to open. However, the striking pool area was up and running. An infinity pool overlooks the ocean, while a second, more conventional pool is surrounded by a sundeck and located immediately adjacent to Azul, a casual restaurant serving burgers and sandwiches, plus local seafood and "lean cuisine." The property's principal restaurants are Barcelona, specializing in tapas, and Tejas (named for the traditional roofing tiles of Panama), which features an excellent seafood menu. There, we began with a tuna roll and continued with perfectly roasted snapper accompanied by a zesty garlic sauce.
Throughout our stay, we received exceptionally high levels of service. Although it is a little early to reach a definitive judgment, the Trump should mature into a fine modern hotel.
Trump Ocean Club International Hotel & Tower 93 Deluxe Ocean View Room, $310; Suite on the Curve, $415; Junior Suite, $515.
My habitual preference is for smaller hotels, so I was looking forward to my visit to the Bristol Panama. Located in the financial district, this 56-room property turned out to have many charms, but some serious deficiencies, as well. The overall design is reminiscent of a small London hotel, with wall-to-wall carpeting and dark wood accents. Our suite was spacious and nicely decorated in shades of buttercream and white. The living room provided a dining table, while the sizeable bedroom came with a chaise longue, flat-panel TV and ample desk. The smallish marble bath was equipped with a walk-in shower, as well as a soaking tub.
Alas, on arrival the room had a disagreeable dank odor, which I immediately mentioned to housekeeping. "Candles and air spray" were promised while we enjoyed a drink in the bar. But on our return, nothing seemed to have changed. When I pressed the matter with a pleasant young woman at the front desk, she said that our experience was not untypical. Frankly, I was disappointed, because I had wanted to recommend the Bristol. It has real charm and a fine restaurant (see sidebar), but these merits are insufficient compensation for the drawbacks. And although its location makes it convenient for those doing business in Panama City, it is currently surrounded by construction, including its own residence tower right next door.
Bristol Panama 84 King Deluxe Room, $355; Junior Suite, $395; Suite, $545.
The Western Cloud Forest
Boquete is a delightful small town 4,000 feet above sea level in the cool highlands of Chiriquí Province. It is fast becoming known to Americans as a desirable place to retire and has acquired the inevitable nickname "Gringo Gulch." Tucked away on the slopes of the dormant 11,000-foot Barú Volcano, Boquete is surrounded by the country's richest agricultural land, with local coffee plantations yielding some of the most expensive beans in the world. The same volcanic soil gave rise to a dense cloud forest that is teeming with plants and birds, including resplendent quetzals and toucans.
We reached Boquete from Panama City via a 50-minute flight to the town of David on the Pacific, followed by a one-hour drive. The most venerable hotel in the area is the Panamonte Inn & Spa, founded in 1914 by Joseph Wright of Texas, a retired railroad conductor. Wright built a six-room hotel that in its day played host to Teddy Roosevelt, Charles Lindbergh and the polar explorer Admiral Richard Byrd, who came here to finish his memoirs. A Swedish couple bought "Pop Wright's hotel" in 1946, and it has been in the family since.
A major program of renovation and expansion took place in 2008. This wisely retained the original building, a charming two-story structure in blue-gray clapboard with a white picket fence out front. All of the 25 rooms are set in a lovely garden, whose rolling lawns are punctuated by noble old trees and flowering bushes.
The newest accommodations are the most desirable. Set at the far end of the garden, they are connected to the main building by covered walkways. Our spacious suite came with a cathedral ceiling, a tile floor with an Oriental carpet, a chaise longue and a large desk. The pale gray-green walls were hung with the colorful work of local artists. Wi-Fi was complimentary. The bath was equipped with a walk-in shower and a granite-topped vanity. Sliding glass doors led out to a flagstone terrace with plantings carefully arranged to ensure privacy.
The Panamonte is justly celebrated for its restaurant, which is under the direction of chef-owner Charlie Collins. You can order off the main menu at an inviting bar with an open-air fireplace. The dining room itself is an appealing space with chandeliers, spot lighting and a painted raftered ceiling. Collins' extensive menu contains starters such as a sublime spiced pumpkin soup. Although I heard others extol the virtues of both the strip steak and the short-rib ragu pasta, I opted for delicious trout sautéed with browned almond slivers.
The staff is consistently helpful and congenial, a tone set by the ever-present general manager, Sandra Naranjo. The Panamonte pioneered birding tours in the area and, in addition, coffee plantation tours and hiking are easily arranged.
Panamonte Inn & Spa 93 Garden Terrace Room, $340; Garden Junior Suite, $390.
The Pearl Islands
This group of more than 100 Pacific islands, many uninhabited, lies a 25-minute flight from Panama City. Despite dazzling white sand strewn with shells, and aquamarine waters teeming with fish, the islands have been surprisingly slow to develop. The best-known is Contadora, which enjoyed 15 minutes of fame in 1979, when, briefly, it provided a refuge for the exiled Shah of Iran. (The word contadora means "accountant;" it was on this island that the Spanish counted the pearls gathered from elsewhere in the archipelago.)
The Hacienda del Mar is located on the isle of San Jose, at the extreme southwest of the Pearls. Once used by the U.S. military for training exercises, the island is now privately owned, with just a grass airstrip and the resort. Set on a rugged promontory, the hotel has recently enjoyed a surprising amount of adulation in the mainstream travel press. The property is centered on a pavilion-like main lodge. Immediately adjacent is a small pool—the water somewhat murky, as it comes from a nearby river—plus a terrace surrounded by well-maintained gardens. Nearby, 20 rooms and suites are situated to offer prime ocean views from their private decks.
Like the main lodge, the accommodations are clad with a bamboo-like wood called caña blanca. Although there are no TVs, phones or Internet access, they possess a degree of simple charm. (Wi-Fi is theoretically available in the bar, and there are two computers at guests' disposal, neither of which worked during our stay). The beds are comfortable, but the décor is sparse and the baths are small, each with just a shower, one small vanity and minimal water pressure.
In major American publications, I have seen these same accommodations extolled as exemplifying "rustic elegance" and embodying "ultra-comfort." Not by my standards. The resort's staff is well-intentioned, but no one, including the manager, could speak anything but rudimentary English. Hacienda del Mar claims to offer a wide variety of activities, including big-game fishing for marlin and sailfish, kayaking and scuba diving. During our visit, none of the above was available. On the plus side, the young chef certainly knows how to cook fish, and dinners were excellent.
With its spectacular location and proximity to Panama City, Hacienda del Mar could be a fine resort. Alas, at present, it is not.
Hacienda del Mar 82 Junior Suite Cabana, $440 (high season); VIP Suite Cabana, $525.
Azuero Peninsula
Located southwest of Panama City, the Azuero Peninsula extends into the Pacific, separating the Gulf of Panama from the Gulf of Chiriquí to its west. An undeveloped tract of rolling hills, it is renowned as a major source of Panamanian folklore, as well as for its exuberant carnival celebrations. Blessed with numerous golden-sand beaches, the peninsula has recently begun to attract city dwellers and real estate investors.
In 1997, a stretch of coast near the town of Pedasí, about four hours from Panama City, drew the attention of French designer Gilles Saint-Gilles. Having built a house, he began to develop the area, bringing European craftspeople to train local residents. His focus is now on a large project called Azueros—a collection of residences, some of which can be rented—so Saint-Gilles has converted his house into a seven-room inn, the Villa Camilla.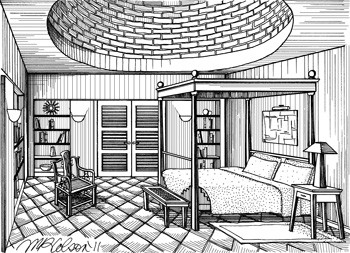 Reached via a rugged dirt road, the property is a tranquil world unto itself. We arrived later than expected, but a pleasant young woman quickly made us feel welcome and comfortable. A spectacular stone-paved courtyard with ox-blood plaster walls, a circular fountain and wrought-iron doors led to a colonnaded galleria with a gorgeous pool flanked by stately palms. Our room came with tile floors, off-white plaster walls, wooden shutters and beautifully crafted furniture. The sumptuous bath had a reverse ziggurat plaster ceiling and a walk-in shower. I particularly recommend booking one of the four larger rooms: "Jasmine," "Jacaranda," "Roble" or "Hibiscus."
The property does not have a formal restaurant. Instead, meals are chiefly taken beside the pool. The service is casual, and the menu of French-Panamanian cuisine is limited to two or three selections per meal, mostly seafood, but also meat or chicken, plus a vegetarian option. The ocean is a 15-minute walk away, and although the beach is rather gray owing to the volcanic soil, the natural setting is lovely. Activities include fishing, horseback riding, mountain biking and hiking, plus trips to the Isla Iguana Wildlife Refuge, which is ringed by white-sand beaches and coral reefs.
The road from Panama City to Pedasí is being widened, and when the work is completed in early 2012, the drive should be cut to three hours. At the time of our visit, there was no scheduled air link—there has been in the past—but we heard talk that Air Panama may resume service to Pedasí in time for the holidays. The inn can arrange charter flights aboard a twin-engine six-seat aircraft, which cost about $725 each way. Villa Camilla is certainly worth the effort, as it is a place of exceptional charm and serenity.
Villa Camilla 91 Large Room, $300-$450 (high season).
Illustrations Copyright Melissa Colson