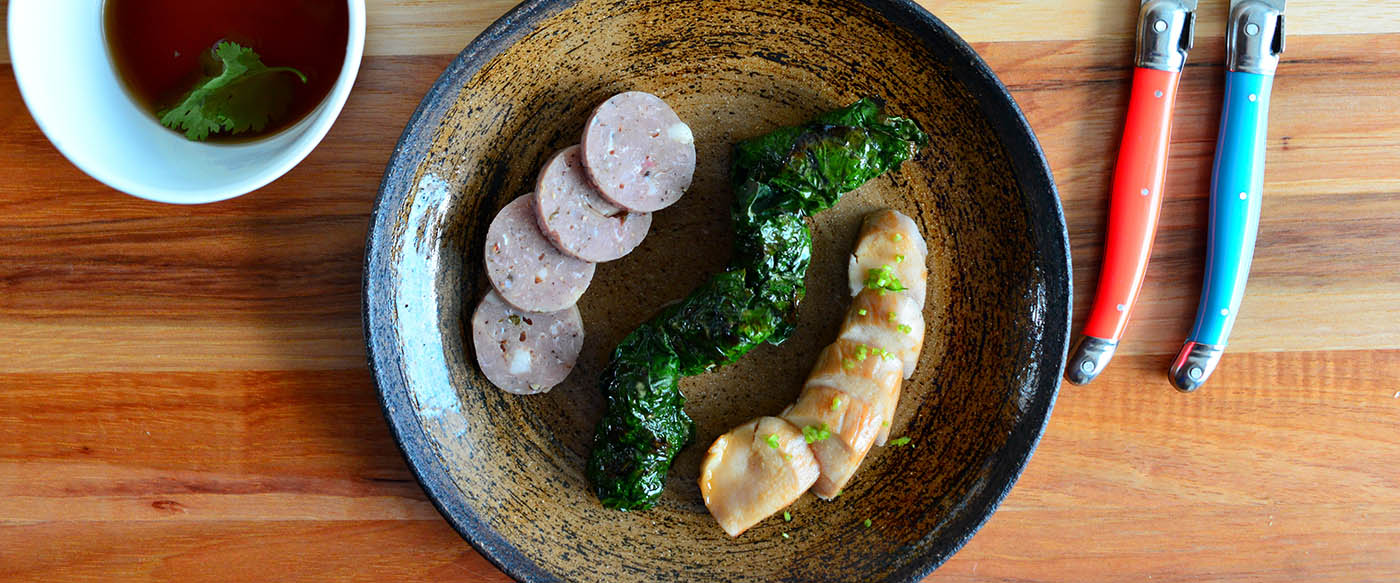 Qui's Rabbit 7 Ways
Bonjwing Lee
Paul Qui and Deana Saukam: The Creators Behind the Best New Restaurant in America Talk Travel
By Hideaway Report Staff
July 1, 2014
An Andrew Harper staff member spoke with chef Paul Qui in the convivial Kim Crawford Wines tent at March's Austin FOOD & WINE Festival. Qui's fiancée Deana Saukam, the immensely talented and stylishly polished Media and Events Director of Qui restaurant, also joined in on the conversation about cultural influences, Austin and, of course, travel.
Some may have become originally acquainted with Qui after his impressive and endearing victory of Bravo's ninth season of Top Chef in 2012. Yet it is his deep understanding of balance, restraint and flavor that keeps the chef on the forefront of American dining. After seven years working with Tyson Cole at the much-lauded Uchi and Uchiko restaurants – while opening his East Side King food trucks on the side – Qui launched his first restaurant Qui in Austin's rapidly evolving east side. The restaurant received GQ's "Best New Restaurant in America, 2014" in its inaugural year, and Qui was named one of FOOD & WINE's "2014 Best New Chefs" on April 1. As Andrew Zimmern noted in an interview with Andrew Harper, "There is going to be a chef who cooks at a higher level than others […] and that is going to reshape the destiny of how Americans look at that food for the next 20 years. And that is [Paul]." Undoubtedly, this is just the beginning of the praise we will hear for Paul Qui.
Interview with Paul Qui and Deana Saukam
ANDREW HARPER STAFF (AHS): You were born in the Philippines but have spent most of your life here in the States. Where do you draw your inspiration from cuisine-wise and culture-wise?
PAUL QUI: Right now, I'm pulling a lot from my Filipino heritage. It's something that I haven't really tapped into in the past working at a Japanese restaurant. But it's something that I'm really starting to dig into.
AHS: What is your favorite food city? I know it must change all of the time.
DEANA SAUKAM: Internationally or in America?
AHS: Anywhere you want.
PQ: That's hard. (Laughs)
AHS: It's not an easy question.
DS: I loved when we were in Spain. When we were in San Sebastian, obviously, that was awesome. It was also our birthdays, you know?
AHS: It was situational.
DS: Yeah. It was summer. It was amazing.
PQ: I would say it would be different cities in Japan.
AHS: Anywhere in particular in Japan that stuck with you?
PQ: I actually had a great time in Tokyo and Hiroshima.
AHS: Is there a meal that you had on that trip or another trip that you thought to yourself, "Wow, I would travel across the globe to have that meal one more time?"
PQ: You see, the thing is, with Japan, is that I don't know if it's one specific meal. The level of food there is just so, so high. From the raw ingredients to your fast food chains or your 7-11, everything is good.
AHS: What makes it stand out the most? Definitely the freshness of the fish for one.
PQ: It's not just fish, it's pastries, bakeries, ice cream – you name it. Anything that they do in the West, they've got there. They're so obsessive – the culture is so obsessive with what they make. It's so good. They take it to that level.
AHS: You send your sous chefs and your chef de partie on trips around the world. Where are you sending them? What are you wanting them to get from their experience?
"I want them to learn. I want them to see. I want them to gain more experience and more perspective from other kitchens."
PQ: I want them to learn. I want them to see. I want them to gain more experience and more perspective from other kitchens, you know? I have a few of my guys going to Chicago this year.
DS: Copenhagen. Really just all over.
PQ: New York, Aspen. My guys are going to be around.
DS: L.A., James Beard. We're bringing our team up [to New York].
AHS: That's incredible. So you've lived in Austin for a bit. Outside of your own restaurants, where would you send people for a quick lunch or to get a drink?
PQ: I always send people to Franklin. Now that we have la Barbecue down the street [from Qui], I send people there as well.
AHS: Place for a drink? Where would you send people?
DS: We love Justine's.
AHS: What's the next trip for you? What's your dream vacation even?
DS: We're going to Hong Kong. We've never been. We're going in August. Then back to Europe.
PQ: Hong Kong might have been the top of my list for this year, but we're getting to go there.
DS: That's kind of a dream.
PQ: Hong Kong has such an amazing culture. Dumpling shops there are Michelin star-rated, you know?
DS: And the shopping! We're excited.
Get Inspired for Your Next Adventure
Register to sample:
One-of-a-kind itineraries
Inspirational travel articles
Free e-newsletter from our editors