Cycling through Andalusia, Spain
Alex Strickland
Pedaling Southern Spain
By Hideaway Report Contributor
April 25, 2019
Rolling hills, scenic lakes and rows upon rows of olive groves. Cycling through the countryside of southern Spain felt like being in the middle of a Seurat landscape. Reaching from roadside to distant crest in every direction, the trees looked like tiny, perfectly spaced pointillist dots.
We'd arrived in this picture-perfect place fresh off a red-eye to Madrid and a 90-minute transfer to the country's AVE high-speed rail where the biggest challenge was not letting the humming train car lull us to sleep and make us miss our stop. We'd planned a five-day cycling itinerary that would link Córdoba and Granada using lightly traveled back roads through Andalusia. Featuring modest mileage — about 40 miles a day, which might seem steep to beginners, but is well within the range of most active travelers — and luggage transfer to allow for unloaded cycling, the trip would allow for relaxed miles and languorous lunches.
Onward From Córdoba
We had arrived for a one-night stay in Córdoba, so sightseeing wasn't in the cards for us, but the city's stout Roman bridge, Moorish-Christian palace and breathtaking Mezquita mosque (a masterpiece perhaps only eclipsed by another remnant of the Arab empire later in the trip) are all worthy stops. (A perfect base for touring is the Hideaway Report-recommended hotel Hospes Palacio del Bailío. Just east of the central square, it is within easy walking distance of the city's most famous charms.)
The next morning we set out under slate skies and left Córdoba so abruptly it felt like we'd been teleported to the middle of farming country with nothing but olive groves and fields in every direction.
Aside from the other couple riding the same itinerary, we didn't encounter any other touring cyclists that day. Throughout our travels, cars were notably absent. When the occasional drivers did pass, they offered a wide berth and were generally more courteous than we typically experience stateside.
Our route pointed us toward Sierras Subbéticas Natural Park, an 80,000-acre reserve in the middle of Andalusia between Córdoba and Granada. We spent two short mileage days to explore this out-of-the-way reserve and to enjoy stretches of converted "rail trail" paths entirely free of cars. In a near circumambulation of the park, we watched for peregrine falcons, but rain kept them hunkered down in the craggy peaks that our route skirted.
A day spent pedaling works up an appetite and provides one of the chief delights of a bicycle tour: guilt-free indulgence when mealtime rolls around. Andalusia's strong tapas culture is a balm for any cyclist wrapping up a day's journey.
If there's a hitch with the culinary customs of Spain, though, it's the dinner schedule. With late meals being the norm, cyclists frequently find themselves pedaling into town just as eateries shutter for the afternoon. We always made sure to pack a snack, knowing that the wait would be worth it.
That was the case in tiny Zuheros, a mountain village of 800 souls perched at the bottom of an escarpment famous for its "Cueva de los Murciélagos," a cave system that hosts a large bat colony. At the family-run restaurant Meson Atalaya, we were the first patrons of the night. There, we enjoyed a stellar ratatouille-like vegetarian stew before retiring to sort gear and get a last look at the landscape we'd ridden through from the town's high perch.
Zuheros to Iznájar
We woke in Zuheros ready to nearly circle the park en route to Priego de Córdoba, a perfect lunch stop with dozens of small bars and restaurants fanning out from the comfortable central plaza. The steepest climb of that day's journey lurked just outside of town where the road briefly pitched up to 12 degrees as it snaked along a series of olive-tree-lined switchbacks before delivering a sweeping view of the afternoon's descent toward the village of Iznájar, perched on a rocky outcrop jutting from a sapphire-colored reservoir of the same name — a Disney-esque scene with glimmering layers of windows and walls topped by an eighth-century castle bathed in afternoon sun.
Skipping the view from the castle wasn't an option, so we rode until the grade became too steep, locked the bikes and hoofed it up vertiginous streets to the ramparts in time to watch the town's triangular shadow stretch across the whitewashed buildings into the olive groves to the east. Our eyes also strayed south across the darkening water, where the following morning's route lay draped across — and up to — the horizon.
Iznájar to Alhama de Granada
We awoke in Iznájar with some trepidation about the day's ride. It would start with an undeniably tough climb from the reservoir, including a thousand-foot gain in the first few miles out of town. Plus, the ride was along one of the busier roads of the route — sticking to the shoulder felt constricting and regular traffic was a nuisance after enjoying more carefree cycling on rural roads.
Riding with light loads was crucial for this day, which could've easily been split in two with an overnight in Loja, the biggest town between Córdoba and Granada and home to La Bobadilla, a 70-room "royal hideaway" tucked into the hills between Loja and Iznájar.
For us, though, Loja was only a spot to pick up lunch, fix a flat tire (our only one of the trip) and battle a few minutes' worth of traffic before getting comfortable for the steady 14-mile climb to Alhama de Granada. The grind was neither especially beautiful nor shaded save for a few small clusters of trees, but something about counting down the mileposts and the gentle grade left us a little loopy by the time we got to the top. Our reward was a smooth descent and big views into tiny Alhama, the base of our tour operator, Cycling Country.
Our home for the night was Casa Rural La Seguiriya, a tiny six-room inn operated by former flamenco star Paco Moyano and his family. With playbills hanging on the walls, well-appointed white-stucco-walled rooms and a patio overlooking the dramatic gorge that borders town, this was a lovely overnight stop. What it may have lacked in luxury, it more than made up for in hospitality thanks to delicious meals served by the singer himself in the small dining area. We'd have happily stayed another day here to explore the eponymous gorge on foot and soothe our legs in Alhama's thermal baths.
Alhama to Granada
We left Alhama reluctantly, bound for the trip's end in Granada some 40 miles away. After riding past the electric-blue Los Bermejales Reservoir and a stretch of nearby pine forests, farms began to give way to traffic as greater Granada came into view from across a broad plain with the snow-capped 11,000-foot Sierra Nevada range soaring behind it.
While bikes may be a perfect method for traveling from town to town in Spain, once within the cities, walking is often easiest. That was the case in Granada, where heavier city traffic and plenty of steep streets made a pedestrian approach considerably more convenient.
While all of Andalusia prides itself on its culture of hospitality, Granada felt like the true epicenter. An old friend had offered to take us out on the town for tapas, and we enjoyed a dizzying parade of more-than-bite-size tapas and beer until late into the night ("late" for us Americans, anyway; I'm pretty sure the Spaniards were just warming up).
Our Final Destination: Granada
Granada demands more than a day or two to explore, and the Hospes Palacio de los Patos is an inviting option just blocks from the main plazas and a few minutes from the city's most famous attraction.
Rising above Granada along a finger of stone is the sprawling Alhambra palace, the final redoubt of Muslim rule on the Iberian Peninsula and one of the architectural wonders of Europe. When the fortress fell to Castilian rulers Ferdinand and Isabella in 1492 , it marked the end of 800 years of Arab rule that had reached the Pyrenees. Today, the staggeringly detailed carvings, manicured gardens and elaborate waterworks make for a memorable daylong tour. Book early, as tickets to the Alhambra can be sold out months in advance. (General admission includes access to the Moorish sections of the fortified compound but not the palace of Emperor Charles V.)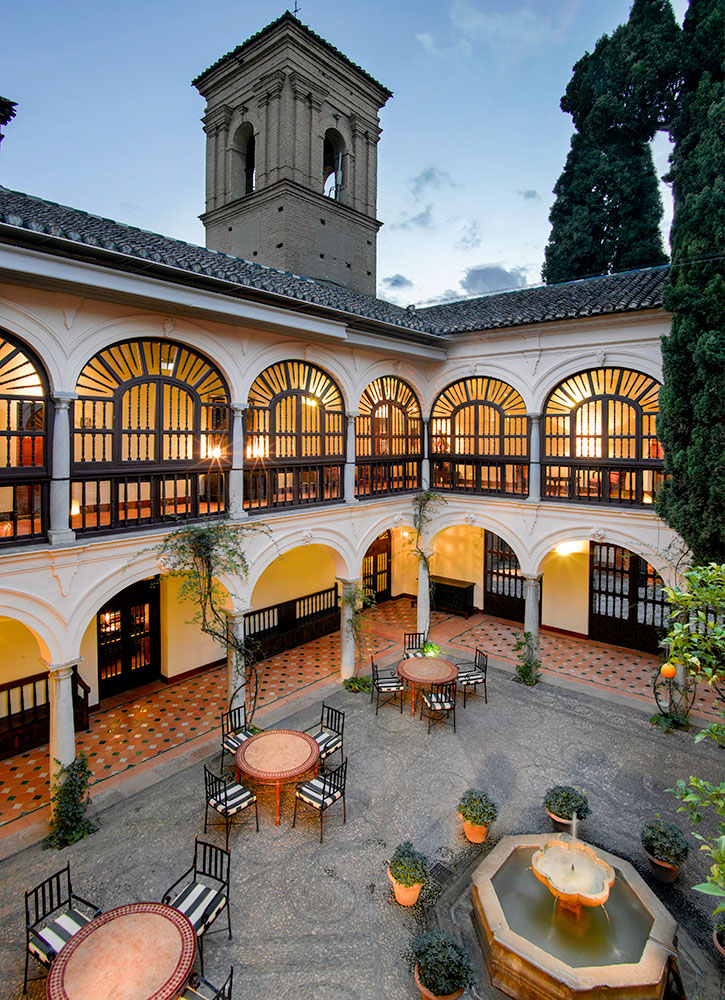 If you want a more intimate experience at the complex, consider staying at the Hideaway-recommended Parador de Granada, located inside the compound walls. You'll still need reservations for touring the palaces, but you will be minutes from both downtown and the Albiacín neighborhood, a market-lined maze of twisting alleys that's as close to Marrakech as you can get without leaving Europe. Take time to wander the narrows streets and stalls — be sure to stop at the Mirador San Nicolás for its incredible view across to the Alhambra — and get a drink at one of the hillside restaurants that peers out to the fortress and the city beyond.
Bikes returned and luggage reorganized for sightseeing in other corners of the country, we departed with more than a twinge of sadness to be leaving Andalusia and two-wheeled travel behind. Across the valley from Granada proper lies a small rise, where legend says the defeated Moorish King Boabdil turned for a final look at the city he had lost. The hill is called "The Last Sigh of the Moor," and as the Alhambra faded from view, we couldn't blame him.
For your own inn-to-inn-style bike trip, learn what to expect and what you'll need to prepare.
Get Inspired for Your Next Adventure
Register to sample:
One-of-a-kind itineraries
Inspirational travel articles
Free e-newsletter from our editors