Rediscovering the Riviera
.article-cta-top
The spectacular natural beauty that spurred the development of France's Mediterranean coastline can still be found today if you know where to look. The place to rediscover the Riviera as it used to be is along the coastline of the Var, the French department that runs roughly from Bandol just east of Marseille to Saint-Raphaël. The area's most striking physical feature is its dramatic ocher mountains, which in many places come right down to the water's edge. Aside from Saint-Tropez, the region has remained uncrowded and unspoiled and is surprisingly little known to foreign travelers.
The exterior of Le Petit Nice in Marseille, France - Richard Haughton
The best jumping-off point for discovering the Var is Marseille. After the Suez Canal opened in 1869, commerce in the port of Marseille boomed. An era of prosperity began and waned only after France lost its North African and Asian colonies in the 1950s and 1960s. Deprived of this activity, Marseille fell on hard times and acquired an unenviable reputation for drug-related organized crime. Within the past decade or so, however, the city has invested heavily in an easy-to-use tramway system, major renovations of its former docklands and new museums. The latest addition is the striking Mucem, or Museum of European and Mediterranean Civilizations, which occupies a magnificent modern building on the waterfront at the head of the old port. Today France's second-most-populous city is very different from its outdated image.
Le Petit Nice
Marseille, France
Marseille has also emerged as a place with serious gastronomic credentials. Le Petit Nice, where chef Gérald Passédat holds three well-deserved Michelin stars, occupies a small white villa on a craggy spit overlooking the sea and has 16 comfortable guest rooms, many with views of the Mediterranean. Indeed, Le Petit Nice is an ideal place to begin a leisurely eight- or nine-day tour through the lesser-known towns of this storied littoral. Aside from its fine setting, this relaxed hotel has an easygoing atmosphere, having been family-owned and family-run for a century; Passédat's grandfather Germain bought the villa in 1917.
Arriving with a degree of relief after navigating the narrow lanes that run down to the property, we were greeted by a friendly porter and escorted inside. After freshening up, we headed downstairs for lunch. Since Passédat is one of the world's finest fish cooks, we opted for a 10-course tasting menu that featured the very best of the local catch of the day. Seated in the contemporary dining room, gazing through the big picture windows, we sipped glasses of rosé Champagne and watched local teenagers diving from rocks into the sea far below. It was an exquisite meal. In addition to the stunning quality of the fish and shellfish, what we most appreciated was the deceptive simplicity of Passédat's cooking. Every dish dazzled with marine freshness, and the garnishes never overwhelmed the natural flavors. We especially loved a carpaccio of sea bream with bottarga and caviar, a sea anemone beignet with seaweed sauce, and sea bass in an aromatic bouillon of tomatoes and Mediterranean herbs. Service was charming throughout the meal, which lasted more than three hours.
Our room was painted vanilla and furnished with contemporary pieces, including a feather-covered floor lamp, a built-in desk and two lounge chairs. What we liked best, though, was the private terrace, which overlooked a garden of cacti and succulents and afforded a pleasing view of the sea. The bath area behind the bed included an egg-shaped soaking tub, a walk-in shower and double vanities. Although I'm not usually keen on combination bedrooms and baths, this one worked because the room was so spacious, as well as oriented toward the sliding doors that led out to the terrace.
We took breakfast beneath a vine arbor overlooking the sea. And later we enjoyed a dip in the pool before getting ready to move on. Le Petit Nice is an ideal place from which to discover Marseille as long as you don't mind taking a 10-minute cab ride to and from the city center. It's a small, quiet place with a distinctive personality, sublime food and a lovely seaside pool. More-adventurous guests venture off the property to swim in the sea from the rocks below.
- Hotel at a Glance -
Le Petit Nice 94
Like
Superb restaurant; gorgeous setting; friendly service.
Dislike
The nail-bitingly narrow streets leading to the hotel.
Good to Know
It's essential to book your table in the restaurant at the same time you reserve your room, since it's small and deservedly popular.

Rates: Deluxe Room, $520; Junior Suite, $800
Address: Anse de Maldormé, Corniche JF Kennedy, Marseille
Telephone: (33) 4-91-59-25-92
From Marseille, we took the highway to Château de Pibarnon for a tasting of Bandol wines, and then followed back roads to an excellent lunch at Jean-François Bérard in La Cadière d'Azur, one of the prettiest perched villages in the Var. Chef Bérard specializes in delicious contemporary Provençal dishes like shrimp with squid-ink pasta, and lamb with baby fava beans, peas and panisses (fried chickpea-flour cakes that are a regional classic).
Le Club de Cavalière & Spa
Le Lavandou, France
From La Cadière d'Azur it was about an hour-long drive to Le Lavandou and Le Club de Cavalière & Spa, a 37-room property on a sandy beach, which has been recommended to me by Parisian friends for years. (It's very much the kind of place that people first discover through word-of-mouth recommendation.) On arrival, we were impressed by the exceptionally pretty landscaped gardens filled with pines and oleander bushes. The public areas had a pleasantly traditional atmosphere created by terra-cotta tile floors, subtle lighting and limewashed wood-framed armchairs and sofas.
Comfortable and well-organized, our junior suite had a small sitting area separated from the bedroom. The bed was covered with a white boutis (a Provençal-style quilted cover). Clad in toast-colored limestone, the bath came with a separate tub and shower. A private terrace with a pair of chairs and a sea view was accessible through French doors.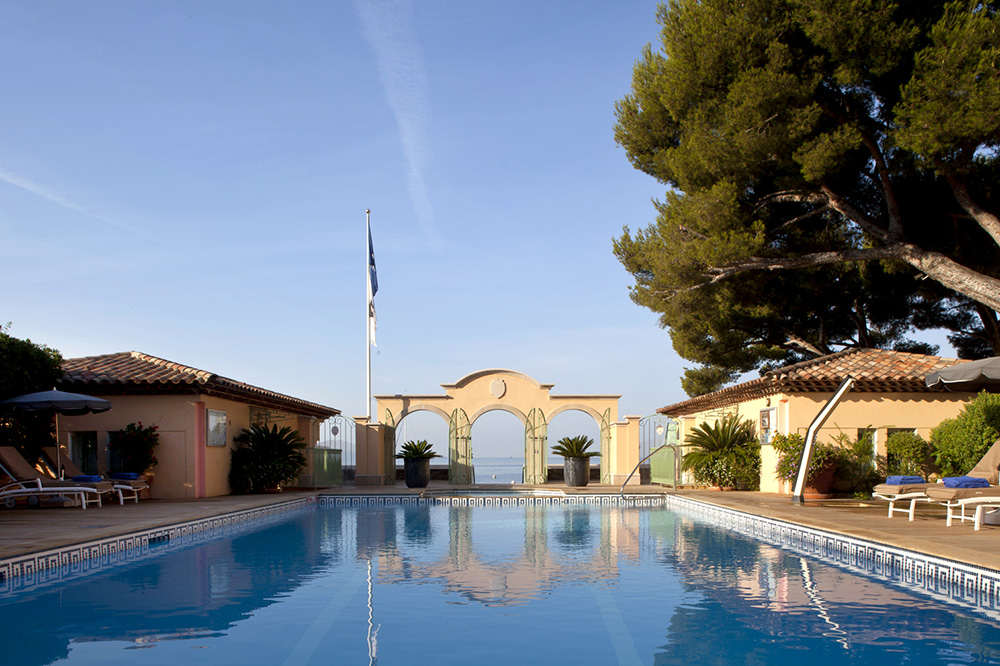 Having settled in, we headed downstairs past the large swimming pool to the hotel's lovely beach, where an attendant provided us with towels and set up an umbrella between sun beds. Following a long swim, I fell into conversation with a doctor from Lyon, who told me that he and his wife had been coming to the hotel for 25 years. "Even though it's open to the public, it's like a club. We love it because the service is so good, and it attracts a civilized clientele."
That evening, on the terrace overlooking the sea, we had an excellent dinner of langoustines with stuffed zucchini flowers, and roasted sea bass with a tomato-and-olive condiment, and found ourselves seriously regretting that we were only spending a night at this delightful place.
A dining table with a view at La Virile Fontaine at Le Club de Cavalière & Spa in Le Lavandou, France - Le Club de Cavalière & Spa
French real estate law provides one of the reasons for the Var's emergence as a newly fashionable destination. After a period of disastrous overbuilding along the Côte d'Azur, stringent laws were passed that restricted the construction of new hotels, especially in areas close to the sea. This means that hotels with pieds dans l'eau ("feet in the water") that were built prior to the new zoning rules have increased in value exponentially, catching the eye of developers and leading to numerous upscale renovations.
- Hotel at a Glance -
Le Club de Cavalière & Spa 91
Like
Gracious service; excellent restaurant; delightful beach.
Dislike
Room décors are perhaps a bit urban for a seaside hotel.
Good to Know
The hotel has several small private villas built directly on the beach.

Rates: Classic Room Sea View, $510; Deluxe Room Sea View, $660
Address: 30 Avenue du Cap Nègre, Le Lavandou
Telephone: (33) 4-98-04-34-34
.article-cta-block
Le Bailli de Suffren
Rayol-Canadel-sur-Mer, France
An example of this trend is the newly renovated 55-room Le Bailli de Suffren in Rayol-Canadel-sur-Mer. Built in the 1960s, the property was revamped by Paris-based architect François Champsaur. His shrewd retro redesign channels the glamour of the Riviera in the '50s and '60s. The real charm of this place, however, comes from the setting, right at the edge of the sea, overlooking a private beach backed by shaggy palms.
We immediately loved our spacious seaview room, appointed with a cool terra-cotta tile floor, an unusually comfortable bed made up with high-quality white linens and a pair of petrol-blue armchairs. Sliding doors led to a balcony, with sun beds and chairs. The sea seemed so close, it was rather like being aboard a ship.
The hotel has three restaurants run by talented chef Stephan Demichelis: Restaurant Le Loup de Mer bistro, the seasonal Restaurant L'Escale and Restaurant La Piscine, next to the pool. We had an excellent dinner at Restaurant Le Loup de Mer of rock-lobster ravioli with morels, and baked monkfish in a light saffron sauce. Other amenities include a small Carita spa.
- Hotel at a Glance -
Le Bailli de Suffren 94
Like
Gorgeous views of the Mediterranean and good-looking and very comfortable rooms. Friendly young staff.
Dislike
The hotel's cramped parking lot.
Good to Know
The hotel offers complimentary mountain bikes to its guests.

Rates: Deluxe Room, $740; Club Room, $780
Address: Golfe de Saint-Tropez, 18 Avenue des Américains, Rayol-Canadel-sur-Mer
Telephone: (33) 4-98-04-47-00

View Le Club de Cavalière & Spa Listing
La Villa Mauresque
Saint-Raphaël, France
Continuing our journey, we took the coast road to Saint-Raphaël, and aside from the heavy traffic near Saint-Tropez, it was a very pleasant drive. (I enjoy Saint-Tropez off-season, but it is mobbed in summer and best avoided.) Fortunately, Saint-Raphaël has remained far more tranquil. There the 18-room La Villa Mauresque comprises two whitewashed Moorish-style villas that were built in 1881 by the Riviera architect Pierre Chapoulart. These were converted into an intimate hotel in the 2000s, which is set in a landscaped park with century-old palms and parasol pines overlooking the Mediterranean. (The atmosphere of the property kept bringing to mind the late British writer W. Somerset Maugham [1874-1965], who lived on Cap Ferrat for many years when the Riviera was an exclusive, well-dressed sort of place. The ethos of that era still lingers at La Villa Mauresque.)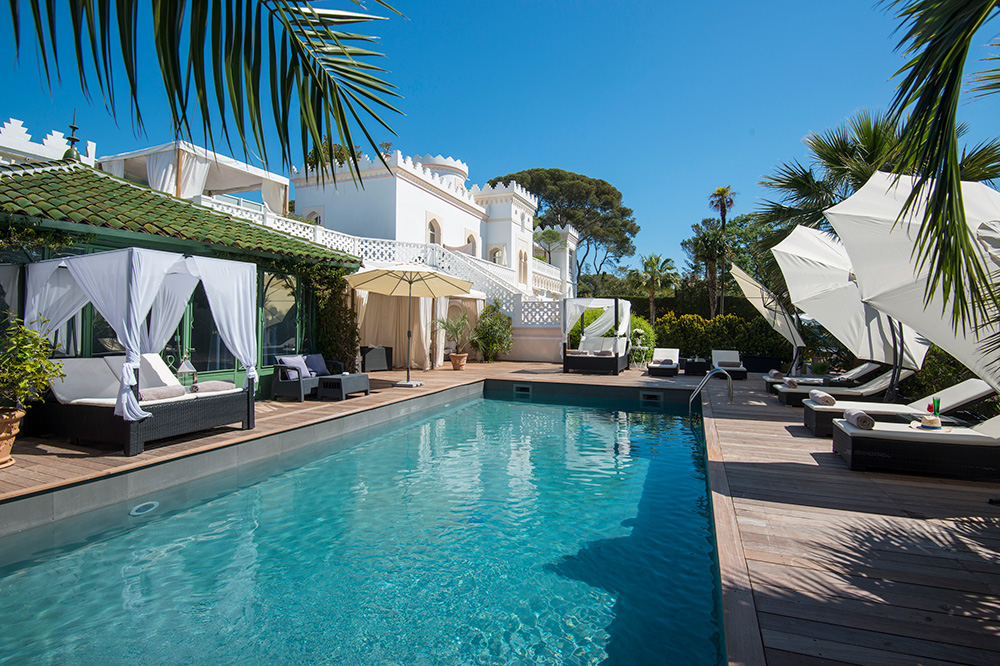 Each room is decorated differently, but most come with parquet floors, heavy silk curtains and beds made up with colorful throw pillows; well-equipped baths provide Hermès toiletries. Though it was somewhat small, our room, with its private outdoor sitting area surrounded by oleander bushes, was much to our liking. We were also able to take a look at several of the hotel's suites, the most glamorous of which is the Baudelaire — all rooms here are named for writers or personalities with some connection to the Riviera — which comes with a four-poster bed and superb sea views. The other signature suite, the Picasso, has a huge private terrace.
Le Bougainvillier serves sophisticated contemporary cuisine with a southern French accent. Dishes we particularly enjoyed included oyster-and-tomato tartare, and sea bass roasted with fennel. Light meals are also available at a garden pavilion. There are two open-air swimming pools, a pair of Jacuzzis and a small pebbled beach; spa services can also be arranged. Kayaks, sea canoes, diving equipment and a mini-catamaran are also provided for guests at the boathouse.