Relaxation Guaranteed: 13 Favorite Spas in the World
.article-cta-top
A great many Hideaway Report-recommended hotels and resorts have on-site spas and fitness centers. However, the very best offer a wealth of treatments, often with locally sourced ingredients, which pamper their fortunate guests amid serene and opulent surroundings. Here are 13 of our favorite spas in the world, places where health and wellness are paramount and indulgence is endlessly refined.
Royal Mansour
Marrakech, Morocco
Spa lobby at the Royal Mansour in Marrakech, Morocco - Royal Mansour
Like everything at the Royal Mansour, the spa is breathtakingly beautiful and flawlessly serviced. A candlelit entry tunnel opens theatrically onto a soaring lounge centerpieced by a flower-filled marble fountain. The glass-enclosed indoor pool looks as if it were designed by Gustave Eiffel. After an hourlong hammam treatment, conducted in a private marble hall, the remainder of time can be spent sipping lemon-ginger infusions on a daybed in the relaxation lounge amid whitewashed wood screens and creamy raw-silk drapes.
DON'T MISS: The tailor-made hammam treatment

WHAT'S NEW: The Takhlita hair treatment, which uses oils, herbs and plants to revitalize and add shine to hair; updated gym equipment

TREATMENT AREAS: 13

WHEN TO BOOK: Upon reservation of accommodation

OF NOTE: Healthy dining options supervised by chef Yannick Alléno

Schloss Elmau
Elmau, Germany
The yoga pavilion at Schloss Elmau in Elmau, Germany - HILMER & SATTLER and ALBRECHT/Jan Pautzke
Set in a particularly scenic tract of pine-forested countryside at the foot of Wetterstein Mountain, Schloss Elmau is an hour south of Munich but feels a world away. The property includes the Schloss Elmau Hideaway and the Schloss Elmau Retreat, opened in 2015. At the Hideaway, guests have access to a family area with a rooftop pool, an indoor pool and a fitness center. Badenhaus, the adults-only spa, contains an outdoor saltwater pool facing the mountains, a steam room, a sauna and a relaxation lounge. The exclusive Retreat includes a family spa, an adult spa, a yoga pavilion and a Nature Spa, open from mid-June to mid-September. The Hideaway is available to all Schloss Elmau guests, but only guests of the Retreat may use the Retreat facilities.
DON'T MISS: The immense hammam, reportedly the largest in Europe west of Istanbul
WHAT'S NEW: The Mindful Skiing Package, focusing on low-impact cross-country skiing through the forest
TREATMENT AREAS: 7 at the Retreat; 15 at the Hideaway
WHEN TO BOOK: Upon reservation of accommodation
OF NOTE: A superb bookstore and a Michelin-starred restaurant
Alila Jabal Akhdar
Nizwa, Oman
The spa jacuzzi at Alila Jabal Akhdar in Nizwa, Oman - Alila Hotels & Resorts
Located 6,500 feet in the Al Hajar Mountains, Alila Jabal Akhdar offers stunning views, incredible interior design and a luxurious spa. With seven treatment rooms and a Vichy shower, Spa Alila has a menu that combines Asian (chiefly Balinese) therapies with ingredients made from local roses, juniper berries and Omani frankincense. The spectacular outdoor infinity pool is complemented by an indoor heated plunge pool. Our editor's three-day stay at Alila Jabar Akhdar was "wholly insufficient"; he would happily have prolonged his visit for a week.
DON'T MISS: The outdoor infinity pool with views into the gorge
WHAT'S NEW: The Butterfly Trail, which offers scheduled access to view 11 butterfly and 40 bird species
TREATMENT AREAS: 7
WHEN TO BOOK: Upon reservation of accommodation
OF NOTE: Two natural spring pools, yoga pavilion, hiking
Golden Door
Escondido, California
Specialty massage at the Golden Door in Escondido, California - Golden Door
Each of the guest rooms at the Golden Door is nestled around a courtyard that features Japanese gardens, koi ponds, streams and waterfalls. Plotted on 600 acres, the property offers over 25 miles of private hiking trails through a wooded coastal valley. The absolute serenity of the resort and the personalized service afforded by a 4:1 staff-to-guest ratio sets the Golden Door apart, making it one of the most exclusive spas in the world.
DON'T MISS: The Watsu Calming Water Massage, a combination of massage, shiatsu and stretches performed in a warm pool
WHAT'S NEW: The Qi-Flow Cupping Massage, for deep relaxation and pain relief
TREATMENT AREAS: 9
WHEN TO BOOK: One to three months in advance; 12 months for groups
OF NOTE: No alcohol; the spa donates 100% its net profits to philanthropic charities
Ananda In The Himalayas
Tehri, Garhwal, Uttarakhand, India
Yoga at the Ananda in the Himalayas in Tehri, Garhwal, Uttarakhand, India - Ananda in the Himalayas
Located in the Himalayan foothills overlooking the Ganges River and surrounded by sal tree forests, Ananda's spa integrates the traditional Indian philosophies of ayurveda, yoga and Vedanta with contemporary approaches to wellness. The cuisine at Ananda is tailored to the needs of the individual based on the three ayurvedic "doshas" or mind-body types: Vata, Pitta and Kapha.
DON'T MISS: Ananda Fusion, a blend of massage techniques, reflexology and aromatherapy incorporating dosha-specific oils
WHAT'S NEW: Ananda rebalancing program, which helps guests assess their circadian cycle
TREATMENT AREAS: 24
WHEN TO BOOK: Upon reservation of accommodations
OF NOTE: Vedanta lectures, yoga classes, six-hole golf course
Brenners Park – Hotel & Spa
Baden-Baden, Germany
Spa pool at Brenners Park Hotel & Spa in Baden Baden, Germany - Nina-Maria Oetker
Located in the renowned German spa town of Baden-Baden, Brenners Park offers a spa-palace hotel in an Old World environment. Adjacent to the hotel and originally erected in 1890 as a royal residence, the wellness-oriented Villa Stéphanie underwent a major renovation in 2015. In addition to the treatment rooms, the villa includes 15 accommodations; three of those are suites with their own private treatment areas that can be customized with guests' preferred fitness equipment. The adjoining Haus Julius, a 18,290-square-foot mansion, offers medical care exclusively to Brenners Park guests.
DON'T MISS: Brenners Digital Detox, the opportunity to completely remove one's guest room from the electrical grid and Wi-Fi network
WHAT'S NEW: CoolSculpting, a non-invasive procedure to break down fat cells
TREATMENT AREAS: 15
WHEN TO BOOK: Two weeks in advance
OF NOTE: The exquisite plunge pool that serves as the centerpiece of the spa
Miraval Resort & Spa
Tucson, Arizona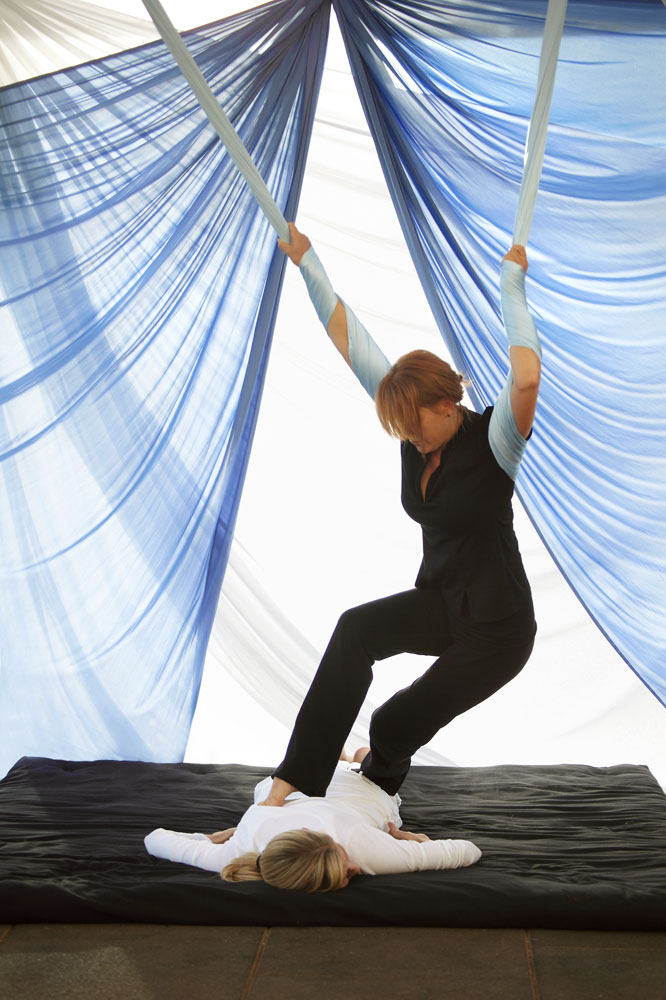 Surrounded by the Santa Catalina Mountains, Miraval's Life in Balance Spa was designed with a focus on sustainability over opulence. The spa is a calming environment that reinforces Miraval's connection to the earth, with a seamless blend of indoor and outdoor relaxation spaces. As a destination spa resort with a holistic focus, guests are encouraged to combine spa treatments with the resort's myriad activities and workshops, such as the Miraval Equine Experience, a therapy session where guests work with horses to unleash their creativity and release fears.
DON'T MISS: Nâga, a Thai-style massage using lengths of silk to help stretch and release tension while the therapist uses her feet instead of her hands
WHAT'S NEW: Yoga Month in September 2019 debuting new and innovative classes
TREATMENT AREAS: 23 indoor and 6 outdoor
WHEN TO BOOK: One month in advance
OF NOTE: On-site challenge course, equestrian center, hiking trails
Lucknam Park Hotel & Spa
Wiltshire, England
Spa pool at Lucknam Park Hotel & Spa in Wiltshire, England - Lucknam Park Hotel & Spa
As a complement to the traditional aesthetic of the Lucknam Park Hotel manor house, the contemporary interior of the spa employs teak, limestone and glass to reflect the wood, stone and water found in the surrounding 500-acre parkland. The spa offers a full menu of treatments along with yoga, Pilates, light therapy, thermal cabins and saltwater pool.
DON'T MISS: Dry flotation, for stress relief and muscle aches
WHAT'S NEW: The ESPA Strength & Resilience Massage, which uses aromatherapeutic oils, yogic stretches and deep muscle massage to boost energy levels
TREATMENT AREAS: 8
WHEN TO BOOK: One month in advance
OF NOTE: Walking trails, on-site equestrian center, formal gardens and arboretum
The Alpina Gstaad
Gstaad, Switzerland
The Six Senses spa at The Alpina Gstaad in Gstaad, Switzerland - The Alpina Gstaad
The Alpina Gstaad Six Senses Spa combines an Alpine spirit with an Eastern flair. With a full menu of massages and face and body treatments, the spa also offers numerous energy therapies, including chakra balancing, Reiki and crystal treatments. Treatment rooms are dedicated to hammam, colonic hydrotherapy and color therapy and include the Salt Room and Cave Room, among others.
DON'T MISS: Any of the nine Six Senses Signature Massages
WHAT'S NEW: The Volcanic Glacial Massage, which utilizes volcanic stones to rebalance the body
TREATMENT AREAS: 12
WHEN TO BOOK: Upon reservation of accommodation
OF NOTE: Yoga, Pilates and tai chi instruction available
Como Shambhala Estate
Bali, Indonesia
Water garden at Como Shambhala Estate in Bali, Indonesia - Martin Morrell
While the entire COMO Shambhala Estate is a spa retreat, the primary treatment center is perched on a promontory with advantageous views of the surrounding valley. Spread over three levels, the spa design incorporates wood, stone, granite and water to create a grounding atmosphere. Numerous hydrotherapy treatments are available, and the estate places an emphasis on cuisine.
DON'T MISS: The COMO Shambhala Massage, for rebalancing and general well-being
WHAT'S NEW: Four wellness programs: Ayurvedic Therapy, to restore the equilibrium; Be Active, a fitness and nutrition program; Cleanse, a detox program; and Bespoke, a program tailored to each guest
TREATMENT AREAS: 9
WHEN TO BOOK: Upon reservation of accommodation
OF NOTE: Two natural spring pools, yoga pavilion, hiking
Villa Honegg
Ennetbürgen, Switzerland
The outdoor pool at Villa Hoengg in Ennetbürgen, Switzerland - Hotel Villa Honegg/Photos Timo Schwach
The spa at the Villa Honegg, an art nouveau hotel situated high on a mountainside above Lake Lucerne, is a stylish but relatively small facility that offers a wide range of treatments and massages. What makes the spa unique is the outdoor horizon pool. Heated to 94 degrees year-round, it provides a staggering view of the lake 3,000 feet below, as well as ridge after ridge of jagged mountains that extend all the way to the high snow peaks of the Saint-Gotthard massif. Our editor says that basking in the warm water and gazing at the scene of astounding natural splendor was "almost a transcendental experience."
DON'T MISS: The aforementioned horizon pool, which has become an Instagram star in its own right
WHAT'S NEW: Swiss-designed cosmetic products by Jacqueline Piotaz
TREATMENT AREAS: 2
WHEN TO BOOK: Upon reservation of accommodation
OF NOTE: Finnish sauna, indoor pool with underwater music
The Four Seasons Nam Hai
Dien Duong Ward, Vietnam
The spa at The Four Seasons Nam Hai in Dien Duong Ward, Vietnam - Ken Seet
Midway between Hanoi and Ho Chi Minh City is the lavish beachside Four Seasons' Nam Hai Resort. Its Heart of the Earth Spa draws inspiration from the book "Love Letter to Earth," a call for ecological mindfulness by the Vietnamese monk Thich Nhat Hanh. The book's lessons are echoed in the spa by invoking stability, creativity and nonjudgment. The spa features eight floating treatment pavilions and three outdoor infinity pools, and all treatments include crystal singing bowls to help one harmonize with nature. Besides massage, scrubs and wraps, guests can take part in mindfulness and meditation practices along with multiple types of yoga. Other amenities include a fully-equipped gym, a sauna, a steam room and certified trainers available upon request.
DON'T MISS: Private and group classes on the yoga deck
WHAT'S NEW: A program of visiting masters of body and mind from around the world
TREATMENT AREAS: 8
WHEN TO BOOK: One week in advance
OF NOTE: Children of the Earth spa treatments for younger guests
Lake Austin Spa Resort
Austin, Texas
The Blue Room at the Lake Austin Spa Resort in Austin, Texas - Lake Austin Spa Resort
Located on the shores of Lake Austin, 30 minutes outside the city, Lake Austin Spa is known for its lakeside location and array of therapies. Refreshed in 2018, the spa menu includes more than 100 treatments, with the Espresso Fresco, Citrus Squeeze, and Float Away Massage being three of the newest available.
DON'T MISS: Tour of Texas Signature Treatment: a prickly pear exfoliating scrub, agave nectar wrap, face and scalp massage, plus a 50-minute full-body massage
WHAT'S NEW: Just Breathe Week, occurring four times a year, featuring special guest artists, lectures and activities designed to inspire slowing down
TREATMENT AREAS: 24
WHEN TO BOOK: One week in advance for weekdays, two to three for weekends
OF NOTE: Monthly Culinary Experience program, organic gardens, water activities