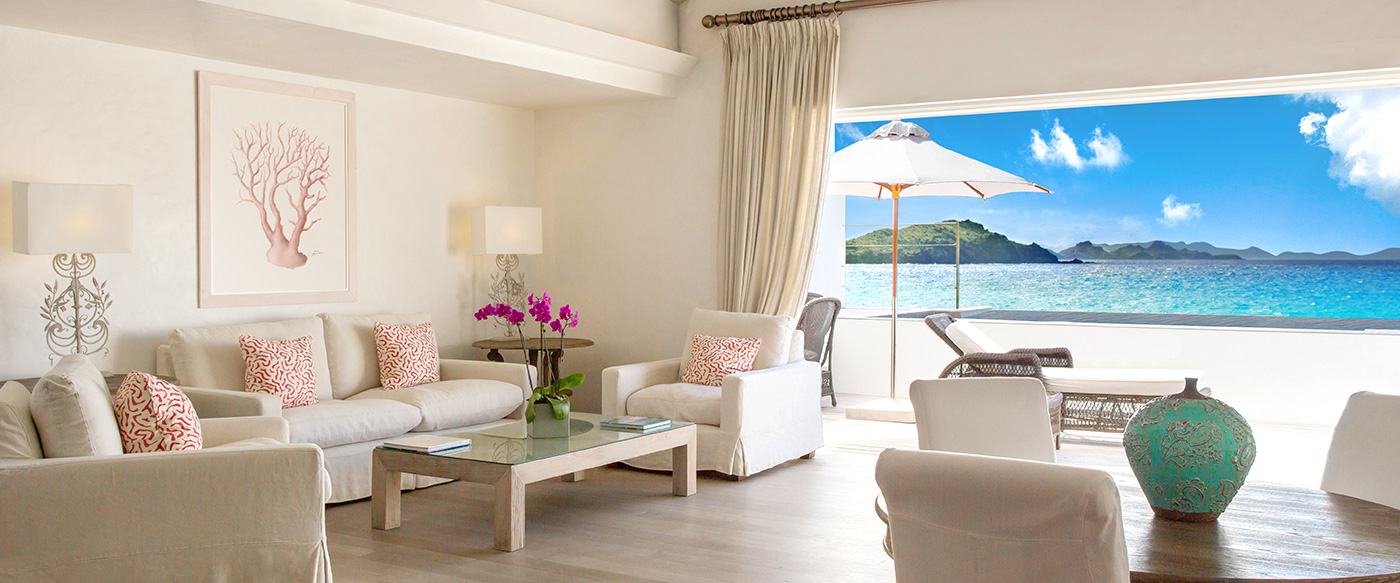 Three Shops for Beach-Goers
New and Noteworthy, October 2016
Beach Suite living room at Cheval Blanc St-Barth Isle de France
© Pierre Carreau
Revisiting Seductive St. Barths
By Hideaway Report Editor
October 17, 2016
Each Caribbean island has its own distinctive personality, but the one that delights almost everyone is St. Barths. With its status as a DOM (Département d'Outre-Mer), St. Barths is as much a part of France as Normandy or Provence, even if the mother country is 4,100 miles away. It is also perceptibly one of the happiest, most polite and most peaceful places in the world. The white sand beaches are dazzling; the food is consistently excellent; and the island's capital, Gustavia, has arguably the prettiest harbor in the Caribbean (its only real rival is St. George's, Grenada).
Le Cheval Blanc St-Barth Isle de France
St. Barths has recently seen major renovations of several of its most famous hotels, notably the Isle de France. This intimate 40-room (four suites, two villas) resort, set amid 10 acres of grounds and fronting the lovely Baie des Flamands, was renamed as the Cheval Blanc St-Barth Isle de France in 2014, when it became the third property in luxury conglomerate LVMH's growing roster of hotels. The other Cheval Blanc resorts are located in Courchevel and the Maldives, and hotels are under development in Paris and Oman. Following the comprehensive program of renovation and redecoration at Isle de France, we decided to make a return visit.
First impressions matter, and the young staff members were warm and welcoming on arrival. The men were dressed in white polo shirts and white canvas slacks, while the women wore pretty, sleeveless Creole-style seersucker dresses. This studied informality set a relaxed island tone immediately, as did the old-fashioned glass drink dispensers, the ceiling fans in the lobby, the white wicker furniture with floral chintz cushions and the decorative accents of pale salmon pink.
I'd hoped to find that the strong sense of place had not been compromised by too much anonymous international style. I needn't have worried; the beachfront rooms in the main villa still have an entirely appropriate décor with white walls and ceilings, white tile floors, white cotton slip-covered armchairs and dove-gray wooden desks and chests of drawers. Our bed was made up with perfectly ironed, tautly tucked white cotton sheets. Everything about the room was well-thought-out, including the window treatment that allowed full, partial and light shade with two sets of curtains and shutters.
The spacious bath, with an oversize enameled soaking tub, separate shower and stone counter, was flooded with natural light and came with oyster-colored tile floors and neat piles of exceptionally plush towels. In addition to Cheval Blanc toiletries, there were several skin creams, including an après-soleil, a high-SPF lip balm, bath salts, bath cubes and bath oil.
Once we'd settled in, we strolled over to lunch at La Cabane de l'Isle, the hotel's beach restaurant. There you eat under the main awning or beneath an individual beach umbrella, just a few dozen feet from the azure water. Unlike many beach restaurants, this one offers excellent service along with its relaxed atmosphere. My red tuna tartare with avocado was outstanding. Afterward we spent a quiet afternoon reading, swimming and dozing.
Whether you eat in or decide to head to a restaurant elsewhere, Le White Bar is a lovely setting for pre-dinner drinks. I especially recommend the cocktails made with rums from the French islands of Martinique and Guadeloupe. The hotel's formal evening restaurant, La Case de l'Isle, features the cooking of talented Brittany-born chef Yann Vinsot. In the exceptionally pleasant open-air dining room, we enjoyed local rock lobster flambéed in rum, and rack of lamb glazed with red miso.
The Isle de France has an "Ambassador" system — each room is assigned a personal concierge at check-in — but being familiar with the island, we thought it unlikely that we would require this service. However, it was a valuable tip from our Ambassador that took us to Orega, a restaurant that opened in Gustavia last December and which serves unexpectedly delicious sushi and sashimi.
The Cheval Blanc Spa comprises a sauna, a relaxation pavilion and four treatment rooms. Guerlain has created a wide range of face and body treatments especially for the resort. Be sure not to miss its signature 50-minute treatment, which combines a facial and a massage.
If the Cheval Blanc is an ideal destination for couples, it also offers suitable accommodations for families, notably in the 12 bungalows found on lush grounds across from the main hotel building. Decorated in the same style as the main lodge, these spacious bungalows come with large, private outdoor terraces and can be linked to form compounds. Since they do not have seaviews, they're more reasonably priced than beachfront rooms and suites. The two-bedroom Garden Suite with a private pool is another good option for families.
Today, the Cheval Blanc St-Barths Isle de France — a hotel I've always enjoyed — is even better in terms of the décor, service and comforts than it has been in the past. This is one of the Caribbean's foremost resorts, and it cannot be recommended too highly.
- Hotel at a Glance -
Le Cheval Blanc St-Barth Isle de France 96
Like
The prevailing good manners of the staff; the quiet atmosphere, which recalls that of the French Atlantic islands, such as the Ile de Ré, more than it does Saint Tropez; the superb Guerlain spa.
Dislike
The disco soundtrack played at the beach restaurant at noon — birdsong and the sound of the waves are preferable.
Good to Know
Surprisingly, this is a family-friendly property.

Rates: Beach Room, $1,250; Beach Junior Suite, $1,650
Address: Baie des Flamands 97133
Telephone: (590) 590-276-181
Hôtel Le Toiny
On the island's southeastern coast — known as the Côte Sauvage — Hôtel Le Toiny was recently acquired by new owners Charlie and Mandie Vere Nicoll, and summer 2015 saw a multimillion-dollar renovation program of the idyllic hideaway. Set on 42 acres of grounds that gently slope down to the Bay of Toiny, the 14 villas with private pools have been redecorated in a soothing scheme of neutral colors and earth tones by London-based interior designer Bee Osborn. A new Beach Club has been added, where it was our particular pleasure to spend a day reading in hammocks and lounging in the shade of the seaside coconut grove.
The hotel's main public areas include a new oyster shell-lined open-air bar, which provides an ideal venue for cocktails before dinner at the excellent con-temporary and Mediterranean-influenced Le Toiny Restaurant (formerly Le Gaïac).
- Hotel at a Glance -
Hôtel Le Toiny 95
Like
The tranquil hideaway atmosphere; the privacy of the spacious villas; the glorious seaview.
Dislike
The beach is more suitable for surfing than swimming.
Good to Know
Despite a change in the style of cuisine, Le Toiny Restaurant remains one of the best on the island.

Rates: Junior Suite, $1,960; Villa, $2,500
Address: Anse de Toiny 97133
Telephone: (590) 590-278-888
Hôtel Christopher
St. Barths may be idyllic, but alas, it is not cheap. Travelers who find the rates too steep at hotels such as the Cheval Blanc and Le Toiny — possibly those with children — may wish to consider the 42-room Hôtel Christopher, a Pointe Milou favorite with luxury-loving but value-conscious French vacationers. We joined them for a night and quickly understood why this resort is so popular. For starters, it has one of the largest pools on St. Barths — a welcome amenity at a property without beach access — plus two excellent restaurants: Mango for lunch and the dressier, more gastronomically ambitious Taïno for dinner. There is also a Sisley Spa at this relaxed, friendly, feet-in-the-sand place. And, unlike fashionable and celebrity-haunted hotels such as the Eden Rock, there's no "scene" here to speak of.
We had booked an Ocean Deluxe Terrace Room, which had a private terrace with superb views of the sea from a double daybed. The large room itself came with limestone floors that were pleasantly cool underfoot, an aluminum ceiling fan, a teak-framed bed made up in Egyptian cotton sheets, a built-in teak chest of drawers and a spacious bath with a separate rainfall shower and an egg-shaped black granite tub that was extra-long.
A highlight of our brief stay was the excellent cooking of young French chef Jean-Baptiste Piard. A delicious dinner at Taïno began with tuna gravlax with flying fish eggs and basil caviar (small, soft green pearls filled with basil-infused oil), and continued with roasted lobster tail and boned suckling pig, surely the most elegant version of surf-and-turf on the island.
As always, we left St. Barths with real regret. Fortunately, the debut of Le Barthélemy will provide an excellent reason for a prompt return. Ultimately, maybe the best thing about St. Barths is that "plus ça change, plus c'est la même chose" — the more things change, the more they stay the same.
- Hotel at a Glance -
Hôtel Christopher 91
Like
The quiet setting; the charming service; the excellent restaurants and spa.
Dislike
The lack of a beach at the resort itself.
Good to Know
It is advisable to book spa appointments in advance, especially during high season.

Rates: Ocean Junior Suite, $950; Ocean Suite, $2,040
Address: Pointe Milou F-97133
Telephone: (590) 590-276-363
A Favorite New Restaurant in Gustavia
Opened last December by a French architect with a passion for Japanese food, Orega has quickly become one of the most popular restaurants on the island. The interior is decorated with paintings by the owner's Ukrainian artist wife. A Japanese master produces outstanding sushi and sashimi from impeccably fresh fish — no mean feat given the logistics of delivery to a small Caribbean island — as well as worldly Franco-Japanese dishes like black cod glazed with miso, or lobster ravioli in mushroom sauce.
Orega
Rue Samuel Fahlberg, Gustavia. Tel. (590) 590-524-531
Sneak Peek
This article appeared in The Hideaway Report, a monthly newsletters exclusively for members.
Learn About Membership