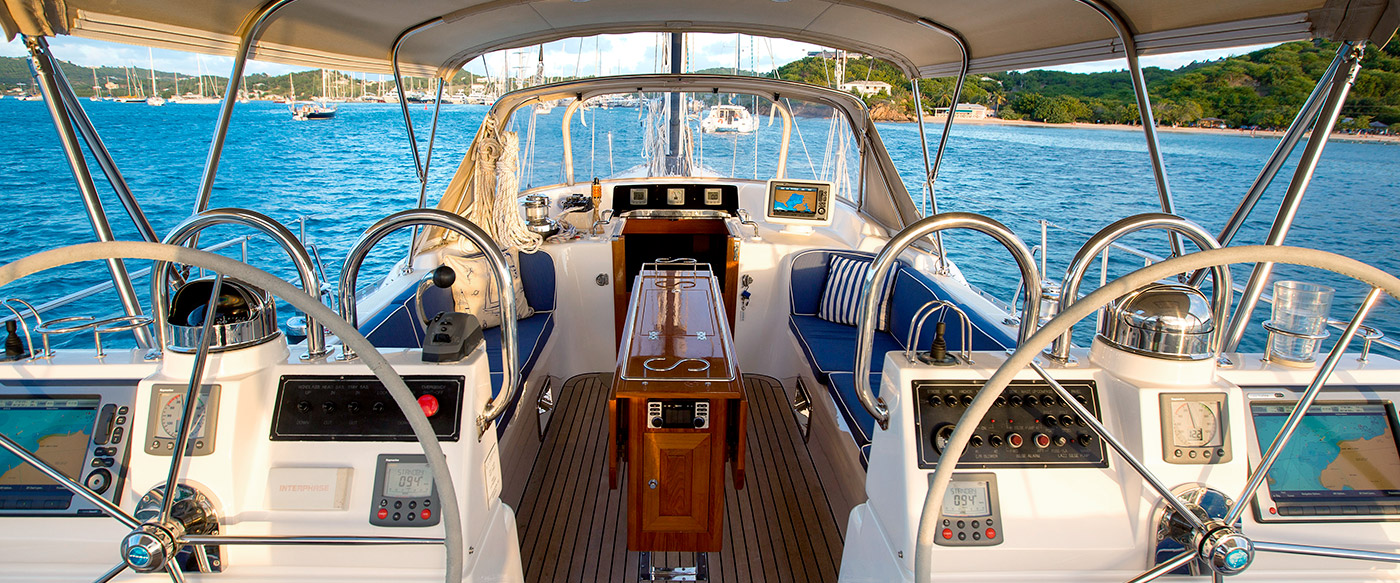 Web Exclusive: Pantelleria Capers
Petit St. Vincent: A New Beginning
Cockpit featuring twin steering positions on Destiny
© Billy Black
Sailing in the St. Vincent Grenadines
By Hideaway Report Editor
September 1, 2014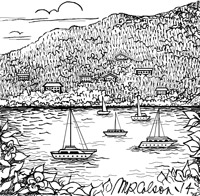 I have long considered the Grenadines to be among the most beguiling places on earth. The idyllic chain of Caribbean islands and cays that stretches some 50 miles north to south from St. Vincent to Grenada is the very definition of a tropical paradise, with steep, jungle-covered slopes; azure water; and sugar-sand beaches.
Just as enchanting is the relative remoteness of the region. There are no large cruise ships, and many of the smaller islands are uninhabited. The snorkeling and diving are superb, as are other 
water-based activities. But time in the Grenadines can just as happily be spent lolling in the shade with a book and an iPod, or lounging in a thatched-roofed beach bar.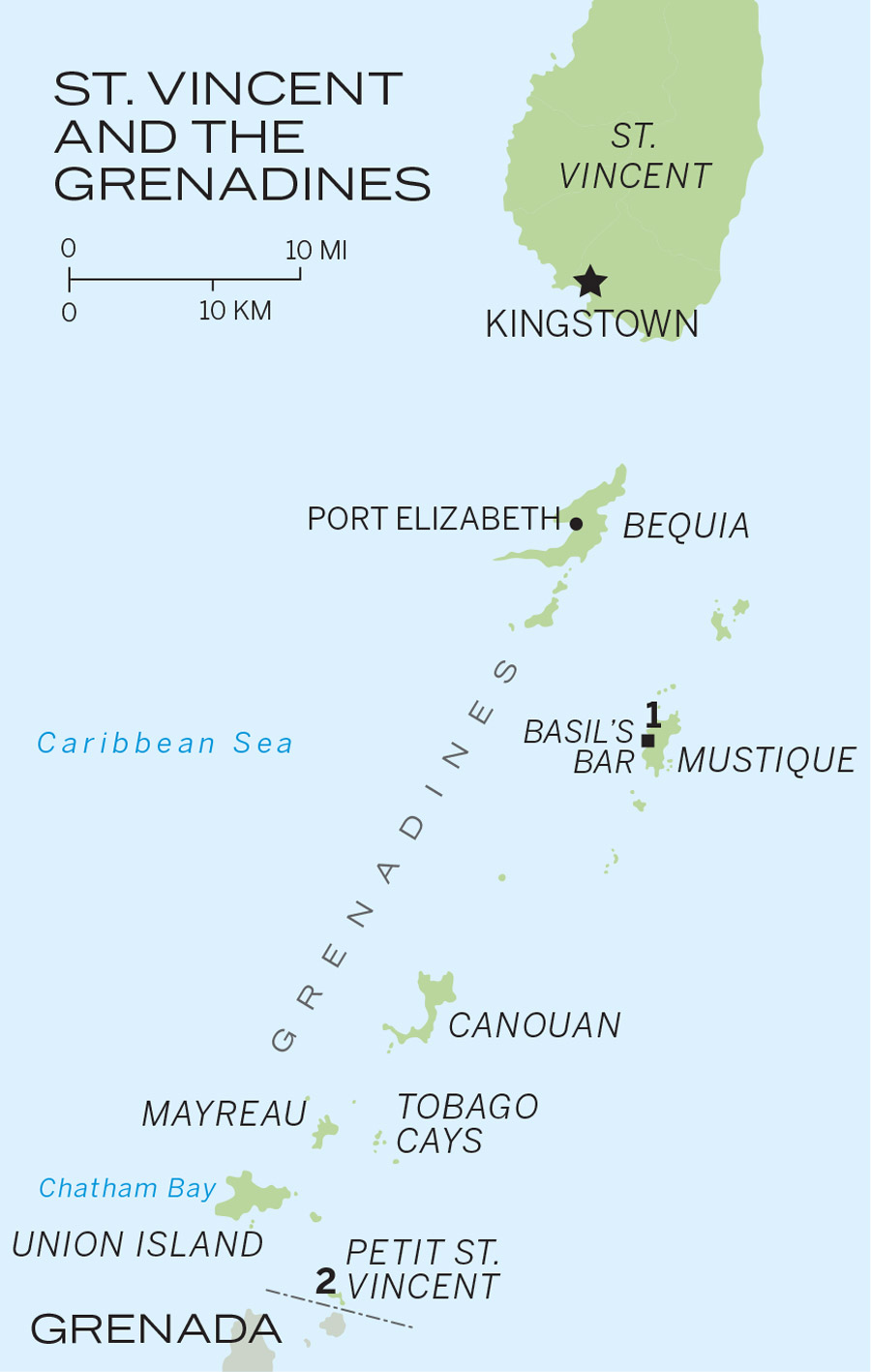 So it was with great pleasure that I recently accepted a longstanding invitation to join friends on a sailing trip there. Our vessel was a striking, blue-hulled 70-foot Hylas called Destiny. The 10-day trip took us from St. Vincent to Bequia, Mustique, Canouan, the Tobago Cays, Petit St. Vincent and finally, Union Island.
Built in 2011, Destiny proved to be a sleek but roomy yacht, ideally suited to cruising these waters in style and comfort. Fully air-conditioned, she boasts an 18-foot beam, three guest cabins with 7-foot ceilings, showers with strong water pressure, a spacious main salon with an 8-foot ceiling, and an ample galley from which the chef/first mate Megan Puorro produced reliably excellent meals. There are three televisions on board, as well as music systems and Wi-Fi. The cockpit features twin steering positions and a dining table that is properly shaded by a Bimini top. A deck shower was a welcome amenity for our frequent swims off the stern, as were the stairs that led directly into the water and also to the dinghy that ferried us 
to and from shore.
In addition to their natural beauty and delightful climate, the Grenadines provide one of the world's finest sailing grounds. (In the Caribbean, only the Virgin Islands offer a semblance of competition.) The easterly trades, which blow steadily in the range of 15 to 20 knots, ensure that yachts traveling from north to south always have the wind on their beams, a boat's best point of sail. People leery of big-water cruising will no doubt be comforted by the fact that land is never out of sight. Yet the passages between islands are interesting enough to satisfy even the most serious salt. And given the dozens of islands and the plethora of anchorages, you can sail as much or as little as you wish.
After boarding Destiny on the dramatic volcanic island of St. Vincent, we set sail for Bequia, a two-hour reach away. As we entered its picturesque horseshoe-shaped harbor, Port Elizabeth, our captain, Gunnar Williamson, reassured me that the island's unique boatbuilding culture — which includes the construction of sizeable twin-masted schooners — continues to flourish. Bequia has long been favored by the world's yachtsmen, especially those on circumnavigations of the world, and Australian and New Zealand flags, as well as those from the major European countries, are frequently to be seen fluttering in the balmy breeze.
After dropping anchor, we boarded the dinghy and I spent the next two hours snorkeling over hard corals and stretches of sea fans, gawking at parrotfish, harlequin bass, butterflyfish and sergeant majors, their vibrant colors glistening in the sunlight. At one point, a pair of sea turtles paddled serenely past.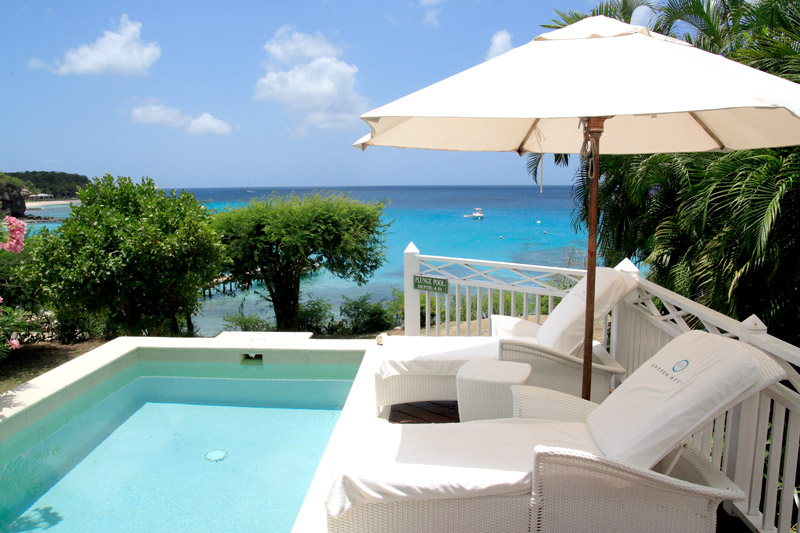 After two nights at Bequia, we set sail for nearby Mustique, the private 1,400-acre island known for its publicity-shy clientele. There, we moored at Basil's, perhaps the most famous bar in the Caribbean, having previously arranged to dine at The Cotton House, my recommended hotel on the island. Despite its reputation for extravagant parties, especially on New Year's Eve, Basil's was quiet and uncrowded that evening. There are few more pleasant places to sit with a cocktail, watching the pelicans plummet into a turquoise sea.
The Veranda Restaurant at The Cotton House is housed in an airy colonial-style structure, surrounded by lush gardens. At a table on a second-floor porch, we enjoyed a sublime eggplant soup, followed by flavorful lobster risotto, a perfectly seasoned fish curry and a tender rack of lamb. The service was as efficient as the surroundings were enchanting, and the only disappointment came when we ordered wine, as our first two choices were unavailable. A charge frequently leveled at The Cotton House is that in high season, the hotel becomes little more than a clubhouse for the island's homeowners. There may be some truth to this assertion, but in shoulder seasons, it remains one of the most charming and atmospheric properties in the entire Caribbean.
As much as we enjoyed our time on Mustique, we felt strangely elated to return to sea.
As much as we enjoyed our time on Mustique, we felt strangely elated to return to sea. Personally, I find that life aboard a comfortable yacht quickly becomes addictive. Our next destination was the island of Canouan. Gunnar anchored off a deserted white-sand cove and, once again, I spent a happy morning hanging above the coral, watching schools of blue tang and triggerfish. Returning to Destiny, we found that Megan had laid out a seafood lunch beneath the Bimini. As we feasted, I was overwhelmed by a deep sense of relaxation and profound well-being.
Spending two days and nights in the nearby Tobago Cays only reinforced this mood. The cays are a group of five uninhabited islets — Petit Rameau, Petit Bateau, Baradol, Petit Tabac and Jamesby — surrounded by a marine park. It is a favorite spot for boaters, especially in the January-February high season, and several yachts were moored around the islands when we arrived. But we never felt crowded or uncomfortable.
We set out one morning to Petit Tabac, an atoll that enjoyed a moment of fame as the desert island in the movie "Pirates of the Caribbean: The Curse of the Black Pearl." As Gunnar hauled our dinghy onto the beach, he announced: "This is your island for today!" And so it proved. Much of our time was spent lounging in the shade of coconut palms, but later in the afternoon, we made our way to the nearby Baradal Turtle Sanctuary, where, for an hour or so, we swam with the wild green and hawksbill sea turtles that congregate there. In the evening, the dinghy ferried us across to another deserted islet, where Gunnar had arranged a beach dinner of grilled lobster and 
sautéed conch.
But sometimes, the simple experiences prove the most indelible. 
After two nights in the cays, we sailed down to Union Island for a sojourn at Chatham Bay, an engaging and nearly empty harbor. On our final evening, I strolled along the beach, stopping for a rum punch at a tumbledown shack where reggae music played out of scratchy speakers. The scene was utterly removed from my habitual environment of luxury hotels and resorts. But sometimes, the simple experiences prove the most indelible. 
AT A GLANCE
LIKE: Elegant architecture and stylish interior, which embody the atmosphere and glamour of the old West Indies; excellent restaurant.
DISLIKE: The island exists primarily for the benefit of its homeowners, and in high season, hotel guests can feel like second-class citizens.
GOOD TO KNOW: Despite its royal and celebrity clientele, Mustique is a relaxed place, little given either to formality or to conspicuous displays of wealth. In part, this is because the press and paparazzi are rigorously excluded.
The Cotton House 94 Cottage, from $750; Suite, $1,100 (breakfast and dinner included). Tel. (784) 456-4777.
Sneak Peek
This article appeared in The Hideaway Report, a monthly newsletters exclusively for members.
Learn About Membership