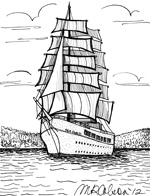 Summer. Sailing. Greek isles. Put these together and they promise nothing but pleasure. I had been pondering a trip to Greece for some time, but was daunted by the atrocious economic and political situation.
But a cruise through the Mediterranean, far from big cities with their potential for unrest, seemed a perfect solution.
The vessel that had caught my fancy was the Sea Cloud II, part of a three-ship fleet owned by the German company Sea Cloud Cruises. The company's name derives from its first ship, the magnificent private yacht of heiress and businesswoman Marjorie Merriweather Post that was a gift from her husband, Wall Street legend E.F. Hutton. Post oversaw every detail of the design and interior appointments. Christened Hussar when she was launched in April 1931, the vessel sailed under that name until 1935 when, after Post and Hutton divorced, Post renamed her Sea Cloud. This beautiful four-masted barque later had a colorful history that included active service as a weather ship in World War II and ownership by the dictator of the Dominican Republic, Rafael Trujillo. Eventually, she ended up in Panama, scheduled for a sad demise brought on by an invidious combination of tropical heat and humidity.
In 1978, a German economist and sailing enthusiast, Hartmut Paschburg, determined to save this extraordinary vessel with the aid of a group of Hamburg businessmen. Eight months of extensive renovations brought Sea Cloud back to life as a cruise ship and, with the exception of a major refurbishment from November 2010 to April 2011, she has plied the seas since. In 1994, new owners acquired the Sea Cloud and soon decided, owing to the popularity of the original, to build a sister ship. Constructed to exacting standards over a period of three years, Sea Cloud II was launched in February 2001. At 384 feet, she has 29 cabins and 16 junior suites on the Cabin and Promenade decks, plus two owner's suites on the Lido Deck, and carries a maximum of 94 passengers attended by 65 crew.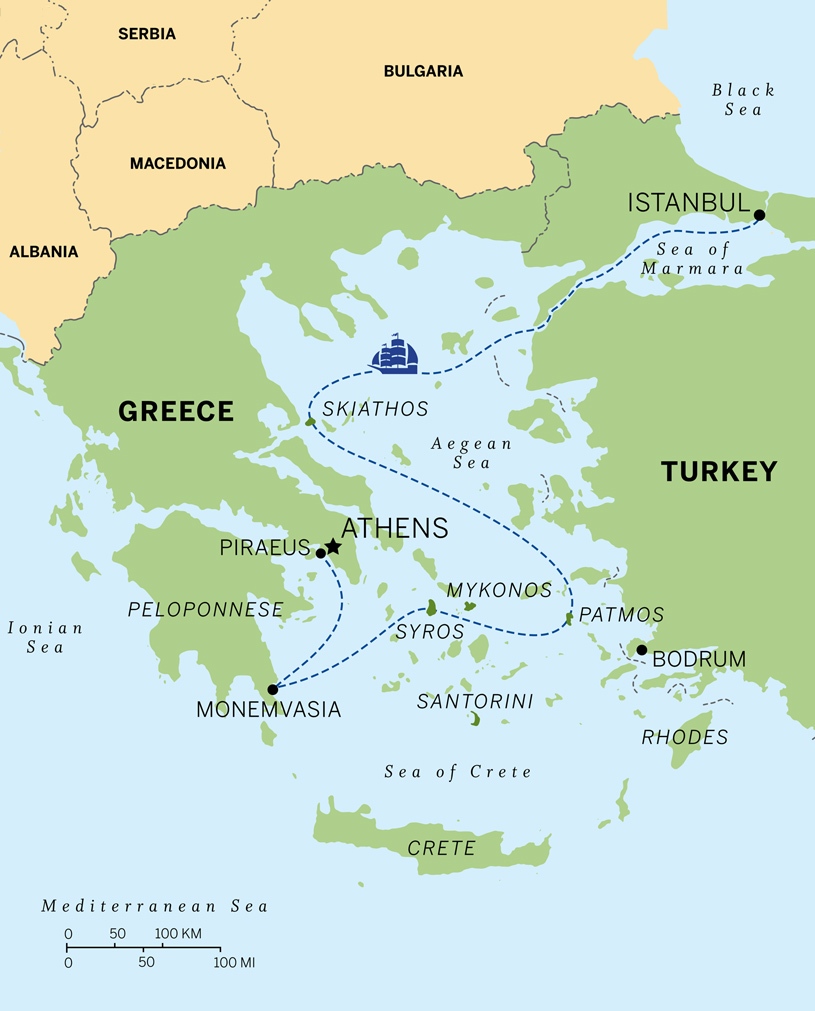 As we approached the passenger-ship dock in Istanbul's Karaköy, at the mouth of the Golden Horn, our driver insisted that we wanted to go to one of the large white cruise liners at the far end of the quay. No, I assured him, we were in search of one with three masts. He looked unconvinced. Dockside, a complement of attractive young people outfitted in tailored navy uniforms pressed cold drinks and even colder towels into our hands. I have boarded some fairly impressive vessels in my day, but going on a yacht of this size was a genuine thrill.
A steward led us to our air-conditioned cabin, which proved to be a smartly designed space with polished woodwork that included a custom-made armoire with a TV and DVD. We also discovered a refrigerator, ample closets, a small sitting area adjacent to two large portholes, and a very comfortable bed. With dark-blue carpeting, well-placed lights and a mirrored dressing table, the cabin was the embodiment of homey elegance. The bath was of good size, clad in sienna-colored marble and equipped with well-planned storage space that kept all of our toiletries at hand. The shower had excellent pressure and a seemingly endless supply of hot water. (Tubs are found only in suites.)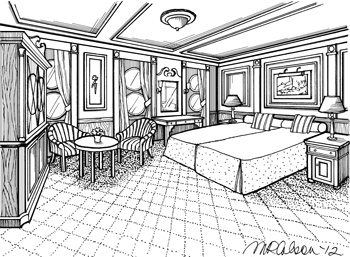 The interior design of the ship's public areas is similar, with wood accents, polished brass fittings and contemporary art creating an atmosphere of sophistication and understated luxury. The handsome lounge — used by day for lectures — has a beautiful coffered ceiling, a small bar, ample seating areas with bucket chairs around café tables, and a grand piano. The dining room provides a contrast, with green carpeting, buttercream walls and tables draped with white linens and set with silver, crystal and fresh flowers.
On our first evening, the weather was glorious, so we headed to an area of the Lido Deck at the stern of the ship with a covered bar and a sweep of deck chairs. There, we stood at the rail with a glass of Champagne, watching Istanbul and its great landmarks, Hagia Sophia and the Blue Mosque, slide past. Our fellow passengers seemed to be an international group ranging in age from the mid-50s to the mid-60s.
During the night, the Sea Cloud II cruises under the power of its two engines. In our cabin, the only sound we could hear — especially as we were up front toward the bow — was the swish of the sea against the hull. I found this almost hypnotic and, combined with the gentle rocking of the waves, highly conducive to a good night's sleep.
At sea I tend to rise early so I can sit on deck with a cup of coffee to watch the sunrise. It was not until 8 a.m. that the captain gave the order to raise the sails. But what a spectacle! There wasn't a moment that failed to amaze me. Designated crew members ascended the masts — the tallest of which is 171 feet high — and then worked their way along the yards. On deck, other crew raced in choreographed chaos to loosen lines. For a while, the deck looked as though a giant had spilled a huge bowl of spaghetti. But in minutes, all the ropes were neatly coiled, and above us, the white sheets billowed as they caught the wind. The three masts carry 23 sails, comprising 32,000 square feet of canvas and managed by 13 miles of rope, steel wire and plastic cable. (The Sea Cloud II's sails generally stayed spread until we approached our daily port of call, when they were furled and the switch made to engine power to allow for greater maneuverability.)
Appetites stimulated by other peoples' exertions, we headed to breakfast, a feast of omelets, bacon, ham, smoked fish, cheeses, perfectly cooked boiled eggs and first-class croissants (baked fresh every morning). Duly fortified, the next task was to find a suitable venue for a morning read. We opted for cushioned chaises on a side deck out of the direct sun, secure in the knowledge that one of the superb stewards — who had learned our names and preferences instantaneously — would track us down with cups of cappuccino. Lunch was served outdoors, and the food was ample and varied. The chef had prepared salmon with avocado in a crisp puff pastry case that kept the fish deliciously moist and tender.
Each day, announcements for shore visits would rouse us from reading, daydreaming or spa treatments. While it was hard to relinquish the gentle pleasures of onboard life, I had chosen this particular itinerary because it included some of the less visited islands in the Aegean.
For example, Patmos, east of well-known and crowded Mykonos, is where St. John the Divine wrote the Book of Revelation and is noted both for a monastery dedicated to the saint and for the surrounding Hora, a pristine medieval town of winding streets and whitewashed shops and houses.
Landing at Skala, we took a cab to the monastery — which dates to the late 11th century — and spent a quiet hour wandering through the cool interior and admiring its ancient mosaics. Later, our taxi driver wanted to show us his native island, so we allowed him to drive us through a hilly landscape populated by sure-footed sheep and goats and scented by wild herbs. Back in the tidy port, we chose a small café and sat in the shade of an awning with glasses of coffee frappé.
Another highlight of the cruise was the port of Ermoupolis on the island of Syros. The administrative center of the Cyclades, Ermoupolis is not the dramatic tumble of white sugar cubes that typifies the region's architecture. But this does not mean it is unappealing. On the contrary, the first sight of the town on entering the harbor is exquisite, the geometric patterns of its buildings ascending a hillside and culminating in the blue dome of a church. The various pastel shades are so harmonious that the whole scheme seems to have been deliberately orchestrated. As on Patmos, we strolled the pretty shaded byways of the marble-paved streets, did a little shopping — the consensus is that Syros boasts the best loukoumia (Turkish delight) — and admired the fine painted ceilings of the Greek Orthodox church, Agios Nikolaos, before settling into a waterside café for an ouzo.
The dilemma of these shore visits was whether to stay on shore for dinner or to return to the ship. Usually, we succumbed to the lure of the Sea Cloud II's dining room and the opportunity it provided to exchange stories with our congenial fellow passengers. The food was reliably excellent, and a representative evening menu included a trio of foie gras preparations, lobster with duxelles on a bed of polenta, and an excellent schnitzel. From the house list, guests can choose a red or white wine; a premium selection is available at a supplementary charge. The service could not have been more pleasant or attentive.
Despite its being a traditional sailing vessel, albeit one launched just 11 years ago, my expectation that the Sea Cloud II would provide the desired levels of comfort proved well-founded. True, it is a comparatively small ship lacking the large stabilizers found on modern cruise liners, and you are aware of the ship's motion, especially when under sail. But at no time — and we were in some turbulent seas at one point — did the movement seem disagreeable. The interior is appointed with strategically placed handrails throughout, which provide security in the event of bad weather. None of the passengers became seasick — although I did meet a couple wearing medicated patches — and there is a doctor on board to treat anyone who might feel discomfort. Overall, I struggle to find fault with any aspect of our experience. Sea Cloud II provided a week of unmixed pleasure. I am now keenly anticipating a voyage on the original Sea Cloud, in order to make a comparison.
Sea Cloud II cruises the western Mediterranean, plus Madeira and the Canary Islands, in fall 2012 before returning to the Caribbean in December. Both Sea Cloud and Sea Cloud II have programs in the Caribbean and Central America in the winter of 2012-13. Sea Cloud II returns to the Mediterranean in early May 2013. Rates per person are from $2,806 for five days to $6,134 for 12 days. Arrangements are best made through a travel agent, as communication with Sea Cloud Cruises in Hamburg can be time-consuming. The Andrew Harper Travel Office will be more than happy to assist you, Tel. (800) 375-4685. seacloud.com