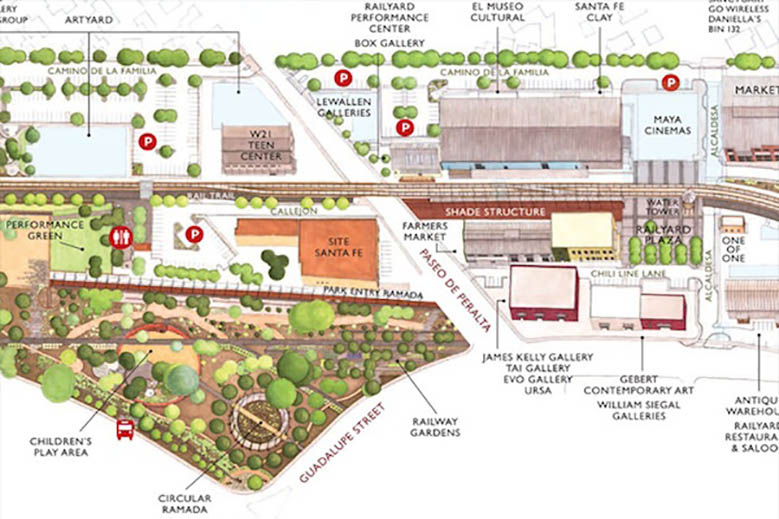 © Santa Fe Railyard Community Corporation
Like so many other American cities, Santa Fe is turning to its past to make its future, and The Railyard district (which previously looked the way it sounds) is rapidly becoming one of the liveliest parts of town. The railroad first came to Santa Fe in 1880, when a spur line of the Atchison, Topeka, and Santa Fe Railroad Company made its terminus in the western part of the city. All that traffic and trade made the area an animated spot, and by the 1940s, it had an ice skating rink and hosted the annual circus visit. But as the railway declined, so did the blocks around the station.
In 2002, a master plan was drawn up to redevelop the area, and the fruits of that effort are now plainly evident. Last year the Santa Fe Farmers' Market (which has more than 100 vendors and is regarded as one of the best in the country) inaugurated a handsome new facility close to Warehouse 21, a space devoted to helping local teenage artists. Other players in the vibrant Railyard arts scene include El Museo Cultural (celebrating Hispanic art, culture and traditions) and the contemporary arts space SITE Santa Fe. In addition to these public venues, there are also numerous intriguing restaurants and shops.
Among those we particularly enjoyed during our visit: Casa Nova (530 South Guadalupe Street) brings together a diverse range of art from South Africa, much of it produced by cooperatives that exist to benefit good causes in that country. It is filled with beautiful objects for the home, from furniture to masks to the elegant silver serving pieces of Cape Town artisan Carrol Boyes. Bosshard (Guadalupe at Read) features art, artifacts, antiques and architectural elements primarily from Asia. But John Bosshard has a wide-ranging eye and eclectic tastes, so amid sculpted Buddhas you'll find paintings from contemporary New Mexico artists, Shaker-esque furniture, pottery vases and much more. Station At The Rail Yard (530A South Guadalupe Street) is a welcoming coffeehouse that anchors one end of the historic Gross Kelly Warehouse, which houses other retail tenants. It's a great spot for a break or a light lunch overlooking the adjacent (and still very active!) railyards.
And fortunately, trains are still very much a part of The Railyard district. The Santa Fe Southern Railway operates special excursions using vintage 1920s cars, with regular weekend trips on the spur line up to Lamy. The schedule changes seasonally.