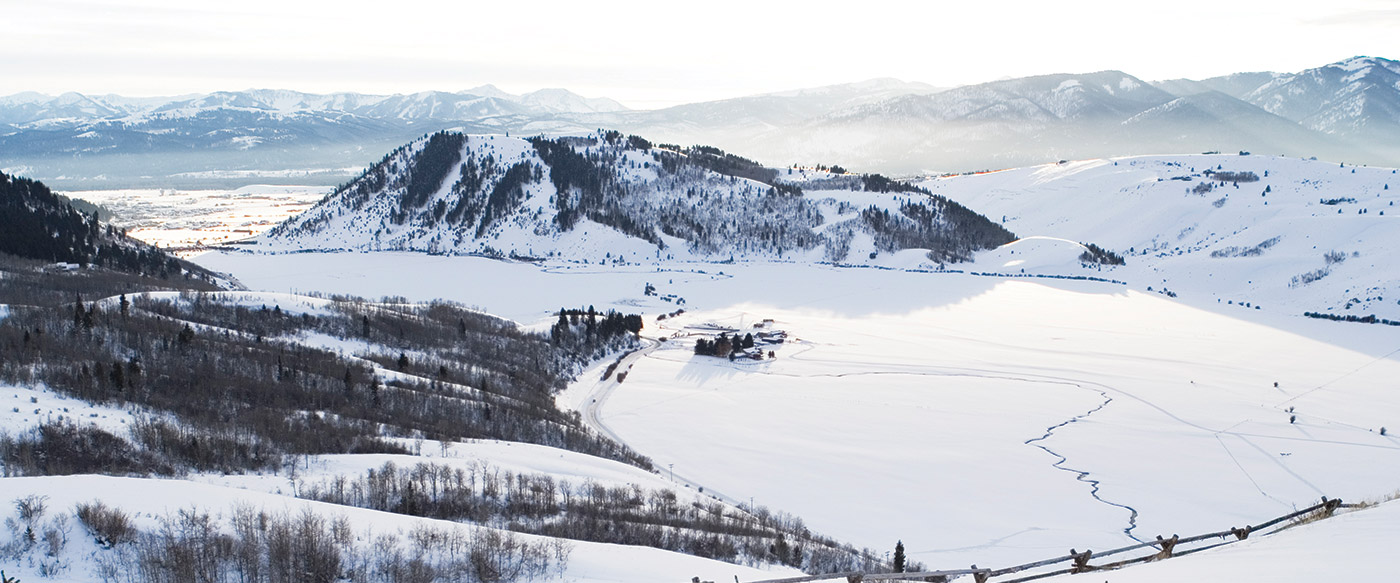 Seven Idyllic U.S. Snowy Escapes
By Hideaway Report Staff
January 1, 2012
Although the holiday decorations are packed back into boxes, the end-of-the-year hustle and bustle is a thing of the past and a fresh calendar hangs on the wall, there's still plenty of winter left. With this in mind, we highlight seven snowy winter escapes across the eastern and western United States, including activities available at Andrew Harper Alliance hotels, all perfectly suited for easy getaways filled with winter wonder and magic.
Lenox, Massachusetts
"Lenox in winter is exactly as you would imagine a quaint New England town," says Kathryn Branson, lodging manager at Blantyre. "There are white lights on every tree, snow-covered hills, cross-country skiers and snowshoers on every trail—a true winter wonderland." Nestled in the Berkshires in western Massachusetts, Lenox is not a usual ski town, Branson adds. "The crowds that invade the typical ski town bypass Lenox," she says. "It is more a Nordic winter area with the cross-country skiing, midnight snowshoeing and winter hiking up local mountains—with Monument Mountain at its best during the winter." Blantyre has a full-time snow concierge in the winter to help guests plan their outdoor adventures, Branson says. She adds that Lenox offers plenty of indoor adventures, as well. "Lenox is a place for those who enjoy winter for Nordic sport, but also enjoy the best museums, culture and cuisine come afternoon and evening. There is a tranquility here that you cannot find anywhere else in the Northeast. Winter in the Berkshires is just magical."
Skiing According to Branson, Jiminy Peak (elevation 2,380 feet) is about 30 miles from Lenox. The ski resort is open mid-November until April.
Cross-country Skiing, Snowshoeing "From Blantyre's front door, we have miles and miles of trails," says Branson. "And, locally, Kennedy Park and the Pleasant Valley Wildlife Sanctuary provide hours of outdoor activity on their wilderness trails."
Ice Skating From December until March, Blantyre floods its three lower tennis courts and creates an ice skating rink. "Skating at night, under the stars, with our 105-foot Norway spruce brilliantly lit by colored lights only 50 yards away is a moment you will never forget," Branson says.
Museums, such as the Norman Rockwell Museum and the Ventfort Hall Mansion and Gilded Age Museum
Performing Arts, such as shows by Shakespeare & Company
Snow Barbecues, Winter Hiking
Barnard, Vermont
"Vermont is so special in its own way—the people, the trees, the homes," says Janine Cifelli, who handles public relations for Twin Farms in Barnard, which lies just east of the Green Mountains in central Vermont. "Barnard is remote and you can enjoy a relaxed way of life here. It's simply pretty," Cifelli says. She says that Silver Lake and Barnard General Store, one of the longest-running general stores in Vermont, add to the town's charm and beauty. In the winter, the town is "loaded with snow, less busy and much quieter overall," Cifelli adds. In particular, "Twin Farms is a lovely escape because the cottages and rooms are remote, the trails are secluded, the fireplaces are always ready to be lit and it's just a cozy experience."
Skiing Killington Ski Resort, about 55 minutes from Barnard, consists of six mountains and is open from early November to early May. Killington Peak, the summit, stands at 4,241 feet.
Cross-country Skiing At Twin Farms, "guests cross-country ski and snowshoe on our 300 acres, and they ice skate and downhill ski on our own elevation—we run people up on a ski Sherpa, which is like a giant snowmobile. Novices can learn how to ski on the privacy of their own hill with no wait, no cost and amazing instruction," Cifelli says. "We also do surprise bonfires out on the trails with hot cocoa and s'mores."
Snowshoeing, Ice Skating, such as at Silver Lake State Park
Ice Hockey, Guided Snowmobile Tours
Saranac Lake, New York
Saranac Lake lies in the heart of the Adirondack Mountains and, combined with the nearby towns of Lake Placid and Tupper Lake, it forms the Tri-Lakes region of Upstate New York. "Saranac Lake is beautiful all year round, but the winter allows visitors to have a more active experience in the area," says Megan Torrance, general manager at The Point, which is situated in the vast wilderness of the Adirondack Park on the original site of William Avery Rockefeller's Camp Wonundra. "The range of outdoor activities available, along with the snow-covered landscape and frozen lake, make for a memorable atmosphere."
Downhill Skiing Whiteface Mountain, about a 50-minute drive from Saranac Lake, boasts the greatest vertical drop east of the Rockies at 3,430 feet. A site of the 1980 Winter Olympics, Whiteface's Olympic slopes are considered some of the best in the East, Torrance says. The season runs from late November through mid-April. Big Tupper Mountain, in Tupper Lake—about 25 minutes from Saranac Lake—also offers downhill skiing opportunities. The season is mid-December through late March.
Dog Sledding, Bobsledding, and Luge According to Torrance, the Olympic facilities in nearby Lake Placid offer the only public bobsled and luge runs in the country.
Cross-country skiing, including at The Point
Ice-fishing, Snow barbecues, Ice skating Torrance notes that, in addition to lacing up your own skates, you can watch the accomplished figure skaters known to practice at Lake Placid, with rehearsals always open to the public.
Curling, Snowshoeing, Winter Carnival (February 3–12, 2012) According to Torrance, this is the oldest winter carnival in the eastern United States. The 10-day annual festival includes sports (such as snow volleyball), dances, parades, fireworks and a competitive display of traditional logging skills. You can also visit the world-famous ice palace.
For a more relaxing experience, Torrance says guests at The Point "can take advantage of nightly bonfires, curl up with a book and a mug of hot chocolate or cider, or even pay a visit to the Adirondack pub for a game of pool, darts, backgammon, chess or cards. The Point truly is a perfect place for a relaxing wintertime vacation."
Jackson, Wyoming
"Jackson Hole is surrounded by the majestic Grand Teton Mountain range, one of the most picturesque mountain destinations on the continent," says Jessica Cook, sales manager with Amangani, located about 15 minutes from the shops and galleries of downtown Jackson. Jackson is not as developed as some other ski destinations in the west, which "provides visitors with a more authentic western experience," Cook says. Jackson's ecosystem is also authentic, she says. "Jackson is the last fully intact ecosystem in the lower 48 states since the re-introduction of the grey wolf in 1998," Cook says. "Early morning wildlife excursions offer an 'American safari' experience that you won't be able to experience anywhere else, during which you'll see majestic animals such as moose, grizzly bear, bison, deer, elk and more."
Skiing According to Cook "Jackson offers world-class skiing with only about 5,000 skiers up the mountain each day. You rarely have to wait in line to get back up the hill." Jackson Hole Mountain Resort, open late November–early April, "offers more than 1,000 hectares of skiing and snowboarding terrain and some of the most spectacular and pristine back-country trails in the U.S.," she adds. The summit elevation is 10,450 feet. "Amangani maintains a ski lounge at the base of the mountain for our guests where we provide a beautiful lunch each day," Cook adds.
Snowshoeing, Snowmobiling, Cross-country Skiing, Snowboarding, Dog sledding Cook notes that Amangani offers a full-day dog sled excursion to Granite Hot Springs, "where you can take a dip in the natural hot springs while your guide prepares a private lunch."
Wildlife Tours "We are very fortunate to have preserved the habitats of these incredible animals, and winter is a great time of year to see them," Cook says, adding that Amangani offers privately guided wildlife excursions for guests.
Trips to Yellowstone National Park (a 75-minute drive) and Grand Teton National Park (a 30-minute drive)
Bitterroot Valley, Montana
The Bitterroot Valley lies west of the Continental Divide near the southwestern border of Montana and Idaho. To the west is the Bitterroot Mountain range, part of the Rocky Mountains, while to the east is the Sapphire Range with its smaller, forested peaks. According to Deborah Schara, marketing director at Triple Creek Ranch in Darby, the dry climate and milder temperatures provide an opportunity for "lengthy outdoor play." "There are so many options for powdery winter fun. Southwest Montana is known as the 'Banana Belt,' which means we have milder temperatures than eastern Montana," she says. Schara notes that the highest peaks in Montana are nearby, with Triple Creek Ranch located at the base of Trapper Peak (elevation 10,157 feet). "The snow is very light and powdery," she says. "The valley floor may have little or no snow, which is great for travelling, yet the mountains are so close and highly accessible. Southwest Montana is virtually a winter playground for all who enjoy the outdoors."
Alpine Skiing "Lost Trail Powder Mountain ski area (with a summit of 8,200 feet) is 30 minutes from Triple Creek Ranch," Schara says. "With an average [annual] snowfall of 300 inches, 50-plus runs and no lift lines, you can't go wrong." Lost Trail Powder Mountain is open December through early April. "Triple Creek Ranch's Alpine and Nordic skiing is all-inclusive; meaning, we provide transportation to and from the mountain, lift tickets and equipment rentals for the duration of a guest's stay," Schara says.
Sledding, Nature and Birding Tours "We've got over 250 species of birds and a wonderful variety of wild animals, such as bears, wolves, mountain lions, mountain goat, sheep and much more," Schara says.
Nordic Skiing "Chief Joseph Pass for Nordic skiing has maintained groomed trails and is like a winter wonderland," Schara notes.
Snowshoeing, Ice-fishing, Snowmobiling, Dog Sledding, Horseback Riding, Team Penning, Hiking, Cooking School Weekends Jan. 12–15 and Feb. 16–19 at Triple Creek Ranch. The ranch's chefs provide hands-on lessons in the kitchen, while the ranch's sommelier assists guests with wine pairings.
Four Corners, Colorado
The Four Corners area in Southwest Colorado is magical in the winter, says Edoardo Rossi, general manager at Dunton Hot Springs, a meticulously restored mining town resort located in Dolores. "Our high altitude (8,900 feet) and the amount of snow we get make this truly a winter wonderland setting," Rossi says. The area is home to an abundance of national forests, wilderness areas, recreation areas, national monuments, and state and national parks and, Rossi says, Dunton Hot Springs is convenient for exploring them all. "Within a three-hour drive you can get to Monument Valley, and Mesa Verde National Park is just a one-hour drive away. So there truly is a vast area to discover." The winter season is particularly special, he says. "Winter here is truly idyllic, especially with the hot springs all over the area. And, with the amount of snow and the Alpine setting, it is like being in the Swiss Alps."
Skiing Telluride Ski Resort, with a maximum elevation of 13,150 feet, is about 1-1/2 hours from Dolores in the San Juan Mountains. The season begins in late November and ends in early April.
Snowshoeing, Heli-skiing According to Rossi, heli-skiing is a must-do for visitors to Dunton Hot Springs. "Heli-skiing is a wonderful experience in the Rockies, and a rare offering in North America," he says.
Ice skating Ice climbing on the frozen waterfall at Dunton Hot Springs Cross-country skiing, Back-country skiing, Snowmobiling, Wildlife Viewing, Dog Sledding "This is definitely one of those once-in-a-lifetime opportunities," says Rossi. The dog sledding takes places directly from Dunton Hot Springs.
Hot springs "The hot springs are probably our main attraction," Rossi says. "With a temperature range from 103 to 107, they are lovely. And the hot springs are non-sulphurous, which is definitely a bonus."
Santa Fe, New Mexico
"Santa Fe is never at a shortage of things to do—especially during winter," says Julie Baker Horne, director of sales and marketing for Encantado, an Auberge Resort. "The unspoiled natural beauty of Santa Fe is enhanced during the winter season. It's a bit more peaceful than other seasons; streets are lined with flickering luminarias; adobe buildings are dusted with snow; and it is truly one of the more romantic times to explore the city's cultural offerings." Horne adds that Santa Fe's high desert environment means the area gets sunshine and blue skies throughout the winter. "Although the temperature drops, the air is fresh and crisp, with regular dustings of powdery snow," she says. Winter also provides a different setting in which guests can enjoy Santa Fe's distinct offerings. "The warm, spice-oriented local cuisine offers a great warm-up alternative après-ski," Horne says, "and the spa and healing culture ensures top-notch offers for repairing and refreshing the body after a strenuous winter outdoor experience."
Skiing According to Horne, the closest skiing opportunity is the Santa Fe Ski Basin (12,075-foot summit), about a half-hour drive away in the Sangre de Cristo Mountains. "The ski basin is a very local day skiing spot and has seven ski lifts and 74 trails, so definitely a great day ski getaway to mix with the rest of your Santa Fe experience," she says. The season runs from Thanksgiving to the end of March. Taos Ski Valley, about 1–1/2 hours from Santa Fe, is open late November through early April. Kachina Peak has an elevation of 12,481 feet.
Cross-country skiing, Winter hiking, Snowshoeing, such as in Valles Caldera National Preserve in the Jemez Mountain Range, which has long been out of reach to the public, according to Horne. Cultural and Artistic Experiences, including Encatado's "Into the West" excursions, or performances by the Santa Fe Concert Association at the Lensic theater
Art galleries and Shopping "In the winter, visitors may spend more time speaking with gallery owners and artists and shopping for local Native American jewelry along the Plaza without being overwhelmed with tourists," Horne says. Sleigh-riding, Stargazing "Encantado encourages guests to get in the winter spirit by gathering around the stunning firepit, which burns only fragrant local pinion pine firewood and overlooks the Sangre de Cristo mountain range," Horne says.
Get Inspired for Your Next Adventure
Register to sample:
One-of-a-kind itineraries
Inspirational travel articles
Free e-newsletter from our editors