Reopened in May 2016 after a three-year, $305 million renovation, the San Francisco Museum of Modern Art (SFMOMA) features a fresh, cutting-edge design and houses a vast collection of creative contemporary works in all mediums.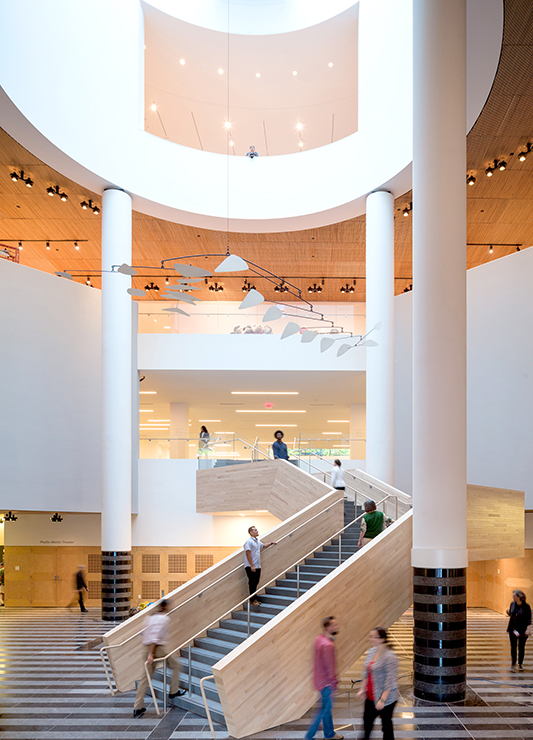 The new 235,000-square-foot expansion overseen by the Snøhetta architecture firm seamlessly merges with the original Mario Botta-designed postmodern structure. The novel building, with its unique exterior of wavy cement panels, towers over the original five-story brick structure with its own black-and-white-striped central design accent. Botta's famous open-space atrium has been preserved, but the stairs leading to the second-floor lobby have been reconfigured to allow more light to stream in through the signature oculus and for easier visitor circulation. At the Howard Street entrance, the recently added and immense COR-TEN steel structure, "Sequence," created by Richard Serra, is surrounded by floor-to-ceiling glass windows and an amphitheater-style seating area that is open to the public on one side.
With the new annex, the museum's exhibition space has more than doubled. It now encompasses two gallery floors that are free to the public and showcase thought-provoking visual exhibits including renowned Abstract Expressionist and Pop Art displays, sizable rotating installations and Doris and Donald Fisher's private collection of 1,100 works on a 100-year loan. The impressive Fisher Collection is primarily composed of works by Ellsworth Kelly, Andy Warhol and Gerhard Richter. On the third floor adjacent to the Alexander Calder: Motion Lab exhibit is a beautiful outdoor area that boasts the largest living garden wall in the United States.