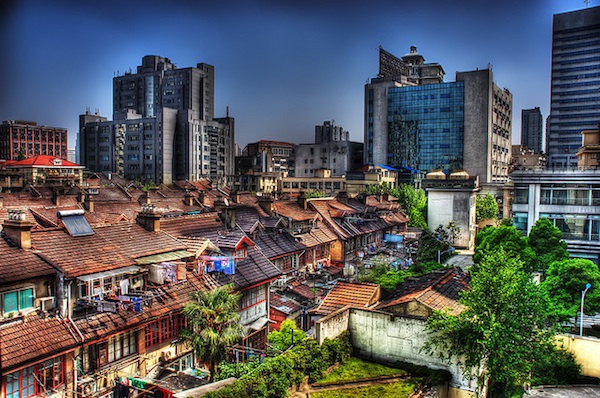 Shanghai's Taikang Road. Flickr © Jakob Montrasio.
This historic trading city has long been a destination for avid collectors and shoppers. With its heady mix of skyscrapers and traffic gridlock, modern-day Shanghai can be a bit of a madcap place to navigate, so if you have limited time to do your shopping, it's best to have some informed guidance.
"There are better deals in Shanghai than in Hong Kong these days," she said as she led around the lesser known markets, fabric stalls and historic neighborhoods of Shanghai. Martin spends her days carefully vetting new shops while keeping tabs on the changing stock carried by favorite establishments. She has a wealth of insider knowledge about the city and has established relationships with local vendors (notably, she does not accept commissions).
"If you are getting something made, it's a 50 percent chance that it will be good, even if you see a sample," she explained. "You have to make sure that a shop has its own dedicated tailor with proven quality." We recently had just a few days in Shanghai, so we first stopped at a suit tailor's stall at the Shanghai South Bund Soft-Spinning Material Market, on Lujiabang Road, to take measurements, decide on style (the tailor has a wealth of fashion magazines to peruse), and choose the fabrics and colors we preferred.
Once we settled on our clothing picks — which included a three-piece suit and a Thai silk-lined cashmere coat — Martin kindly negotiated the price for all the items and a timeline for their manufacture that fit with our travel schedule. Miraculously, the clothing — elegant and beautifully made, with quality workmanship — was ready for final fitting and adjustments two days later. We were very happy with the results.
For solo wanderings, Martin also recommended Taikang Road, a cutting-edge art neighborhood on the south side of the French Concession that is an attractive and compelling mix of old and new. Its dense square block of winding pedestrian alleys is packed with a smattering of restored historic stone houses, classy boutiques, art galleries, sophisticated wine shops and little cafés and restaurants.
The worldly Martin uses her knowledge and longtime relationships for her customers' benefit — without a doubt increasing their shopping power.
East of the Sun — RMB1,000 per hour, plus RMB400 for a four-hour driver