Sun Valley's Alpine Sports
.article-cta-top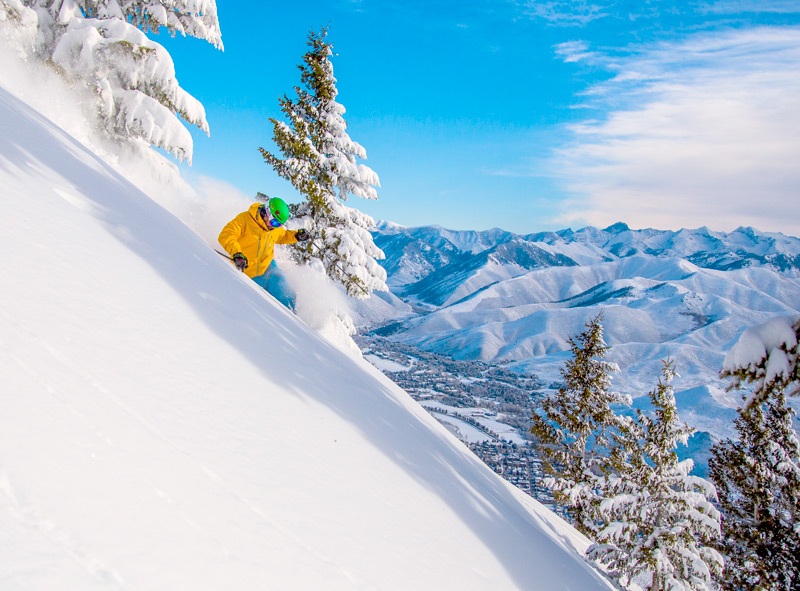 The term "Sun Valley" is often used to encompass Sun Valley itself, neighboring Ketchum and Hailey, 12 miles to the south, where the airport is located. The Sun Valley Lodge lies within the town of Sun Valley, but the resort's famous ski mountain, Bald Mountain, or "Baldy" (9,150 feet), rises above Ketchum. Baldy is best known for its vertical drop of 3,400 feet, tight grooming and lack of long lift lines. A shuttle takes skiers to two bases: River Run and Warm Springs, each of which has an attractive day lodge. River Run features a gondola lift, and Warm Springs has a high-speed quad. It is advisable to arrive at either lift at 9 a.m. The Warm Springs Lodge is open for breakfast and lunch, while the River Run Day Lodge is nice for après-ski.
While Baldy gets most of the attention, Sun Valley's Dollar Mountain is especially family-friendly.
While Baldy gets most of the attention, Sun Valley's Dollar Mountain (6,638 feet) is especially family-friendly and well-known for its excellent ski and snowboard instruction. The mountain is treeless, and it, too, has a day lodge. There is also a tubing hill. The latest draws, however, are the terrain park for beginner and intermediate ability levels, and a new superpipe with 22-foot walls for advanced freestyle skiing and snowboarding.
Sun Valley is also the birthplace of heli-skiing in the United States, with three nearby mountain ranges offering some of the lightest and deepest powder in the country.
Wing Tai Barrymore on the Dollar Mountain superpipe - Courtesy of Sun Valley Resort