People of Note: 2015 Grand Awards
.article-cta-top
2015 Grand Awards: People of Note
---
Best Guide, Chef of the Year, Sommelier of the Year, Hotel Manager of the Year, Concierge of the Year, Outstanding Service Award, Lifetime Achievement Award
Best Guide
Jorge Escandón, Cartagena, Colombia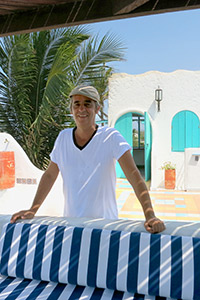 In addition to operating a seafood restaurant, chef Jorge Escandón leads adventurous gourmets (including celebrity chef Anthony Bourdain) through Cartagena's colorful Bazurto Market. First, we browsed the seafood stalls, where he selected a fresh tuna for our lunch, along with some live shrimp. Past the butcher stalls, we emerged into a sea of colorful fruit stands. Escandón introduced us to 11 fruits rarely found outside Colombia, including the sweet potato-like níspero, aromatic guanabana, citrusy granadilla and perfumed mamey. From there, we headed to his charming beach house to make tuna and shrimp risotto, which felt less like a lesson and more like cooking with a friend. The personable Escandón could not have been a better guide, and the experience became one of my favorite memories of Colombia.
Chef of the Year
Yannick Alléno, Le Pavillon Ledoyen, Paris, France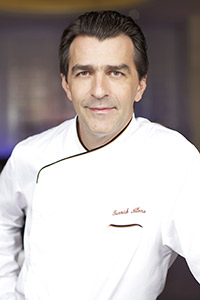 Two years after leaving Le Meurice, where he won three Michelin stars in 2007, Yannick Alléno has a Paris kitchen again. Last fall, he took over Le Pavillon Ledoyen, the charming Directoire-style restaurant in the gardens of the Champs-Elysées just off the Place de la Concorde. The menu changes constantly, but dishes such as a cep mushroom head stuffed with a ragout of the same mushroom stewed in red-wine sauce with juniper berries, and grilled wagyu beef with green tomato compote-filled ravioli attest to Alléno's genius for creating sublime contemporary dishes, which appeal even more for reflecting the chef's self-effacing style. Alléno also has a two-star restaurant in the ski resort of Courchevel, two bistros in Paris and a restaurant in Marrakech, plus he has just taken over the restaurant L'Orangerie at Moët & Chandon's headquarters in Epernay.
Sommelier of the Year
Gérard Margeon, sommelier for Alain Ducasse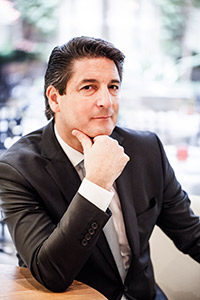 As the group sommelier for Alain Ducasse's restaurants for many years, Gérard Margeon has been one of the most influential tastemakers in France. His latest challenge was to redesign the wine list at Ducasse's eponymous restaurant at the Hôtel Plaza Athénée in Paris. With the recent and dramatic shift of the kitchen away from traditional French luxury produce such as foie gras toward fish, vegetables and grains, foods that often pair best with fresher, younger white wines, this was a particularly interesting (and pressing) opportunity for him to demonstrate his expertise. Margeon's response is an intriguing new list that runs to everything from more recent white Châteauneuf-du-Papes to unexpectedly sophisticated Muscadets and other elegant Loire Valley wines.
Hotel Manager of the Year
Arnaud Morandi, La Maison d'Uzès, Provence, France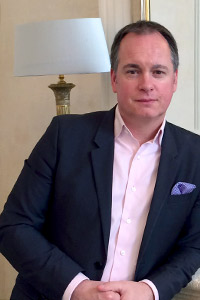 Arnaud Morandi is a natural hotelier, as demonstrated by his long and impressive stewardship of the Château de Mercuès outside of Cahors in southwestern France. He is as much an alert good host as a manager, which is why the atmosphere at enchanting new La Maison d'Uzès in Uzès is so immediately welcoming. Morandi has trained his young staff to a very high standard of service, and inspired their confidence in making spontaneous gestures of hospitality.
Concierge of the Year
Raffaele Montefusco, L'Albergo della Regina Isabella, Ischia, Italy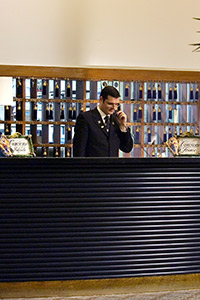 As soon as we walked into the lobby of L'Albergo della Regina Isabella on Ischia, the concierge, Raffaele Montefusco, came up to introduce himself and to insist that should any need arise, however minor, we must not hesitate to solicit his help. During our entire stay, he never failed to greet us cheerfully by name and to inquire whether he could be of assistance. We found his recommendations, especially for shopping, to be right on the money. Mr. Montefusco added greatly to the enjoyment of our stay.
Outstanding Service Award
Rafael Pereznares, Hacienda Ucazanaztacua, Mexico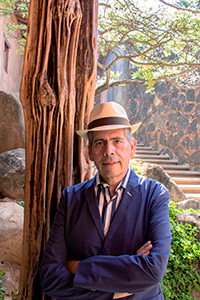 I approached the Hacienda Ucazanaztacua in central Mexico expecting that the service would reflect its small size, remote location and relatively low price. But time and again, owner Rafael Pereznares and his staff surprised me. On our first night, when we were the only guests at the property, I overheard him turn down a last-minute dinner reservation for 10 people so that we wouldn't feel inconvenienced and overwhelmed. At dinner, the flawless wine service would have been a credit to any sophisticated urban restaurant. And the next day, when we took a dip in the immaculate infinity pool, we had barely finished a lap before our loungers had been covered with fresh towels and shaded by umbrellas. Pereznares has trained his staff to a level that some properties costing four times as much fail to achieve.
Lifetime Achievement Award
Sir Michael Kadoorie, The Peninsula Hotels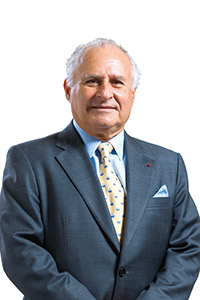 Shortly after the 30-story tower at The Peninsula Hong Kong opened in 1994, I was invited to join a small number of hotel guests in a tour of the new building. Meeting in the famous lobby, we were taken aback to find that our guide was to be none other than Sir Michael Kadoorie, chairman of The Hongkong and Shanghai Hotels, the world's most distinguished family-owned hotel group. Not only did Sir Michael prove to be charm personified, but his enthusiasm for the new project, especially the groundbreaking guest room technology that he had helped to design, was remarkable and extremely infectious. In 2014, some 86 years after the debut of The Peninsula Hong Kong, the company celebrated the opening of its first European property, The Peninsula Paris. Here, as at all 10 Peninsula hotels, Sir Michael's passionate attention to detail and deep understanding of true luxury are everywhere apparent. A stickler for the highest standards throughout his long career, Sir Michael consistently has been among the world's most innovative hoteliers — as the remarkably sophisticated and intuitive control tablet designed by Peninsula's Hong Kong electronics lab for the Paris property attests.