Surprising Vermont Spirits
.article-cta-top
Before we left on our journey, a friend remarked, somewhat sarcastically, "I'll bet you even manage to turn up a distillery or two." I didn't — I turned up several. In Vermont, the entrepreneurial impulse combines with the desire for artisanally produced products, and the state currently has 19 distilleries in operation, many of which offer pourings at local farmers' markets. Here are those we sought out.
Caledonia Spirits
Tom Cat and Barr Hill gins from Caledonia Spirits - Photo by Hideaway Report editor
This fine producer turns out three bottlings: two gins and a vodka. I liked both gins, Barr Hill and Tom Cat. Unusually, the latter is aged in charred oak barrels, which gives it an amber hue and notes of spice and honey.
Caledonia Spirits
46 Log Yard Road, Hardwick. Tel. (802) 472-8000
Mad River Distillers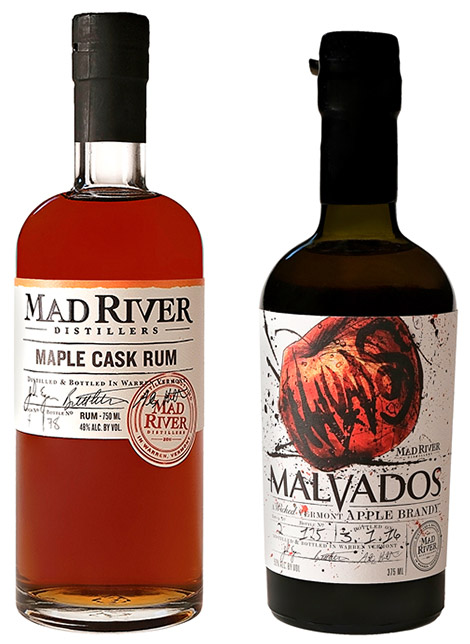 The impressive range of this distiller includes rye, bourbon and rum. The Maple Cask Rum proved noteworthy, having spent time in barrels conditioned with maple syrup. I also enjoyed the Malvados, an apple brandy made exclusively with fruit from Vermont. By appointment only.
Mad River Distillers
156 Cold Springs Farm Road, Warren. Tel. (802) 496-6973
Saxtons River Distillery
Perc coffee liqueur and Sapling varieties at Saxtons River Distillery
Vermont friends alerted me to this fine producer. Saxtons River embraces the maple heritage of Vermont, incorporating it into every product but one (a coffee liqueur called Perc). The Sapling Maple Liqueur is sweet, intense and ideal for after dinner. I also liked the Sapling Maple Bourbon and have since used it for making a Manhattan.
Saxtons River Distillery
485 West River Road (Route 30), Brattleboro. Tel. (802) 246-1128
Smugglers' Notch Distillery
Gin from Smugglers' Notch Distillery - Photo by Hideaway Report editor
This well-regarded producer offers a portfolio that includes vodka, gin, bourbon and an unusual wheat whiskey. The bourbon won me over, but the real winner turned out to be the Litigation Wheat Whiskey, just introduced last fall. Made from a mix of wheat and malted barley, the spirit is aged in charred white oak casks. With a whiff of caramel on the nose, it is smooth and satisfying.
Smugglers' Notch Distillery
276 Main Street, Jeffersonville. Tel. (802) 309-3077
Stonecutter Spirits
Heritage Cask Whiskey and Single Barrel Gin at Stonecutter Spirits
This small distiller currently sells two products, Single Barrel Gin and Heritage Cask Whiskey. Another, Small Batch Whiskey, is aging for release in 2019. Aged in former bourbon barrels, the gin stands as one of the most distinctive spirits I've tasted in some time. With a caramel hue, its nose gives scents of juniper, orange and burnt butterscotch with a remarkably smooth finish.
Stonecutter Spirits
1197 Exchange Street, Middlebury. Tel. (802) 388-3000