I must admit that I made my reservation at the new Chicago Athletic Association Hotel with slight misgivings. More than one major travel publication has heralded it as "Chicago's hottest new hotel," but after my stay in the city's beautifully designed but self-satisfied Soho House, which competes for the same demographic, I had doubts that the service would match the remarkable architecture.
I have long admired the Venetian Gothic building, which wouldn't look out of place along the Grand Canal if it were a few stories shorter. Architect Henry Ives Cobb, who also designed the city's Romanesque Newberry Library, completed the Chicago Athletic Association's headquarters in 1893, the year of the Columbian Exposition. Inside, all-male members enjoyed access to Turkish baths, a swimming pool, various ornate lounges ideal for networking and a tucked-away restaurant, complete with a secret entrance for members' mistresses and some soundproof phone booths for calling one's wife at home.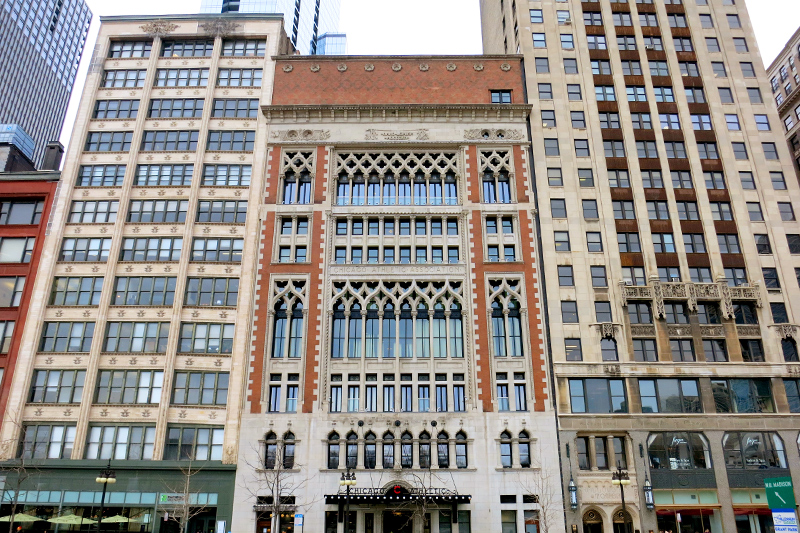 The association folded in 2007, and for a time, it appeared as though this extraordinary building might be partially dismantled. Fortunately, John Pritzker, son of the founder of Hyatt Hotels and a Chicago preservationist, stepped in. His deep-pocketed company, Geolo Capital, spent an undisclosed (but unquestionably vast) sum of money restoring the interior starting in 2012, and the 241-room hotel opened to the public in May 2015.
The public spaces are nothing short of extraordinary. On the ground floor, the Turkish baths now house what must be the world's most ornate Shake Shack. A grand staircase leads from the marble-clad entry hall up to the palatial lobby lounge, a triumphant German-American interpretation of high Venetian décor. Gothic flourishes decorate dark wood paneling on the walls and columns, and in between leaded-glass windows surmounted by ogee arches, Gothic spires top niches housing athletic trophies. Numerous seating groups stand on the mosaic-tile floor, with stylish mixes of pieces such as leather chesterfields and mid-century modern wingback armchairs. A screen of arches festooned with tracery separates the main lounge from a cozy library with more seating. I sat at a table by the windows one afternoon to catch up on some writing, expecting not to be noticed amid the numerous people working on their laptops. But a waiter came by almost immediately and promptly brought over a glass of wine and a snack of aromatically spiced olives.
I also had a delicious snack of crispy breaded-fish tacos in the Game Room, the club's former billiard room, where Jack Dempsey once boxed. Now young patrons amuse themselves with pool, table shuffleboard, Foosball and bocce on a full-length court. Illuminated with numerous globe pendant chandeliers, this space also has rich period details, including carved-wood capitals and ceiling beams. A row of backlit pool cues stands above the bar, to the left of which is the tucked-away entrance of the Cherry Circle Room, the club's former dining room.