The Jungle Lodges of Belize
By Hideaway Report Staff
May 5, 2010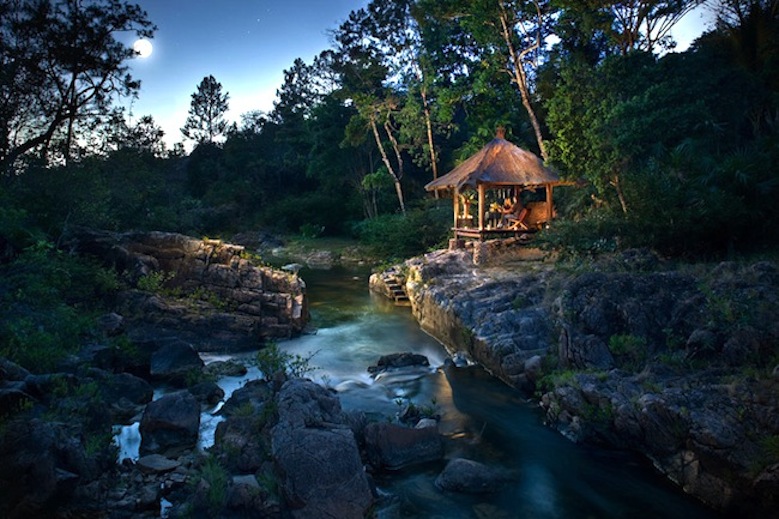 Blancaneaux Lodge, Belize
Belize contains the world's most accessible tropical wilderness. The country lies less than two hours from the southern United States, and from Belize City a 30-minute flight in a light aircraft can bring you to one of several extremely comfortable lodges surrounded by pristine jungle. Fully 60 percent of the country is still covered by dense forest, thanks to a population of just 320,000 in an area about the size of Vermont. As well as 4,000 species of flowering plants, among them 250 varieties of orchid, Belize has an astonishing range of wildlife. Animal highlights comprise five species of cat, including the jaguar; 650-pound tapirs; armadillos; anteaters; and black howler monkeys. The catalog of spectacular birds runs for pages, but Scarlet Macaws, Keel-billed Toucans and enormous Harpy Eagles (with 7½-foot wingspans) are close to the top of most birders' wish lists.
Many jungles are acquired tastes. Hot, humid, wet and populated by an entire bestiary of biting and stinging creatures, they often seem uniquely unsuited to human habitation. Although there are some low-lying areas of Belize where Special Forces troops are frequently subjected to unspeakable misery and privation, many regions of the country are comparatively dry and welcoming. The thickly forested hills of the Cayo District, for example, enjoy moderate temperatures and refreshing breezes. Two of Belize's top three jungle wildlife lodges are located here, just 10 miles apart.
Blancaneaux Lodge, in the Mountain Pine Ridge Forest Reserve, is one of two properties in Belize owned by filmmaker Francis Ford Coppola. (The second, Turtle Inn, is on the beach, near the southern town of Placencia.) Blancaneaux has an idyllic location on a steep hillside above the Privassion River, a clean, clear mountain stream with rapids interspersed by a series of glassy pools ideal for swimming. The accommodations, especially the two-bedroom villas, are spacious and attractive. Brightly decorated with Guatemalan textiles, they are well-appointed and sufficiently comfortable to please even the least hardy of travelers. Coppola's own villa can be rented and comes with a private pool and outdoor showers. Guests at Blancaneaux may hike, ride or mountain bike along well-maintained trails through the surrounding forest. Naturalists escort bird-watching groups year-round, and from February to April, take people to admire the profusion of orchids in spectacular bloom.
Blancaneaux is close to the so-called Maya Highlands, where Mayan temples and cities are still being discovered and excavated. The most famous of these is Caracol, 22 miles southwest the lodge and accessible only by Land Rover. Caracol was one of the largest Mayan cities, covering some 65 square miles and with an estimated population at the height of the Classic Era (the sixth century) of around 180,000. Those who are feeling intrepid and who do not suffer from vertigo may climb the 140-foot "Sky Place" pyramid. Twenty-five miles southeast of Blancaneaux is the 150-square-mile Cockscomb Basin Wildlife Sanctuary and Jaguar Preserve. Currently, the park is believed to be home to around 200 jaguars, but the cats have a talent for invisibility and, much to the frustration of tourism officials, are seldom seen. Cockscomb is run by the Belize Audubon Society, and more than 290 bird species have been sighted there. Most visitors take advantage of the web of hiking paths, which includes routes of every degree of difficulty. The most arduous of all is the 17-mile trail to the top of Belize's 3,675-foot Victoria Peak. Despite the apparently modest distance and elevation, the round-trip to the summit takes four days!
The Lodge at Chaa Creek first opened in 1981, and over the past 28 years, it has acquired a deserved reputation as one of the world's best and most innovative eco-resorts. The property is also situated in the foothills of the Maya mountains and sprawls along a grassy ridge above the Macal River. Canoeing is a favorite activity, and many guests paddle upstream through the rain forest and then gently drift back down to the lodge. Alternatively, visitors may hike or ride on trails through a private 365-acre reserve, famous for its numerous types of parrot, as well as fantastic bird species such as the Keel-billed Toucan and Blue-crowned Motmot. Most of the accommodations are housed within thatched white-stucco cottages, which come with mahogany-accented interiors and Mexican-tile floors. The baths are small, however. For extra space, reserve the "Garden Suite" or a new "Treetop Suite," both of which have private Jacuzzis. Caribbean, Mexican and Belizean cuisine is served in a stylish mahogany dining room and is accompanied by wines from a climate-controlled cellar. At the end of a strenuous day of outdoor activity, guests at Chaa Creek may find relaxation and muscle relief at the Spa, which offers a range of massages, as well as body wraps and aromatherapy.
Chan Chich Lodge ("Little Bird" in Mayan) lies 25 miles directly north of Chaa Creek in the heart of the tri-national Maya Forest, close to the border with Guatemala. Its 130,000-acre private wildlife reserve forms part of the largest contiguous tropical forest north of the Amazon basin. The situation of the property is extraordinary. Belize's Department of Archaeology gave permission for the lodge to be constructed on the plaza of a largely unexcavated Mayan city. (Part of the calculation was that its presence would deter looters.) As a result, guests can literally stroll from their cottages and climb a grassy nearby pyramid for a panoramic view. The 12 cabanas are simply but comfortably furnished; a two-bedroom air-conditioned Villa provides more space. Chan Chich enjoys an international reputation as a birder's paradise, thanks to more than 350 recorded species and the presence of large birds such as the iridescent bronze/green Ocellated Turkey, the Crested Guan and the Great Curassow, which elsewhere have been hunted to extinction. Tapir, white-tailed deer and both white-lipped and collared peccary are all present in considerable numbers. In addition, all five Belizean cats — jaguar, puma, ocelot, margay and jaguarundi — are resident on the reserve. Indeed, jaguar are seen quite often, perhaps once a week, though fleetingly and invariably at night.
Get Inspired for Your Next Adventure
Register to sample:
One-of-a-kind itineraries
Inspirational travel articles
Free e-newsletter from our editors