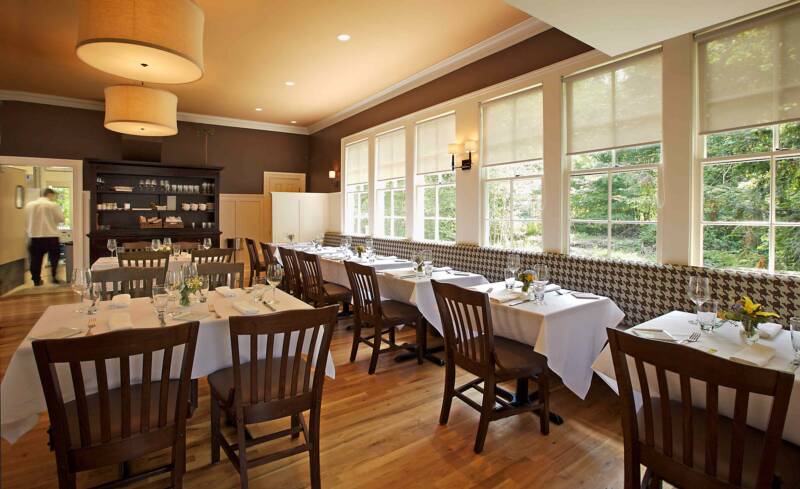 © The Schoolhouse at Cannondale
Con Edison, the big electric utility that serves New York City, used to put up road signs when it was tearing up the avenues and side streets for its projects: "Dig We Must." That's sometimes how we feel when we endure yet another meal at a restaurant that disappoints: We must continue the process of discovering and reporting on the truly distinctive places. Recently, we had a great experience. On a trip East, friends in Connecticut urged us to come up for a visit so they could take us to a restaurant they thought we should know about. We're grateful they did.
The Schoolhouse Restaurant (34 Cannon Road, Wilton, Connecticut; Tel. 203-834-9816) is one of those special places that you want to keep quiet (but that's not the Harper mission). Not a bit of contrived tourist trumpery, this really is an old one-room 1872 schoolhouse with an improbably charming setting in a little hollow by a burbling brook in the village of Cannondale.
With dark gray walls, polished wood floors, big rows of windows and subdued lighting, the dining room is cozy and comfortable. Chef-owner Tim LaBant is passionate about sourcing as much of the produce as he can from local farms, and what he can't find in Connecticut, he purchases from farmers whose products reflect a commitment that matches his. The menu changes constantly, but look for starters such as foie gras with candied orange relish, and main courses such as halibut with artichokes, fennel and trumpet mushrooms or aged New York strip steak with roasted peppers and onions, mint, avocado and barley. A selection of excellent artisanal cheese is always available. Desserts might include profiteroles with mint-chocolate chip ice cream with a thick milk chocolate sauce or warm banana pudding with peanut butter ice cream and caramel popcorn. All reflect LaBant's philosophy, "Simple is better, and less is more." Service is spot-on, friendly and knowledgeable. This is the kind of restaurant we wish we had right around the corner.
The Schoolhouse at Cannondale. Open for dinner Wednesday through Saturday, for lunch Friday and Saturday, and for brunch on Sunday. The restaurant is right near the Cannondale train station, which has limited service to and from New York City's Grand Central Station.