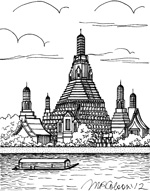 Located on the bank of the Chao Phraya River, The Siam is one of the most talked-about openings in Asia for years. This comes as no surprise, given the team involved in its creation — American designer Bill Bensley; New Yorker Jason Friedman, one of the best of a new generation of hotel general managers; and the Sukosols, a Thai family deeply involved with the arts.
The Siam is located in the historic Dusit district, near many of the city's most famous attractions, including Wat Pho and the Grand Palace. (The hotel's complimentary speedboats whisk guests downtown to the business and shopping districts, thereby avoiding Bangkok's infamous traffic.) Occupying three prime acres of landscaped riverfront, the property is centered on the Main Residence, containing an impressive atrium with full-size palms, giant ferns and an elevated black granite fountain. Its architect, Khemvadee Paopanlerd, claims to have found his inspiration in the glass-and-steel construction of the Musée d'Orsay in Paris. Nearby, the magnificent library contains first editions on Asian subjects collected by the hotel's creative director, Krissada Sukosol Clapp, as well as a display of Neolithic pottery owned by the family matriarch, Kamala Sukosol. Overall, the interior combines the style of the King Rama V period, 1853- 1910, with elements of art deco. "When we talked about the hotel's aesthetics and atmosphere, I said I wanted to create somewhere that would feel like The Oriental did in 1925," Friedman told me over a breakfast of Thai crab omelet one morning. (He had no idea who I was.)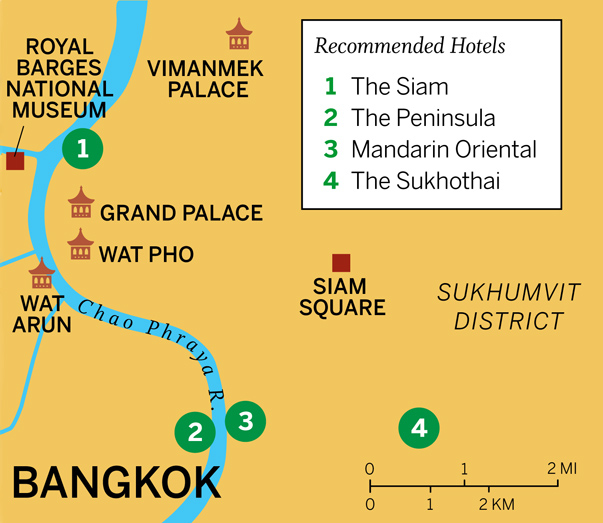 On our arrival, our private butler led us through a pair of antique wooden doors into our Pool Villa Courtyard suite. It proved to be a stunningly beautiful little complex containing a stylish living room and a cleverly designed bedroom with a soaring ceiling, ebony floors, a sofa covered in jewel-tone silk, and a supremely comfortable bed made up with gossamer-weight cotton sheets. A huge teak armoire contained the television and minibar (although not, regrettably, an espresso machine). The real showstopper, however, was the bath, with its vanilla-colored tile walls, black-and-white marble floor, enormous terrazzo soaking tub and huge stall shower. Although there was no river view from our bedroom, a private sun terrace (accessed by a small circular staircase) allowed us to watch the rice barges drift down the Chao Phraya. And outside, a large plunge pool was set in a private interior terrace surrounded by lush tropical greenery.
Three century-old Thai teakwood houses—originally obtained by legendary silk tycoon Jim Thompson to form part of a private home—now serve as a bar, cooking school and restaurant. The outstanding Chon Thai Restaurant, run by friendly New Zealander Blair Mathieson, serves utterly delicious local cuisine. Mathieson also runs the cooking school, and we accompanied him on a market tour one morning. This turned out to be one of the best experiences of this type that we've ever had. Afterward, it was great fun to experiment in the open-air kitchen and then to sit down for a delicious lunch of som tum (a green papaya salad) and gai pad krapow (spicy sautéed chicken). Other amenities at The Siam include a 70-foot infinity pool overlooking the river and a fine spa using products by the Australian company Sodashi.
For such a new property, the service at The Siam is extremely impressive. Alas, Bangkok's large hotels, including, it seems, the Mandarin Oriental, are now preoccupied by the business market. In contrast, The Siam caters to the needs and tastes of the discriminating individual traveler.
The Siam 96 Riverview Suite, $720; Pool Villa Riverview, $1,185