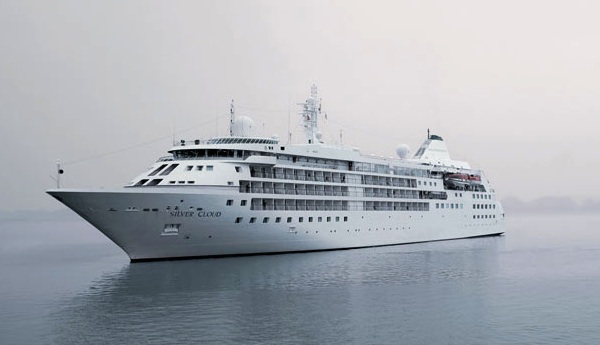 Silversea Silver Cloud  
In 2007, I had the good fortune to cruise from Rome to Monte Carlo aboard the Silver Cloud, Silversea's first and smallest vessel. The cruise was extremely enjoyable, and I looked forward to returning for a 2012 Rome to Barcelona itinerary, including exotic-sounding places such as Porto Cervo and Port Mahon. Since I'd heard that the ship underwent a major renovation in the intervening years, I was very curious to see how it turned out. Could it exceed the high expectations set by the 2007 voyage? On arrival in our Vista Suite in 2007 (left) and 2012 (right):


I happily noted that a flat-screen had replaced the former blocky television, and an iPod dock allowed us to play hundreds of songs without carrying dozens of CDs. Gone was the heavy-duty bed cover, protecting the comforter from our luggage. In its place lay a more inviting cashmere throw. Gone, too, was the welcoming bottle of Perrier-Jouët Champagne. Instead, out butler arrived with a bottle of Bianca Vigna Prosecco, which is tasty, but not quite in the same league. Of course, in 2007, I had no butler to bring me sparkling wine of any kind; butler service for every suite is a relatively new amenity offered by Silversea. Our butler, Evelyn, proved to be a delight: personable, professional and thoughtful. She polished our shoes one afternoon without our requesting it, and after a more active shore excursion, she had tea sandwiches waiting in our suite in case we wanted a snack. She was our go-to person for anything we needed in the suite, be it laundry or in-suite dining. All of these services were offered on the 2007 cruise, but I did enjoy getting to know our butler over the course of the week. And because she got to know us, she was able to provide consistently warm and anticipatory service. The main restaurant in 2007 (left) and 2012 (right):

Service in the ship's restaurants seemed strained, however, as waiters struggled to deal with substitutions and keep water and wine glasses filled. The 2012 menus in the main restaurant had a confusing layout, and they usually encouraged three-course dining (appetizer, main course, dessert) as opposed to the four-course dining prompted by the 2007 dinner menus. A few other changes made for minor disappointments. For example, in 2007, we received a daily schedule for the five or six movies running in loops on the television. In 2012, the staff was unable to provide the times, so if we wanted to see one of those films, we had to just hope our timing was right. In 2007, three separate sets of performers provided entertainment during the evenings. In 2012, the same singing group performed different sets of music each night. Candles in the Italian-themed restaurant were replaced with faux tea lights. The Italian restaurant in 2007 (left) and 2012 (right):

But when it really counted, service aboard the Silver Cloud was commendably organized and quick. When my husband took a tumble off his bike during a shore excursion on the exquisite island of Formentera, Elena, the Silversea representative with us, sprang into action, cleaning the scratches on his hands and applying bandages. When we returned to the ship, Elena escorted us right to the infirmary, where the friendly doctor and nurse sterilized the scratches and rebandaged them. Meanwhile, Sylvia, the shore excursion concierge, arranged for a car to take us to a local emergency room in Ibiza for an examination and wrist X-ray performed by an English-speaking doctor. Fortunately, it was just a sprain, and back in the Silver Cloud's infirmary, the doctor gave my husband a brace. Sylvia checked in frequently thereafter, and sent some get-well chocolates to our suite. We felt very impressed by the thoughtful assistance we received, and were very grateful to have Silversea on our side while we dealt with the injury. (Travel insurance will accompany us on all future vacations.) The Venetian Lounge in 2007 (left) and 2012 (right):

In the end, despite a few small irritations, the Silversea cruising experience remained delightful. Crew members always did their best to provide exemplary service and ensure that we had as wonderful a journey as possible. I hope we'll be able to sail with Silversea again sometime soon. - G.K.