Many people fall in love with East Africa, and  I  count  myself  among  the  romantically  ensnared.  First,  there  is  the  land  itself.  Nobody  has  put  it  better  than  Karen  Blixen  at the beginning of her classic memoir, "Out  of  Africa."  Of  the  Ngong  Hills  at  the  edge  of  the  Rift  Valley,  she  wrote:  "The  views  were  immensely  wide.  Everything  that  you  saw  made  for  greatness  and  freedom,  and  unequalled nobility."
Aside from the land, there are the people,  especially the tribal  people.  Although  many  are  poor  and  illiterate,  and  hence  much  looked  down  upon  by  the  urban  sophisticates  of  Nairobi,  the  red-cloaked,  spear-carrying  Samburu  and  Maasai  are  a  handsome  and  dignified  presence  in  the  Kenya  highlands,  and  their  way  of  life  remains  a  vital  connection  to  an  immemorial Africa.
The very word means "a journey"  in Swahili, a language of the Kenyan and  Tanzanian  coast. 
In  recent  years,  however,  Kenya  has  suffered from a deluge of bad publicity, with that  surrounding  the  2007  presidential  elections  being  only  the  most  recent  installment. For many affluent Americans,  a  safari  is  nowadays  synonymous  with  countries  such  as  South  Africa  and  Botswana.  Yet  the  safari  evolved  in  East  Africa. The very word means "a journey"  in Swahili, a language of the Kenyan and  Tanzanian  coast.  Three  decades  ago,  our  first safari to Kenya's Maasai Mara left an  indelible impression. So partly from loyalty,  partly  from  undiminished  affection,  we  recently  decided  to  return,  hoping  to  discover  that  there  was  also  a  good  news  story to tell.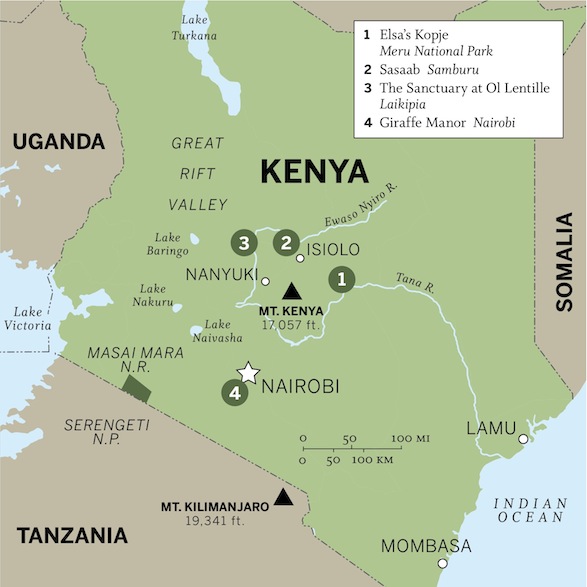 On this trip, we decided to concentrate on  areas immediately north of Mount Kenya,  a jagged 17,057-foot peak 90 miles north of  Nairobi. From the gateway town of Nanyuki,  a high and arid region extends for 250 miles  to the border of Ethiopia. Known in colonial  times as the Northern Frontier District, it  is  a  land  of  immense,  soul-stirring  vistas,  virtually untouched by the modern world.
Although wildlife here tends to be more  thinly  spread  than  on  the  green,  well- watered  plains  of  the  Maasai  Mara,  it  is  still abundant. Indeed, Meru National Park  used  to  be  one  of  the  most  popular  in  Kenya,  and  in  the  1970s,  received  as  many  as  50,000  visitors  a  year.  Back  then,  Meru  also  enjoyed  an  international  reputation  as  the  place  where  Joy  and George Adamson had released the lioness  Elsa, and as a backdrop for the subsequent  movie  "Born  Free."  But  in  the  1980s  and  '90s,  upheaval  in  neighboring  Somalia  produced a plague of bandits and poachers  that wiped out much of the game. In 1970,  Meru contained more than 300 rhino; by  1997,  there  were  none.  Africa  does  have  its  success  stories,  however,  and  Meru  is  one of them. Today, populations of its large  mammal  species  such  as  elephant  and lion  have  recovered,  and  about  60  rhino  live  and  breed  in  a  huge  protected  area.
Elsa's Kopje