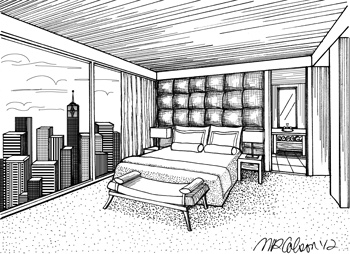 Contemplating my recent trip, I pondered where to stay and decided to try the new Trump SoHo, which opened in 2010. This choice was partly motivated by recent experiences at two other Trump properties, in Chicago and Panama City, both of which exceeded my expectations. (The original Trump International Hotel & Tower in New York is at 1 Central Park West. The location of the property does not appeal to me, but I make a pilgrimage to Jean-Georges Vongerichten's wonderful three-star restaurant on the ground floor as often as possible.)
Downtown, the new Trump stands at the junction of Spring and Varick streets. Set in a 46-story tower, the hotel occupies the floors from 20 up, and the views are spectacular. Built overlooking an area of low-rise 19th-century construction, the tower has inevitably been controversial. However, like that of its Chicago sibling, the interior design is relatively understated. The pleasing lobby has panels of warm wood, and a library provides a quiet and elegant retreat. Throughout our stay, we were more conscious of smiling staff than of conspicuous opulence.
With 391 rooms, the Trump is scarcely a hideaway, but as the number of accommodations on each floor is limited, the impression is of a smaller property. Our Premiere room delighted us with its floor-to-ceiling views of the Hudson and New Jersey. A contemporary aesthetic of dark woods and gray fabric was complemented by well-thought-out lighting and ample closet space. As usual, I was infuriated by having to pay for Wi-Fi, but was soon mollified by the outsize soaking tub in the striped marble bath.
On the ground floor, Koi is an alluring restaurant that seems to draw a wide range of patrons, from Wall Street's finest to fashionable young women who have clearly spent the afternoon engaged in assiduous retail therapy. I, on the other hand, had come for the intriguing Japanese fusion cuisine (reminiscent of that at Nobu in Tribeca). My favorite dish proved to be miso-glazed black cod served with a generous side of seasonal vegetables. The wine list featured a very good selection of sakes, and I opted for a bottle of Summer Snow. This was unfiltered and hence cloudy, like pastis, and had a slight underlying sweetness that paired especially well with the fish.
On the seventh floor, The Spa is an impressive 11,000 square feet, with nine treatment rooms and two Turkish-style hammams. Adjacent, a surprising 6,000-square-foot summer terrace comprises a handsome blue-tiled pool and a café area served by the Bar d'Eau.
In general, we found the Trump SoHo to be hospitable and extremely well-run. If you are looking for the comfort and convenience of a larger, full-service hotel downtown, this could be the place for you.
Trump SoHo 91 Premiere Guest Room, $595; One-Bedroom Suite, $895. 246 Spring Street, New York, New York. Tel. (212) 842-5500.
Video From Our Stay at The Trump SoHo