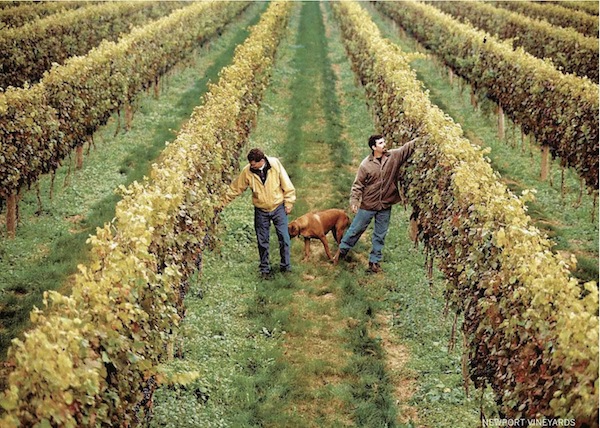 Newport Vineyards
My recent visit to Rhode Island included a day trip to the picturesque Little Compton area, where the coastal climate, warmed by summer and fall Gulf Stream waters, is favorable for growing grapes. For many years, Sakonnet Vineyards, just minutes from Newport, has produced fine wines, and since my first visit there some years back, several other vineyards have sprung up nearby. All create noteworthy wines, and together make for a full day of pleasant touring and tasting.
We stopped first at Newport Vineyards (909 East Main Road [Rte. 138]), a short drive from the center of Newport. The tasting room is easy to miss, and its location in a small strip mall may lower one's expectations. But we tasted through the portfolio and found three wines that we quite enjoyed. At the top of the list was a minerally, melony Riesling that I would pair with shellfish. There was some dissension in the ranks over the Rising Tide, which is a crisp, slightly fruity blend of Sauvignon Blanc and Seyval Blanc, which would go well with less assertive fish, such as sole. And to my surprise, I liked the Rochambeau, an easily drinkable, fruit- forward blend of Cabernet Sauvignon and the uncommon Landot Noir.
Four miles away, Greenvale Vineyards (582 Wapping Road, Portsmouth) enjoys a very different setting along a country lane, overlooking the Portsmouth River. A friendly golden Lab with wagging tail led us to the tasting room in a handsomely restored stable. Greenvale's small-production winery offers good whites, my favorite being the Chardonnay Select, made from the oldest vines on the property, planted in 1983. Although oak-aged, it does not suffer from the dominance that wood too often displays in Chardonnays, and instead has a pleasant, floral fruitiness and lively acidity that would make it a fine match for rich shellfish, such as lobster or scallops. Skipping Stone White, a blend of the American varietals Cayuga and Vidal Blanc, is an easy-drinking, well- balanced wine that would go well with Asian food, especially spicy Thai and Vietnamese. I had wanted to try the Elms Meritage, a blend of Merlot and Cabernet Franc, but alas, it was sold out. Next time.
Our route took us to the charming hamlet of Tiverton Four Corners, which in 1974 earned a spot on the National Register of Historic Places. For a town its size, Tiverton offers many appealing diversions, including shops, galleries and restaurants. We had considered lunch at the well-regarded Four Corners Grille (3841 Main Road), but opted for the quicker Provender (3883 Main Road), known for excellent sandwiches and baked goods.
From Tiverton, we took a short foray across the border into Massachusetts to visit Westport Rivers Vineyard and Winery (417 Hixbridge Road, Westport). This is farm country, and the winery and tasting room are housed in a collection of appealingly rustic buildings. Our visit coincided with that of another, larger party, which made for a fairly boisterous tasting, but we persevered and made it through most of the portfolio. The biggest surprise was the Westport Brut RJR, a delightful sparkling wine made of Pinot Noir, Pinot Meunier and Chardonnay, which would go well with oysters and milder fish. The Chardonnay also caught my fancy with its more-Chablis-than-California character, balanced acidity and fruit. It's another wine that would pair nicely with seafood, particularly scallops and crab. The other surprise was the Rkatsiteli, a varietal I had not tasted before, from the Republic of Georgia (which has one of the longest traditions of winemaking in the world). It is dry with a citrus finish that would make it a match for Southeast Asian foods.
Backtracking from Westport to Tiverton, we took the short drive into Little Compton to Sakonnet (162 West Main Road). Founded in 1975, Sakonnet is by far the most developed of the four vineyards we visited, its tasting room and gift shop more like those at well-established California wineries. The range of wines is impressive, too; many are genuine standouts. Sakonnet's Vidal Blanc is one of the best examples of this varietal I have tasted: crisp, citrusy and ideal for fish and shellfish. The dry, sweet Gewurztraminer (a wine too often overlooked) is perfect to accompany Southeast Asian food and other spicy cuisines. The aptly named Rhode Island Red, a distinctive blend of Chancellor (very unusual), Lemberger and Cabernet Franc, held dark-red fruit flavors that would make it a match for pork and more seasoned chicken dishes. And I was quite taken with the Cabernet Franc, which can be a brute of a wine if not made properly. Sakonnet's melds the varietal's signature bold flavor of dark-red fruits with a peppercorn spice note and would go very nicely with beef, especially prime rib. Also worth noting is the outstanding Winterwine, a sumptuous dessert wine made from frozen Vidal Blanc grapes. A pleasure to sample, it is every bit as good as the celebrated Inniskillin ice wines I've had from Canada, and there is a bottle tucked away in the Harper cellar for just the right occasion.
-A.H.