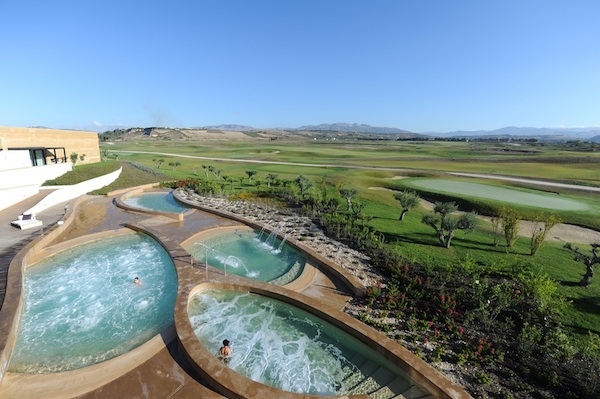 Verdura Golf & Spa Resort, Sicily
Located 60 miles south of Palermo, Verdura Golf & Spa Resort occupies a pretty stretch of seafront just outside the town of Sciacca. The new 203-room property is the brainchild of British hotelier Sir Rocco Forte, and it represents the largest hotel investment to have been made on the island for many years. Forte and his talented interior designer sister, Olga Polizzi, have created several of my favorite European hotels, including the Hotel Amigo in Brussels and the Augustine Hotel in Prague, and I was curious to see what they had achieved.
We arrived to find a beautifully landscaped 560-acre property carpeted by verdant lawns — no mean feat in the strong Sicilian sun — that features two 18-hole golf courses (plus a 9-hole course) designed by California golf guru Kyle Phillips. The resort comprises a main lodge flanked by modern buildings of sand-colored tufa that house the rooms and villas, all of which afford views of the Mediterranean.
Transportation at the resort is by complimentary golf cart or bicycle, and after a warm welcome from a young guest-relations hostess, we were transferred to our room. There, we found that our bags had already been placed in the dressing area, a first taste of the property's consistently excellent service. Our Junior Suite was light, spacious and stylish. It featured a four-poster bed with white muslin curtains, easy chairs upholstered in oatmeal chenille, polished ivory floors and a daybed piled with pillows next to a blond wood coffee table. A stack of books included the great Sicilian novel "The Leopard," by Giuseppe Tomasi di Lampedusa. The bath was faced in tan limestone and had a fine view over the hills behind the resort. A stall shower and a soaking tub were both provided with distinctive Sicilian-made Ortigia toiletries.
Although our first impression was positive, a few amenities seemed to have gone missing, including an espresso-maker and an iPod dock. And it was vexing to be charged €20 a day for Internet access in an €750-a-night room. A flashlight and a candle on the balcony also would have been welcome.
One of Verdura's best features is its airy and attractive 4,000-square-foot spa, which offers 11 treatment cabins, three outdoor saltwater soaking pools, a splendidly equipped gym, an indoor pool, and sauna and steam rooms. An extensive menu of spa treatments includes the memorable 50-minute "Sicilian Aroma" massage using olive oil and balsam products; Mrs. Harper had nothing but praise for her aloe vera hydrating facial. Aside from the world-class golf facilities, Verdura is also notable for its Tennis Academy, which has six floodlit clay courts.
The resort offers three dining venues under the supervision of chef Fulvio Pierangelini, who formerly ran the famous Gambero Rosso restaurant in Livorno. Our first experience of the cuisine was an excellent room service lunch — a salad of tomato, mozzarella and grilled eggplant, followed by a delicious tagliatelle with Bolognese sauce — that was delivered in around 15 minutes, along with a bottle of excellent Cerasuolo di Vittoria red wine from the Planeta winery, one of the best in Sicily. Dinner at La Zagara, the resort's fine-dining venue, was pleasant enough, but the seasoning was timid, and we much preferred both our lunch of grilled swordfish at the Amare beach restaurant and supper at Liolá, a Sicilian trattoria with its own pizzeria, which occupies a pretty setting in a renovated watchtower overlooking the sea.
Verdura's diverse (mostly European) clientele and friendly young staff help to create an atmosphere that is curiously reminiscent of a cruise ship. There is the same sense of apartness, with extended periods of idleness punctuated by cocktails, lavish meals, spa visits and sporting activities. The property is ideal for those traveling with children, as it provides both a kids' club and a separate facility for teenagers. It should be noted, however, that children are unlikely to be impressed by the short, stony beach.
As admirable as the resort proved overall, there were a few hitches during our stay. In particular, one evening we returned to our room at 10:30 p.m. to find that the lunch tray hadn't been collected, that there had been no turndown service, and that the bath contained a plumber trying to figure out why we temporarily had no hot water. However, new properties tend to have teething problems, and we are confident that those at Verdura will soon be remedied.
-A.H.