People dressed for Carnival in Venice, Italy
William Casey/Shutterstock
Venice Carnival's Great Tradition of Mask-Making
By Hideaway Report Contributor
January 17, 2018
The origins of the Venetian Carnival go back to the Republic of Venice, known as the Most Serene Republic of Venice, or Serenìsima Repùblica Vèneta in Venetian. Some attribute Carnival's beginnings to 1162 when Venetians celebrated their victory over the Patriarch of Aquileia, yet others claim it started at the end of the 11th century when Vitale Faliero Dodoni, the 32nd doge of Venice, allowed the poor a short period of fun and festivities.
With a mask and a costume, the inhabitants of Serenìsima had a freedom they couldn't enjoy the rest of the year — and the anonymity made it all the better. Soon the wearing of masks extended outside the Carnival period, with Venetians donning masks for as long as six months a year. However, after the Serenìsima fell to Austria in 1797, both the Carnival celebrations and mask wearing became strictly forbidden.
Carnival Reemerges
Thanks to the efforts of Venetian artisans, mask makers among them, Carnival resurfaced again, almost 200 years later, in 1979. It's been celebrated every year since, drawing as many as 3 million people to the city. While traditional mask making goes back centuries and certain mask shapes — the bauta (the mask most commonly used by Venetians) and the moretta (held in place by gripping a button between the teeth thus rendering the wearer mute) — are so classic that they feature often in Venetian painter Pietro Longhi's 18th-century works, today very few masks available in Venice are made in the city. Most are cheap imitations produced in factories thousands of miles away.
Play Your Part in Keeping Carnival Alive
To celebrate Venice, its Carnival and its long traditions, find an artisan who continues to make masks the old way. The Ca'macana workshop is one such place. Located in Dorsoduro, a 15-minute walk from Plaza San Marco, it was founded by Mario Belloni and Antonella Masnata in 1984. More than 30 years later, Ca'macana is still a family business, with son Davide at the helm. In addition to making masks and selling them in their shop and in shops throughout Venice, Ca'macana also offers a mask-making workshop where you can learn the history of Venetian masks — and perhaps even paint your own.
Watch Our Interview With Traditional Mask Makers
How to Enjoy Carnival as a Visitor
Starting usually two weeks before Ash Wednesday, Carnival fills Venice with masquerade balls, boat parades, concerts, street performances, and masked and costumed personages.
The best way to enjoy Carnival is to stroll the streets in your mask and costume. You can also attend a ball or two (check the schedule here and book early, they fill up!), stop at Caffé Florian — the place to see and be seen during Carnival — for a cappuccino, or do what some locals do and catch a Vivaldi concert. Many Venetians or regular visitors own their costumes, but you can rent one in many ateliers in the city. Prices for a 24-hour rental range between 200 and 1,500 euros. Masks are extra but why rent a piece of art when you could buy it and keep it as a memento?
---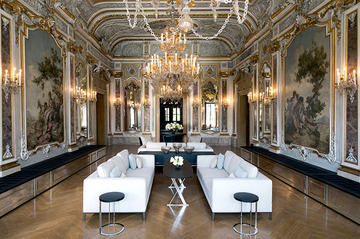 Get Inspired for Your Next Adventure
Register to sample:
One-of-a-kind itineraries
Inspirational travel articles
Free e-newsletter from our editors