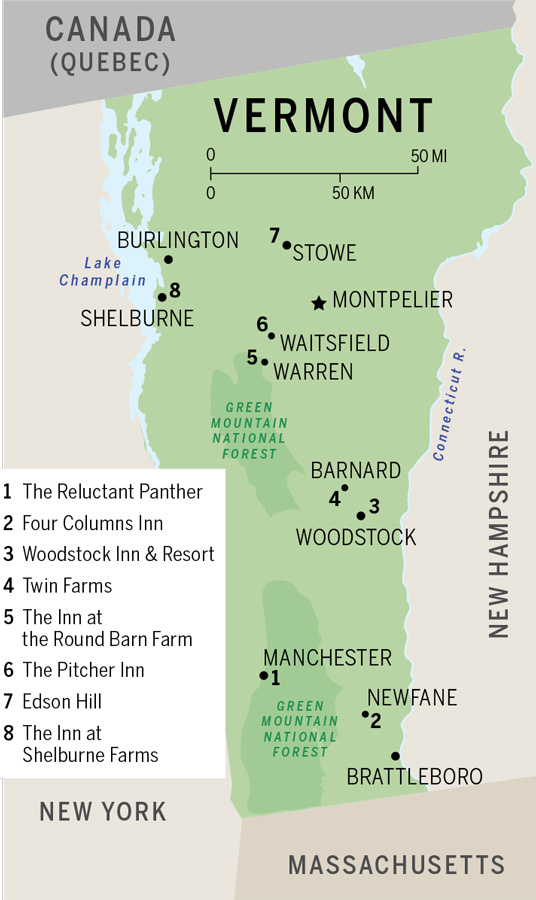 Landing at Burlington airport, I realized to my surprise that I had not set foot in Vermont for more than five years. Shortly after my last visit, in August 2011, the state suffered the onslaught of Hurricane Irene. What began as a characteristic coastal hurricane veered into New England and unleashed the worst meteorological assault since the infamous storm of 1938. Rivers overflowed, washing out bridges and roads. But, with predictable Yankee grit, Vermonters undertook repairs, and it is now impossible to tell that such devastation ever took place. Vermont may be the embodiment of an idealized New England, with its white clapboard houses, sky-piercing steeples and stately Greek Revival public buildings, but it is important to remember that the towns are so lovely because of constant preservation efforts by succeeding generations.
Having picked up a rental car, we set off on a counterclockwise route. Seventy-five percent of Vermont is densely forested, and the population of approximately 625,000 is the second lowest of the 50 states, so between the towns there are long stretches of nearly deserted road and tracts of verdant hilly countryside.
A hundred miles due south of Burlington, the town of Manchester offers a fascinating mix of classic homes, plus the historic Hildene estate, home to Robert Todd Lincoln, oldest surviving son of Abraham Lincoln and a man who served as head of the Pullman Company for many years. A wealth of retail establishments includes the Orvis flagship store and numerous high-end outlet shops as well as one-of-a-kind galleries and the splendid independent Northshire Bookstore.
The Reluctant Panther, Manchester