Although Wales and England have been politically united since the middle of the 16th century, the two countries are still remarkably different. The Welsh are a Celtic people — cousins of the Scots, Irish, Cornish and Bretons — who, largely because of the mountainous terrain, have successfully retained a separate identity. Around a fifth of the population of just over 3 million is still fluent in the ancient Welsh language. And even the respective names of the country speak volumes: The English word "Wales" is of Germanic origin and means "foreigner;" whereas the Welsh "Cymru" means "fellow countryman."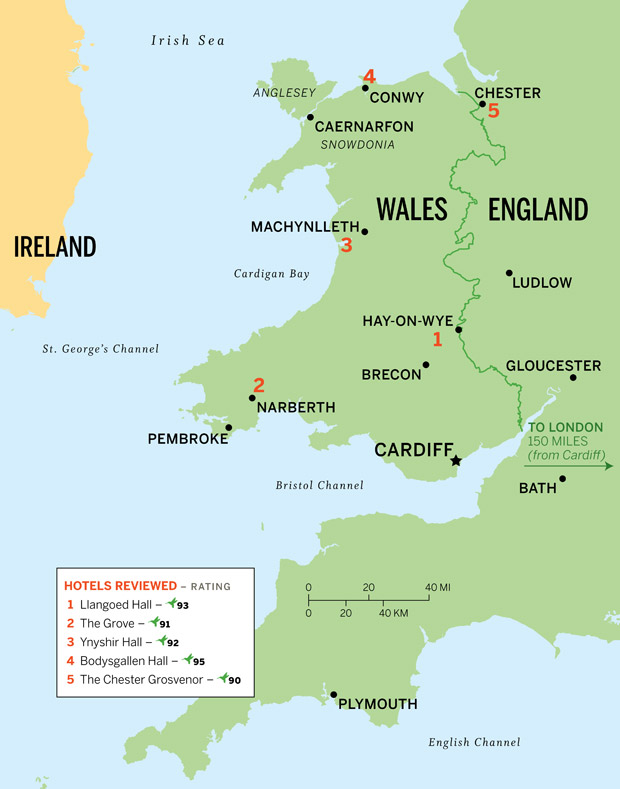 LLANGOED HALL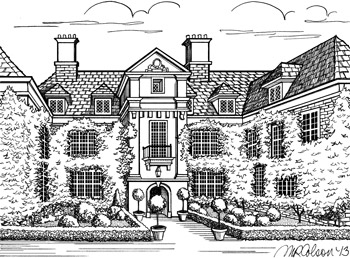 At the conclusion of a recent trip through southwest England, we decided to extend our British journey with a weeklong tour of Wales. Our intention was to work off some calories by hiking amid unspoiled mountain scenery and to visit some of the magnificent Welsh medieval castles. So, leaving behind the golden Cotswold stone of Bath, we crossed over the Severn Estuary and headed north into Wales through Abergavenny and Crickhowell to the valley of the River Wye.
Llangoed Hall stands amid 17 acres of gardens and parkland nine miles from the town of Hay-on-Wye, the scene of an internationally renowned summer literary festival. A house is believed to have occupied the same site since A.D. 560, but today, Llangoed is a 17th-century Jacobean manor that was extensively modified at the turn of the 20th century. In 1987, the mansion was purchased by Sir Bernard Ashley, who, in partnership with his wife, had built the Laura Ashley global textile empire. Three years later, it opened as a 23-room country house hotel. Following Bernard Ashley's death in 2009, Llangoed was acquired by the Von Essen hotel group, which promptly fell victim to the economic downturn. Fortunately, in July 2012, the house was purchased by a new owner, who has since spent around $3 million on interior modernization.
Arriving on a rainy afternoon, we were greeted by a friendly young woman who hurried out to our car with a large golf umbrella and then ushered us indoors. Inside, we found a grandly furnished hallway running the length of the façade. At Llangoed Hall, strenuous attempts are made to sustain the fiction that this is still a private house, not a hotel. The intention is to re-create the atmosphere of an Edwardian country estate, the kind of setting that will be entirely familiar to devotees of "Downton Abbey." The lavish public rooms with their baronial stone fireplaces, oil paintings and heavy floral fabrics certainly look the part. And the billiards room, with its huge Persian carpet and model ships in glass display cases, is particularly evocative of a privileged fin-de-siècle world.
We were escorted up an imposing staircase flanked by an exotic mural of pheasants and peacocks to our third-floor suite. A spacious and tranquil sitting room came with a sofa and armchairs upholstered in pink-and-white floral fabric, framed architectural drawings, shelves of hardback books and a decanter of sherry on a silver tray. Mullioned windows afforded a view of the distant Black Mountains. The bedroom was similarly generous, with a large armoire. The adjoining well-lit marble bath had been recently upgraded and was equipped with a walk-in shower and a soaking tub.
The exceptionally elegant dining room at Llangoed Hall is painted a pale Wedgwood blue and is adorned with a fine collection of paintings and drawings by artists of the caliber of James McNeill Whistler. The menu emphasizes local ingredients such as Welsh Black beef and Radnorshire lamb, augmented by herbs from the hotel's own gardens. Throughout our dinner, the service was exemplary. Although Llangoed Hall lacks a spa and a swimming pool, amenities now virtually standard at a property of this type, I found the authentic country house atmosphere to be more than sufficient compensation. The hotel is in a period of transition under new ownership, but I recommend it without hesitation. The standard of maintenance is high; the staff members seem to have a genuine esprit de corps; and the location is idyllic.
AT A GLANCE:
LIKE: Edwardian house-party atmosphere; fine restaurant; friendly staff; scenic location.
DISLIKE: The lack of fitness facilities (though the absence of an elevator to the third floor mitigates this omission to some extent); weekends are often taken over by weddings.
GOOD TO KNOW: Front desk staff can arrange qualified mountain guides for hikes in the Black Mountains and Brecon Beacons.
LLANGOED HALL, Rating 93. State Deluxe Room, $385; Master Suite, $460. Llyswen, Brecon, Powys, LD3 0YP. Tel. (44) 1874-754525.
THE GROVE
Immediately to the south of Llangoed Hall lies a range of hills, the Brecon Beacons, which rises to an elevation of 3,000 feet. Continuing our journey, we drove along the northern edge of Brecon Beacons National Park, and after about two hours, arrived at the small town of Narberth in the western county of Pembrokeshire. A mile or two farther on, The Grove is located in a secluded setting at the end of a narrow private drive. Much of the house dates from the 1680s, though it was significantly extended in the mid-19th century. The exterior of the whitewashed three-story structure is elegant and simple, while inside, paneled walls, wide-plank wooden floors, Oriental rugs, fine old furniture and smoldering fires create a warm and relaxing environment. The property was acquired in 2007 by its current owners, and in the past six years, they have engaged in a comprehensive program of restoration. It now offers 20 rooms and suites, plus four adjacent cottages.
After an effusive welcome — service at The Grove tends to be enthusiastic and sincere rather than polished and worldly — we were shown up to the Rebecca Suite. This turned out to be an extremely large single room appointed with a sofa, silk drapes, neoclassical "Zoffany" wallpaper, antique furniture and a super-kingsize bed. Overall, the atmosphere was serene and civilized. To my amazement, the adjoining bath was state-of-the-art, with Italian tiles, a large walk-in shower, twin basins and an impressive cast-iron double-ended soaking tub.
Much of The Grove's growing reputation is attributable to the talent of chef Duncan Barham, whose locally sourced Modern British cuisine has been deservedly praised by the London press. The pretty dining room is decorated with contemporary paintings, and its widely spaced tables are covered by crisp pink tablecloths. There, we opted for diver scallops served with burnt onion and pickled apple; and a ham hock ballotine with a pea velouté. Both were delicious. Our main courses of Brecon red deer served with turnips and glazed shallots; and roast leg of Carmarthenshire lamb with confit tortellini and red cabbage were equally outstanding.
Although delightful, The Grove is not a true luxury hotel, and it offers few facilities other than in-room massage. Aside from exceptional cuisine, the property provides a comfortable and convenient base from which to tour Pembrokeshire and southwest Wales. Chief among the area's attractions are the 12th-century Norman castle at Manorbier and the 13th-century medieval fortress at Pembroke. We also found time to hike along a clifftop stretch of the Pembrokeshire Coast Path, which provides panoramic views of Skomer and Skokholm islands — both wildlife reserves teeming with seabirds — as well as unspoiled golden beaches such as those at Marloes Sands and St. Brides Bay.
AT A GLANCE:
LIKE: Atmospheric public areas with fine old furniture and log fires; notable cuisine; pretty grounds carpeted by spring flowers.
DISLIKE: Slightly haphazard service, especially at the front desk.
GOOD TO KNOW: This is a comfortable and stylish, though not especially luxurious, property; the hotel can be tricky to find, so be sure to have a local map or GPS and to arrive in daylight.
THE GROVE, Rating 91. Deluxe King, $340; Junior Suite, $385. Molleston, Narberth, SA67 8BX. Tel. (44) 1834-860915.
YNYSHIR HALL
On a previous Welsh trip more than 15 years before, we had enjoyed a brief stay at Ynyshir Hall, next to the estuary of the River Dyfi on the coast of Mid Wales. The nine-room property had debuted in 1989 and was subsequently a labor of love for painter Rob Reen and his wife, Joan. In the early years of the 21st century, British country house hotels were thriving and were consequently regarded as highly desirable assets. The business attracted the attention of a flamboyant entrepreneur, Andrew Davis, whose company, Von Essen hotels, began to assemble a stellar portfolio of properties, 33 in all, which included iconic names such as Sharrow Bay (the very first British country house hotel), Cliveden (once the English home of the Astor family) and Llangoed Hall. In 2006, Davies acquired Ynyshir Hall to add to his burgeoning empire, but in 2011, the company collapsed with debts of more than $450 million, and the decade-long Von Essen saga was over. The future of the hotels and their employees was extremely uncertain, so it was a great pleasure to learn that Rob and Joan Reen had reacquired Ynyshir Hall at the beginning of 2012.
To renew our acquaintance with the property, we left Pembrokeshire and headed north, taking an inland route rather than the more direct, but less appealing, coastal road. A two-and-a-half-hour drive brought us to the inconspicuous gateway of the Ynyshir estate. There, the grounds were just as we remembered, with majestic trees set in expansive, gently sloping lawns. The two-story house is a surprisingly modest structure, particularly as one of its former owners was Queen Victoria, who planted a Persian ironwood tree that more than a century later is still renowned for its splendid fall foliage.
The interior of the property serves as a gallery for an evolving exhibition of Rob Reen's artwork. Reen's style tends to the dramatic and brightly colored, and while this can work well in the public areas, some of the bedrooms are rather too flamboyant for my taste. "Matisse" in particular is a riot of fuchsia and cyclamen pinks that I found positively disconcerting. Fortunately, we had opted for the recently refurbished "Studio" adjacent to the main house, which is decorated in more restrained style and comes with a woodburning stove, a sizeable walk-in closet, a small patio accessible through French doors, and an unexpectedly glamorous bath with a stall shower, a freestanding tub and underfloor heating.
The dining room enjoys a deserved reputation — Ynyshir Hall is part of the Relais & Chateaux organization — and chef Paul Croasdale makes good use of local lobster, crab, salmon and trout, as well as Welsh lamb, beef and venison. Kitchen staff also forage for wild mushrooms, garlic, wood sorrel and samphire. There are few other amenities at Ynyshir Hall — a small spa is planned, I am told — so the property is chiefly a place at which to read, to stroll and to gaze at the lovely Cambrian hills. Ornithologists, however, will wish to visit the neighboring nature reserve, which is notable for its migratory geese and ducks, as well as for numerous species of resident water birds.
AT A GLANCE:
LIKE: Charming hosts; delicious food; tranquil and secluded setting.
DISLIKE: The flamboyant decoration of some rooms is not for the fainthearted.
GOOD TO KNOW: The landscape of the Dyfi Estuary, and Mid Wales in general, is extremely beautiful, but some of the coastal towns are scruffy and depressing.
YNYSHIR HALL, Rating 92. Deluxe Room, $615; King Studio, $840. Eglwysfach, Machynlleth, SY20 8TA. Tel. (44) 1654-781209.
BODYSGALLEN HALL
From Ynyshir, we continued north to Snowdonia, the most dramatic and mountainous area of Wales. Although none of the region's peaks exceeds 4,000 feet, the sheer rock walls and steep glacial valleys are impressive, with the road from Beddgelert to Capel Curig via Nant Gwynant being especially spectacular. One of my favorite British hotels is located close to the picturesque coastal town of Conwy, little more than a dozen miles from the northeastern boundary of Snowdonia National Park. An imposing 17th-century house surrounded by more than 200 acres of gardens and parkland, Bodysgallen Hall is now part of a small group of hotels owned by the National Trust, a charitable organization responsible for conserving buildings, gardens and landscapes of particular beauty and significance. (I recommend that all travelers to England and Wales download the free National Trust app.)
Although the house was modified in the late 19th century, the grand entrance hall and the magnificent paneled drawing room directly above it are surviving parts of the original Jacobean structure. Our second-floor room proved to be the embodiment of old-fashioned comfort, with pastel colors, floral fabrics, and furnishings that looked lived in, rather than worn. Stone mullioned windows surveyed the property's formal walled gardens, while in the distance, it was possible to make out the ramparts of Conwy Castle set against a backdrop of the Snowdonia hills still blanched by late-spring snow. There are some hotels I am prepared to forgive any number of minor failings, and Bodysgallen is one of them. But to be honest, our bath was a little cramped and old-fashioned and an upgrade was overdue.
Having paid a visit to the hotel's new spa — which has five treatment rooms, a 50-foot indoor pool and an impressive gymnasium housed within a restored stone farmhouse — we headed to the dining room in the Main Hall. This is an utterly lovely room, with tall windows topped by medallions of stained glass that overlook a manicured 17th-century parterre. Chef Michael Cheetham's seasonal menu is not particularly extensive, but everything I have tried has been excellent. On this occasion, feeling in the mood for something simple, I opted for the smoked salmon with lemon and cracked black pepper, which proved to be memorably good. And for my main course, I enjoyed a delicious seared duck breast, with honey and pepper creamed potatoes, beetroot and glazed onions.
AT A GLANCE:
LIKE: Paneled Jacobean public areas; exquisite gardens; impressive new spa.
DISLIKE: The baths can be old-fashioned and on the small side; the Wi-Fi is unreliable.
GOOD TO KNOW: Avoid North Wales in summer, and visit Caernarfon and Conwy castles during the week, as on weekends they can be overrun with tourists.
BODYSGALLEN HALL, Rating 95. Superior King, $390; Superior Snowdonia View, $535; Suite $650. The Royal Welsh Way, Llandudno, LL30 1RS. Tel. (44) 1492-584466.
From Bodysgallen, it is a 45-minute drive to Caernarfon, the most imposing of all the Welsh castles, which, along with the fortresses at Harlech, Beaumaris and Conwy, is listed as a UNESCO World Heritage site. The other local attraction not to be missed is the 80-acre Bodnant Garden, today administered by the National Trust. Bodnant is particularly famous for its breeding program of rhododendrons and azaleas, as well as for collections of camellia, hydrangea, clematis and magnolia. Its celebrated laburnum arch generally flowers during the first week of June.
To conclude our journey, we decided to head south through the so-called "Welsh Marches" to spend a night in the lovely English border town of Ludlow (see The Idyllic Market Town of Ludlow). If time is short, however, the A55 at Conwy connects with the M56, M6 and M1 highways, and it is possible to be back in Central London (or at Heathrow Airport) after a four-and-a-half-hour, 250-mile drive.