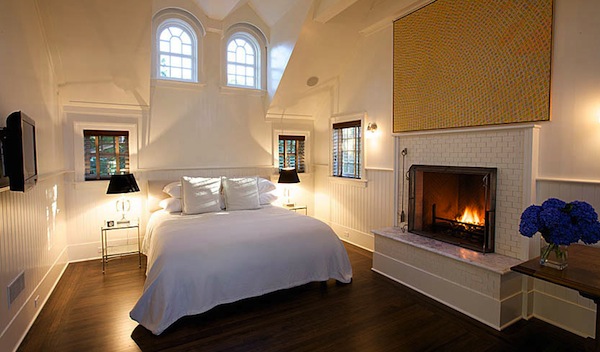 The Reform Club, Long Island  
When we last visited The Hamptons on Long Island's East End in spring 2009, The Reform Club had not yet opened, so on my most recent visit to New York, I made a point of retracing my steps. (I had assumed that the unusual name must indicate some connection with the venerable institution on London's Pall Mall, but the hotel's website inelegantly insists it is "because we want to encourage change during your visit with us.") The property is located in Amagansett, a charming hamlet just east of East Hampton. In high season, the latter can seem like Manhattan on the beach, but just 10 minutes away, Amagansett suffers from few of the crowds and traffic jams. There are shops and restaurants, to be sure, but the feel is very much of a small town from bygone days. Tucked behind privet hedges on Windmill Lane, just north of the Montauk Highway, the charming inn occupies two acres and comprises a main house with seven suites and three outlying cottages. The look is a distillation of The Hamptons' aesthetic: a classically styled, aging-to-gray shingle house with white woodwork. A high level of craftsmanship is evident throughout and is exemplified by the beautifully laid brick walkway leading to a small gatehouse. There, the innkeeper greeted us warmly before showing us to our suite in the main building. Of the seven, four are on the ground floor and three on the second. Ours came with a woodburning fireplace, a separate small living room with a flat-panel TV and iPod docking (with speakers throughout the suite), a small refrigerator, coffee and tea maker, and complimentary Wi-Fi. The design was pleasingly simple: white wainscoting walls, dark pine floors with beige carpeting, and a few pieces of contemporary art. The large bath featured a marble mosaic floor, and the custom-made mullioned metal doors led to a large shower with both regular and rainfall heads. Multiple windows admitted ample light and cooling breezes (there is air-conditioning, of course, for when the heat and humidity are too much). The second-floor suites have cathedral ceilings and share a common bluestone patio with large benches (though this seemed rather like a large landing to me). The downstairs suites have high ceilings and private patios screened by hedges. Suite One, a duplex, offers the best of both worlds. The three cottages, set apart from each other and separated by hedges, are similarly well-appointed but offer even more privacy and space. The feature I found most appealing was the indoor/outdoor fireplaces, which on the patio are fronted by large daybeds. The cottages also have their own exercise and steam rooms. The largest of these is Cottage One, which has a spacious upstairs bedroom and a small den off the living room with a sleeping couch that could accommodate two younger children. Both cottage and suite guests have access to a common room that features a pool table, dartboard and various games. A fully equipped kitchen is also available for guest use, and a buffet continental breakfast is laid out each morning. We preferred to have breakfast delivered to our suite. While the inn does not serve other meals, an affiliated restaurant, the Meeting House, is a 10-minute walk away and offers a casual menu with fare such as a fine chopped salad, a pan-roasted steak au poivre, and a locally celebrated mac 'n' cheese that has become a destination dish in its own right. Several beautiful beaches are nearby, and the innkeepers can provide you with coveted parking passes for those in both Amagansett and East Hampton. On hand are beach chairs, coolers, umbrellas and plenty of large towels. The inn also has bicycles, and the innkeepers possess encyclopedic knowledge of local activities, attractions and restaurants. Or you might just want to sit in one of the lawn chairs under the embracing shade of the giant copper beech and catch up on your reading. I was very much taken with The Reform Club. The overall feel of the place seemed consistent with The Hamptons experience I've known as a houseguest. That said, I missed having a pool (the only recommended place in the area that has one is The Baker House 1650 in East Hampton). I mentioned this to the innkeeper and was told that this was being worked on, a delicate process given the strict local zoning laws. The cottages already have Jacuzzis, but at the time of our visit, they were not approved for use. Although the summer is prime time on eastern Long Island, The Reform Club would also be appealing at other times of the year. -A.H.
The Reform Club 93 Suite One (duplex), from $750 (winter weekend) to $1,500 (summer); Cottage One, from $1,050 (winter weekend) to $2,100 (summer). 23 Windmill Lane, Amagansett, New York. Tel. (631) 267-8500.