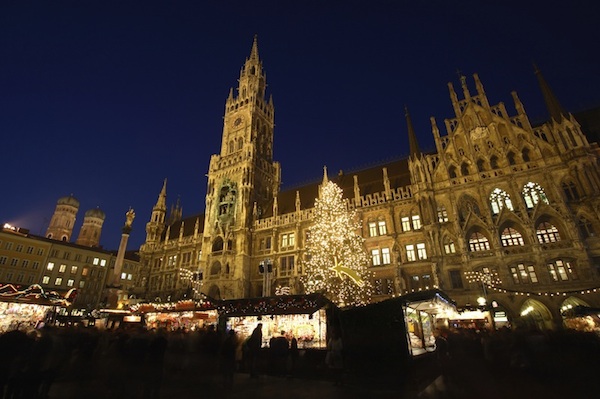 Now through December 24: Ambling through a festive Christmas market while sipping a mug of piping hot Glühwein is one of the great joys of the season. Typically set up in a town's main square in front of the cathedral, rows of charming wooden stalls overflow with handmade ornaments, local crafts and indulgent holiday treats. Nürnberg's legendary Christkindlesmarkt is the largest (and most crowded), but the markets in Dresden, Munich, Berlin and numerous other German cities are just as delightful. You can also visit beautiful markets in France's Alsace region, Vienna, Prague, Budapest, Tallinn, Kraków, Copenhagen and even Chicago. A wonderland, each and every one.
December 2-3: Oenophiles descend on Paris' Carrousel du Louvre for Le Grand Tasting, where it's possible to sample wines from more than 100 French châteaux. After enjoying some tastings, have a wander among the thousands of Christmas trees decorating the city's boulevards and squares.
December 3-11: Milan celebrates all things artisanal at L'Artigiano in Fiera, a giant free trade fair attended by craftspeople from all over the world. Products for sale include handmade crafts, jewelry, furniture, food, wine, clothing and accessories. December 5-11: Buenos Aires hosts the annual Festival Cambalache, an array of performances and workshops focusing on tango in music, theater and film. Events take place around the city, most notably in the recently refurbished Centenario Park.
December 7: To purge their homes of evil, many Guatemalans take out unwanted items and set them ablaze during La Quema del Diablo (The Burning of the Devil). The elegant colonial city of Antigua celebrates more literally, burning a giant fireworks-stuffed effigy of the devil.
December 8-23 and Dec. 26-30: A lack of snow doesn't prevent San Diego from getting into the holiday spirit. More than 100,000 twinkling lights adorn the San Diego Botanic Gardens during the annual Garden of Lights. Visitors can shop for holiday-themed crafts, take a wagon ride, sip some mulled wine in the Poinsettia Garden, and, of course, sit on Santa's lap. Go between 6 and 8 p.m. for live music.
December 10: Marina del Rey, California, hosts its annual Holiday Boat Parade. Fireworks at 5:55 p.m. sharp kick off the event, followed by a procession of elaborately decorated yachts.
December 23: At Christmastime in Oaxaca, Mexico, the radish is king. On the Night of the Radishes, carvers compete to win prizes for the best radish sculptures. Tableaux of these surprisingly intricate works of edible art fill Oaxaca's central square, along with food vendors, musicians and dancers. Stay in town for a parade of floats on the 24th and a fireworks display on the 25th.
December 31: People the world over celebrate New Year's Eve in countless ways, from mind-blowing fireworks displays over Sydney Harbour to grandly formal balls in Vienna and St. Petersburg. For something even more romantic, consider ringing in the New Year in **Venice's Piazza San Marco, where thousands of people are encouraged to kiss their partners as fireworks sparkle over the historic domes and bell towers.