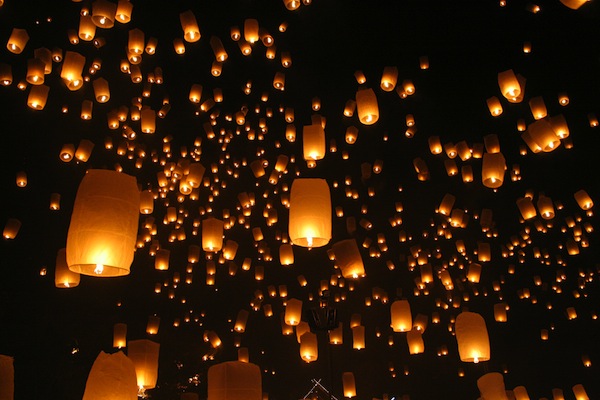 Loi Krathong Festival, Chiang Mai  
October 27 – April 2: New York's Neue Galerie, one of the city's finest small museums, marks its 10th anniversary this month with a special exhibition of works from the collection of the museum's founder, Ronald S. Lauder. Although the Neue Galerie focuses on Austrian and German art, this exhibition will display a wide array of fascinating works from Lauder's collection, ranging from a third-century Celtic belt buckle to Matisse and Cézanne paintings. Viennese-style torte in the museum's Café Sabarsky is a must.
October 31 – November 9: Tourists and locals flock to the edge of the Thar Desert (two and a half hours outside Jaipur) for the annual Pushkar Camel Fair. The lively camel races tend to be the most popular events, but visitors can also take hot air balloon rides and camel treks into the desert.
November 3-5: On one of California's most beautiful stretches of coastline, the Big Sur Food & Wine Festival organizes wine tastings, winemaker dinners, cooking classes, beer tastings and even "hiking with stemware" featuring the wines of Byron Kosuge.
November 10: Loi Krathong, the "Festival of Light," is celebrated annually throughout Thailand with fireworks and elaborately decorated floating candles. Sukhothai offers perhaps the most traditional celebration, with hundreds of candles illuminating a pond in the ancient city's Historical Park, but Chiang Mai surely has the most spectacular event. Here, thousands of people launch illuminated paper lanterns into the sky, which gracefully float about like so many glowing jellyfish. Few events can rival this festival's dreamlike beauty.
November 10-14: Auto enthusiasts roll into the United Arab Emirates for the biennial Dubai International Motor Show. Major car companies such as Bugatti, Lotus, Lamborghini, Aston Martin, Maserati and Kia unveil new models and concept cars during this glittering five-day event.
November 12-13: It's spring in Australia, and the Macedon Ranges wine region (an hour north of Melbourne) celebrates with the Budburst Wine & Food Festival. The purchase of a tasting glass allows festivalgoers to taste wines at all of the participating wineries. Local restaurants host winemaker dinners and special degustation menus.
November 16: The release of this year's Beaujolais Nouveau is heralded with much fanfare in Beaujeu, 45 minutes from the Château de Bagnols. After an evening of festivities and a torchlight parade, giant barrels of the wine are tapped at midnight, accompanied by fireworks.  
Various Dates: Toward the end of November, Christmas markets across Europe start to welcome merrymakers with mulled wine, marzipan pigs and other seasonal treats. These festive, family-friendly outdoor markets are a shopper's delight, with plenty of ornaments, toys and local crafts for sale. Chicago also hosts a surprisingly authentic Christmas market from Thanksgiving weekend to December 23.