Hideaway Report editors travel the world incognito to discover exceptional hideaways and experiences for our members.
Learn more...
---
Editor Rating
Scale of 90-100
Located at the edge of Volcanoes National Park, this exceptional ecolodge is set in an eroded extinct volcanic cone, 60 miles northwest of Kigali. The six thatched hillside villas feature stylish living rooms with stone fireplaces, wooden floors, furniture and textiles created by local artisans, and large baths with oval tubs and separate showers. The stunning main building encompasses a restaurant, bar and wine cellar. Diversions offered by the hotel include guided nature walks, birding excursions and coffee, wine and tea tastings. Daily gorilla treks are available from park headquarters (children under age 15 are not permitted to visit the mountain gorillas) for an additional fee of $1,500 per permit. Trips to Dian Fossey's original research camp, as well as more-gentle hikes to visit the endangered golden monkeys in a nearby bamboo forest, can be arranged.
Read the full review from our editors.

Like
Everything. This is a sensational lodge. If you have a bucket list, put this place at the top of it.
Dislike
The seemingly endless steep steps can be wearing, but the only really disagreeable thing about Bisate is the pain of leaving.
Good to Know
Rwanda has two dry seasons — June to September and December to February — but in the mountains the weather is unpredictable year-round.
Average Mid-High Season Rates (including taxes):
Editor's Choice: Tented Room for Two, $2,600 (all meals, house wines and spirits, in-room welcome massage, selected camp activities and laundry included; two-night minimum stay required).
Learn more about Bisate Lodge:
To learn more visit their website or call +(27) 11-807-1800. Contact Andrew Harper Travel to book this hotel as part of your next vacation.
In order to offer you the highest level of service, online booking is currently not available. Please call Andrew Harper Travel at (800) 375-4685, or contact the hotel directly, for reservations.
---
Related Itineraries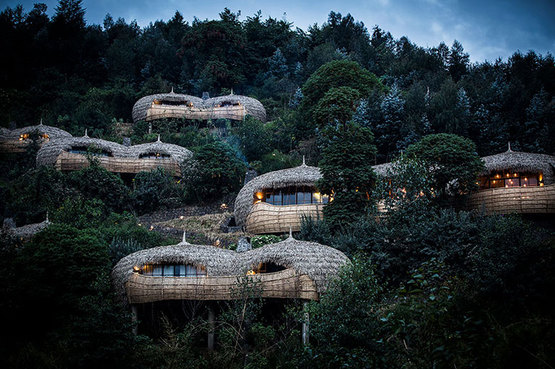 Hideaway Report Itinerary: Two Weeks in Rwanda, Tanzania and Zanzibar
Read More...
---